An effective
strapless bra
is a necessity for many women. However finding one that works well is often difficult and relies on a number of factors. By getting to know some of the best strapless bras available as well as the body types they work best with, women can avoid buying the wrong kind. By also exploring retail options that offer a wider variety of products, such as searching on
eBay
, women can find the ideal strapless bra for their needs.
1
The Lilyette minimiser strapless bra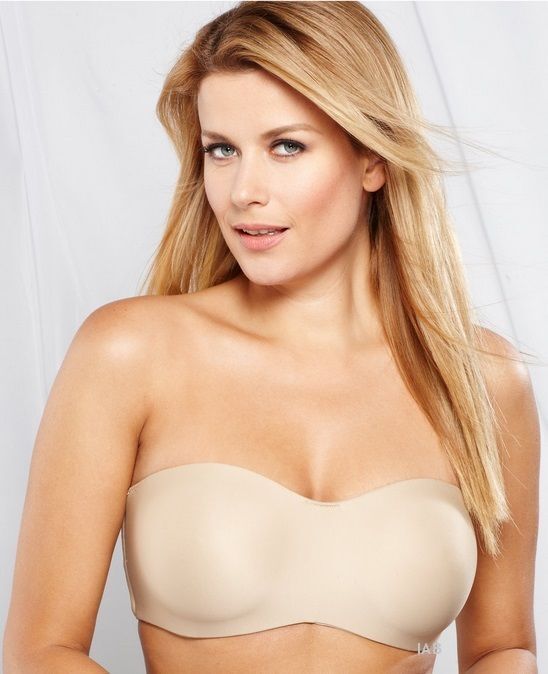 The perfect strapless bra for women that want control and full support, the Lilyette minimiser keeps things under wraps no matter the cup size. The moulded cups on the minimiser and thick, bandeau-style construction translate into confident support that women can move, shimmy, and dance in with ease. A quadruple closure at the back and silicone ribbing at the side provide extra reinforcement. With the added advantage of a seamless exterior with optional straps, the Lilyette minimiser is a great, all-around strapless bra for wearing with anything from an evening gown to a strapless maxi dress.
---
2
Victoria's Secret multi-way bra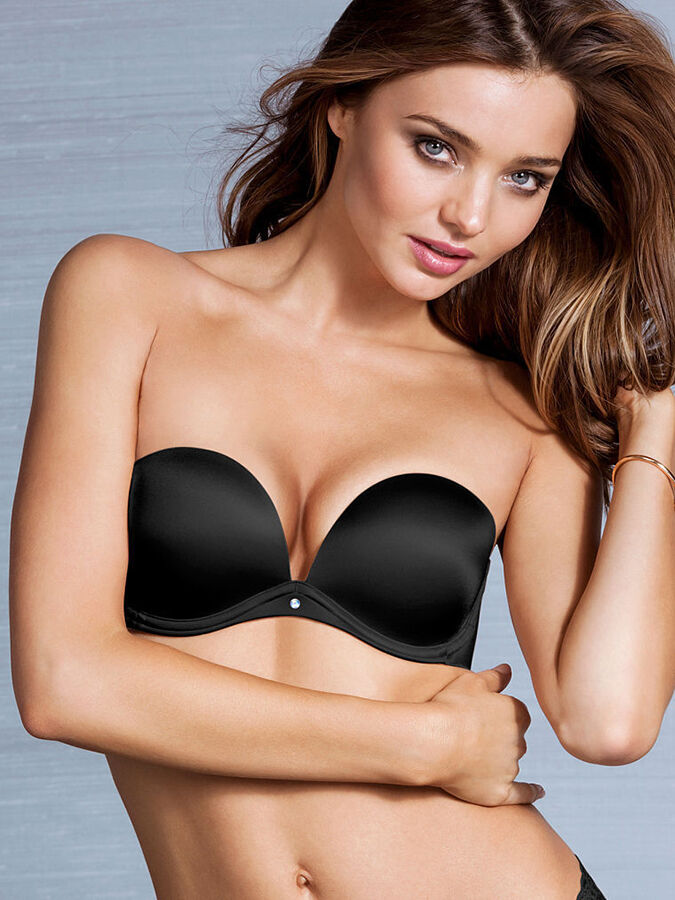 Many women already know to turn to Victoria's Secret for bras, especially when looking for fun and flirtatious designs. With their multi-way bra, Victoria's Secret also offers the range of functionality women require from undergarments. This bra has an innovative removable strap design that lets women adjust the straps so that the undergarment works with anything from a full strapless look to one-shoulder, crossback, and halter designs. With a deep front plunge, Victoria's Secret multi-way bra proves itself one of the most useful strapless bras around.
---
3
Wacoal Halo strapless bra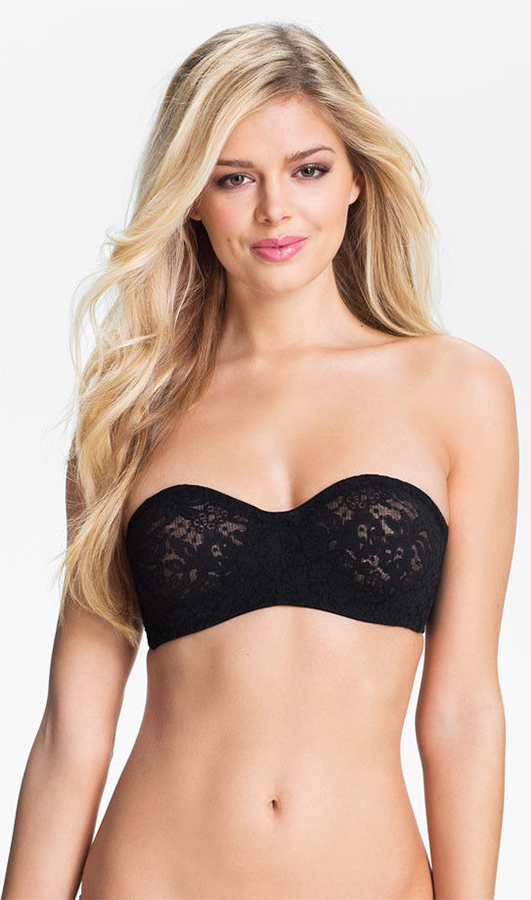 This bandeau-style strapless bra gives women one of their most comfortable options. The wide-band design of the bandeau distributes the stress of support, reducing the occurrence of red marks. This bra also features underwire in each cup so that women get more shape than with a standard bandeau. Finally, a pretty lace overlay makes it as flattering a choice as it is a practical one.
---
4
Wonderbra Ultimate strapless bra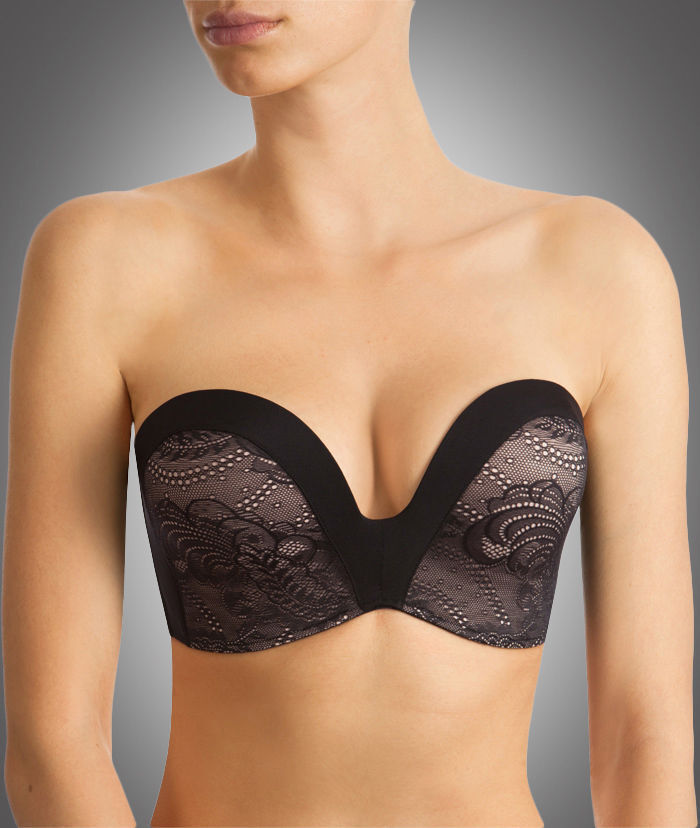 The Wonderbra Ultimate gets major points not only for offering substantial support even to larger busts but also for being one of the prettiest strapless options around. A delicate, lace overlay and a thick contrasting band in satin that moulds around the top of the cups and down into the centre "V" makes this bra a stunner. The front "V" dips quite far down, too, meaning that this bra can work with a number of dress or shirt styles. It also works well on busts larger than a D cup, giving confidence to women who often have trouble finding a reliable strapless bra via its three-point eye and hook connectors and wide, silicone-enforced band.
---
5
OnGossamer strapless bra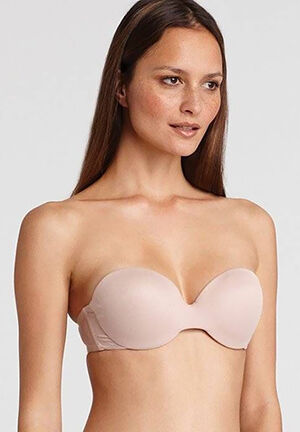 This lightweight strapless bra features a full, slender cup and an easy-wear design. Ideal for B and C cups, this bra works well for full chests that do not require extra reinforcement. A seamless mesh overlay provides a smooth silhouette, while the graduated padding inside the cup gives just enough support without adding too much volume for a natural look. The OnGossamer mesh strapless comes in two shades, champagne and black, and also features light side boning with silicone for a secure fit.
---
6
Spanx Bra-Cha-Cha strapless and convertible bra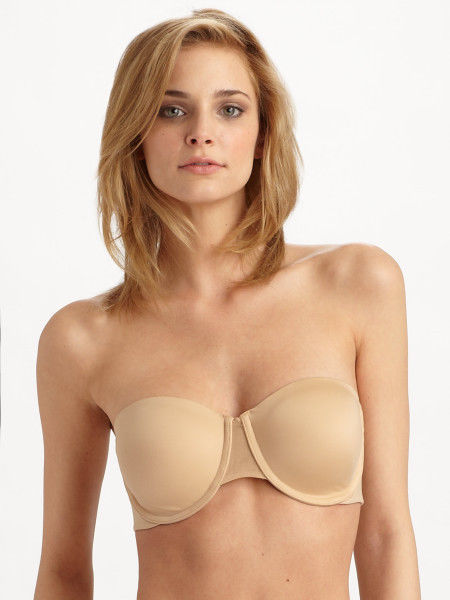 Already known for their innovative support garments, Spanx does well by the strapless bra with this ultra helpful design. The full, moulded cups on the bra provide comprehensive coverage and support by working in tandem with underwire that covers a good deal of real estate for extra reinforcement. Removeable straps let women wear this bra in whatever style an outfit demands, while a no-slip strip across the back ensures that women do not need to shift and hike this bra throughout the day.
---
How to buy strapless bras on eBay
Women in search of the best strapless bras have a great resource in eBay. Searching through the large inventory of options on the site is easy with the search bar found on any page. By entering a keyword term and running a search, you pull up all the listings on eBay related to that term, which you can then review in detail at your leisure. Getting to know the best strapless bras and learning about which body types they work best with means that finding a reliable strapless bra is finally a possibility.