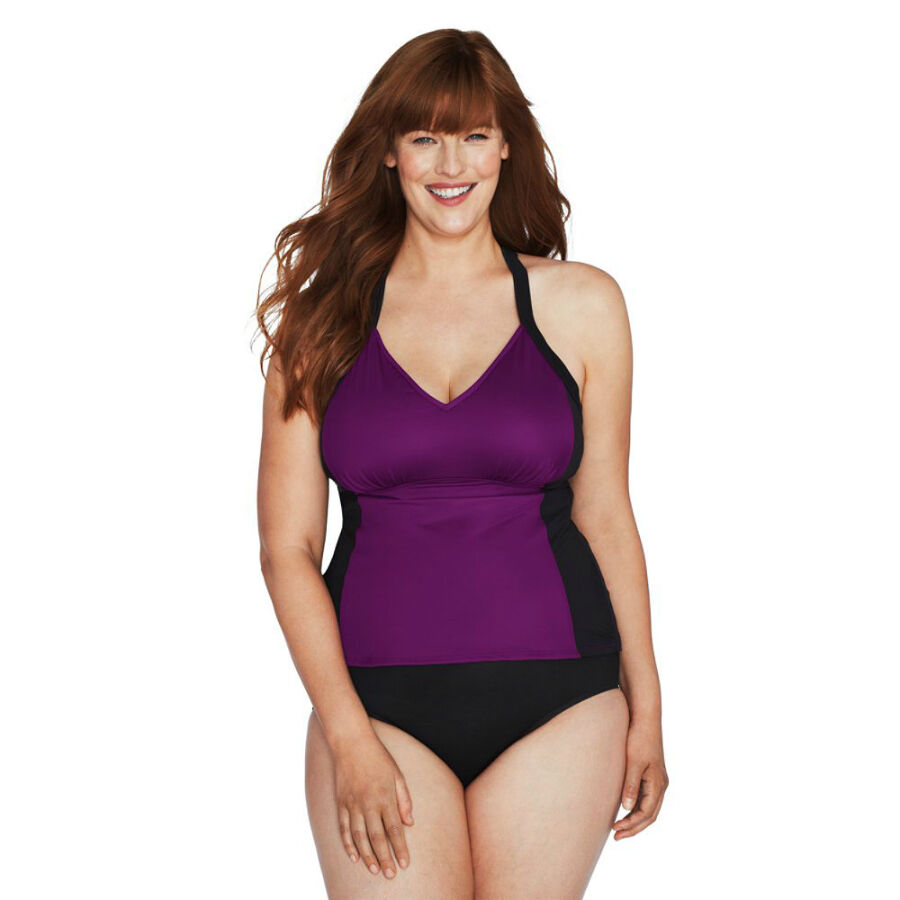 When shopping for swimwear, women with curvy body types can often have difficulty finding the right styles to flatter their figures. To create the most attractive appearance, curvy women should focus on choosing swimwear that creates a sense of proportion between a buyer's contours and height. Functionality in swimwear is an additional concern when shopping because curvy women need adequate body support to be able to engage in swimming or playing games when at the beach or pool. Swimwear is available locally in women's clothing shops but may be limited depending on the season. Conversely, curvy women can find swimwear year-round online at websites like eBay. Before shopping for swimwear, however, curvy women should know which types of swimwear are available and which features they should contain to best present a woman's figure.
Types of Women's Swimwear
Swimwear has changed drastically through the decades since women first starting engaging in water sports in the late 19th century. Modern women have a number of different types of swimwear available to them that can flatter curvy body types depending on the features of the swimwear.
Types of Swimwear

Description

Provides coverage for both the top and bottom of a woman's figure in one suit

Designed in upper and lower sections, leaves the stomach and middle back of a wearer uncovered

Another two-piece swimsuit like a bikini

Provides more coverage since the top of the suit extends down from a woman's bust line, covering her rib cage and stomach

A one-piece swimsuit that has the appearance of a bikini from the back

Often features cut-outs designed to expose the sides of a woman's torso
Each type of swimwear can be appropriate for women with curvy contours if the swimwear contains the right features. Because of this, curvy women can choose swimwear types based on the amount of coverage they prefer as long as the swimwear contains style elements that flatter a curvy woman's frame and provide enough structural support.
Best Swimwear Features for Curvy Women
Style features designed into swimwear can dramatically impact how appropriate a swimsuit is for curvy women. By keeping some expert advice in mind when shopping, curvy women can choose style elements that complement their bodies.
Swimwear With Neckline Details
Fitness Magazine advises curvy women to use swimwear with plunging necklines that helps to elongate the look of a woman's torso. A plunging neckline, which is often V-shaped, draws attention towards the middle of a curvy woman's body and creates a sense of length and proportion in contrast to a woman's contours. Added details around the neckline, like metal rings at the bottom or alternatively-coloured trim, draw further attention towards the centre top of a woman's frame.
Swimwear With Textured Fabric
Another swimwear style element that is preferred for curvy women by Fitness Magazine is ruching. Ruching is a sewing technique that creates pleats or gathers across a pattern piece. By adding this style element to swimwear, designers create fabric textures that draw attention away from the sides of a woman's frame. This helps to balance out a curvy woman's proportions visually and can camouflage problem areas like a protruding stomach.
Swimwear With Patterns
Cosmopolitan Magazine stresses the importance of using patterns to maintain proportion for curvy women shopping for swimwear. Patterns that contain vertically-dominate designs visually lengthen a woman's midsection and create the illusion of height. Unfortunately, patterns with horizontal designs pull attention away from the centre of a curvy woman's frame and can add width to her appearance, which curvy women should avoid.
Colour-Blocked Swimwear
Another type of swimwear patterning that is used to great effect on curvy body types is colour-blocked swimwear. Glamour Magazine advises curvy women to wear colour-blocked swimwear to keep the focus of the attention on the top halves of their frames. Colour blocked swimsuits are made from two or more contrasting coloured fabrics. Since lighter colours worn on one area of the body draw attention away from areas of the body clothed in darker colours, curvy women should choose swimwear that has lighter coloured blocks placed towards the top of their swimwear.
Swimwear With the Best Support for Curvy Bodies
Women's Health Magazine advises curvy women to remember construction elements when shopping for swimwear. These construction details help provide support to a curvy woman's body and increase the stability of the swimwear pieces. Underwire swimsuits contain padded wires along the bottom of a swimsuit's cups. These wires help to hold a curvy woman's bust in position and take some of the weight stress associated with larger cup sizes off of a woman's shoulders. Swimwear that includes shoulder straps also aids in keeping the top of a curvy woman's swimsuit in place. Additionally, Women's Health Magazine also recommends swimsuits that contain the construction elements of a balconette bra. A balconette-type swimsuit has a built-in band and cups that lift a woman's bust line. Depending on the style of a balconette-type swimsuit, the cups included can be full-size or demi-size.
Best Swimwear Cuts for Curvy Women
The cut of a swimsuit also impacts whether it is suitable for curvy women. In swimwear construction, the cut refers to the way a swimsuit lies across the body and how the fabric pieces that comprise the swimsuit fit together. Glamour Magazine recommends swimwear for curvy women that features asymmetrical cuts across the torso of a one-piece swimsuit. Asymmetrical cuts help to take the visual focus of a swimsuit away from the suit's sides and produce a slimming look.
Swimwear Leg Cuts
The leg cut of a swimsuit refers to the high or low positioning of a suit's leg hem along a woman's thigh. For curvy women, it is important that the leg cuts of swimwear do not create a blunt, horizontal silhouette that accentuates width. To avoid this, Glamour Magazine advises curvy women to choose swimwear with higher leg cuts that slant upward from the inside of a woman's thigh. Higher leg cuts elongate the appearance of a curvy woman's legs and create an asymmetrical bottom that minimises width.
Buying Swimwear for Curvy Women on eBay
Women with curvy bodies can visit eBay to access a wide range of swimsuits that are appropriate for their body types. On eBay, curvy women can find swimwear produced by famous manufacturers, like Roxy, Seafolly, and Triumph. To increase the likelihood of finding affordable swimwear, buyers can check out the options available in eBay Deals ' Women's Clothing category, which often offers swimwear at reduced prices. After curvy women locate the most suitable swimwear choices, they should carefully read the product details that accompany each eBay listing. These details explain the size, fabrics, and colours of a swimsuit as well as its condition. Buyers should also check to see if swimwear requires any special cleaning and handling methods before committing to a purchase.
Conclusion
By choosing the right swimwear style elements, curvy women can accentuate their best features and minimise the appearance of any problem body areas. The first step when choosing swimwear that flatters a curvy woman's contours is knowing which types of swimwear are available. Each type of swimsuit can be appropriate if it contains the correct features for curvy women, but women need to determine the amount of coverage they require before choosing a swimsuit type. Style elements like patterns, colour blocking, cut, and fabric textures help to create an appearance of overall proportion when utilised correctly by curvy women. Once curvy women determine which elements they require in swimwear, they can visit eBay to browse through a large selection of purchasing options that can make the most of their body types.
Swimwear|Swimsuit|Bikini|One-piece|Monokini