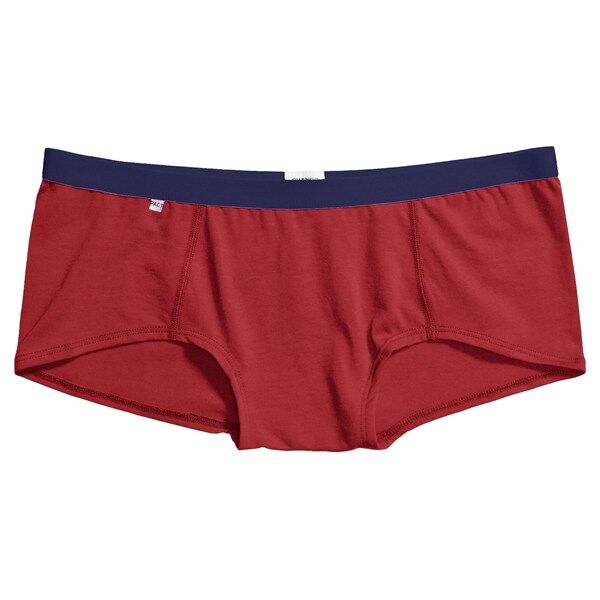 Working out can cause chafing and rashes when men do not wear the right underwear. While most underwear offers some type of protection from chafing, some is better suited to the task. Different materials might be more breathable, have moisture wicking properties, or even directly work to prevent chafing. Men also often find that some styles offer more support or have a better effect than others, although sometimes this is a personal consideration.
Popular brands of underwear made for exercise include Adidas, Lacrosse, and Jockey, but many standard underwear brands can be considered as well. Men should look at the material, style, cut, and fit before choosing underwear to work out in. Buyers can also choose to purchase from a sports store or to go on eBay or check local shops for options.
Workout Underwear Materials
The material used in the underwear is one of the most important things to consider. Some materials are drastically unsuited to working out. For example, exotic silks and leathers, polyester, and even cheap nylon can all cause a very severe rash because they hold sweat in, which might cause chafing. While there are materials to avoid due to chafing, there are also certain materials that are excellent for working out including microfiber, cotton, polyester, and spandex.
Cotton Underwear
Cotton is one of the most common materials that men's underwear is made of. Men can usually choose cotton underwear as a good solution for working out, especially if workouts are not extremely taxing. Cotton is nicely aerated, meaning that it breathes easily, which helps to keep the wearer cool. Cotton also has some moisture wicking properties, comes in a range of prices, and is usually blended into most types of athletic underwear.
Polyester Underwear
Polyester can be an appropriate material for workout underwear depending on the manufacturer and the blend. Polyester blended with spandex and microfiber can be an excellent and affordable pair of underwear. In fact, this blend is often used by the Adidas brand for their men's underwear. However, 100 per cent polyester might not be a good choice as it offers little to no stretch, does not wick moisture, and is not aerated.
Microfiber Underwear
Microfiber is a man-made fibre that can include blends of cotton and polyester. The fibre is usually very soft, affords some stretch, and is usually very comfortable. Microfiber does have its disadvantages as well, as it is usually moisture resistant, which can cause problems for anyone who sweats a great deal. Microfiber is usually best for those who participate in light workouts rather than extreme ones. Microfiber is often labelled under individual brand names such as 'ClimaLite' from Adidas.
Spandex Underwear
Spandex and spandex blends are the most common choice for workout underwear for athletes, so it should be one of the first choices for anyone who plans on participating in rigorous workouts. Spandex, also called elastane, can offer a great deal of compression and support, which is perfect for runners as well as anyone lifting very heavy weights at the gym. Importantly, spandex is very stretchy, meaning that it does not restrict movement.
Guide to Terms
There is a variety of terms used in sports underwear including 'moisture wicking', 'thermal', 'aerated', 'compression', and sometimes waterproof, which is quite self explanatory. Usually, any type of underwear described by the manufacturer with any of these terms is a good option for working out under the correct conditions. However, it is important to understand what these terms mean in order to purchase the right underwear. The following chart outlines the basic terms.
| | | |
| --- | --- | --- |
| Term | Definition | Use |
| Moisture Wicking | Absorbs moisture through the fabric to keep it away from the skin | Best for preventing rashes during heavy exercise |
| Thermal | Multi-layer fabric that holds heat in | Only appropriate for winter exercise |
| Aerated | Allows air to flow freely through the fabric | Excellent for any type of exercise |
| Compression | Literal compression against the body to provide support during exercise | High compression is sold for athletes while low compression is typically appropriate for working out |
Sometimes microfiber is listed under a variety of different names. Typically, these names refer to either wicking moisture or temperature, such as 'ClimaLite' or 'HeatGear', and are typically listed as 'technology' rather than fabric. Many top sports underwear brands use these types of fabrics as part of their blends, which likely also include spandex, polyester, and sometimes cotton.
Workout Underwear Style
The style of the underwear should be an important part of choosing it for working out. Different men might be more comfortable in different styles of underwear, depending on their body build, the size of their legs, and the underwear that they are most comfortable wearing. As a rule, most exercise underwear for men is actually in the form of boxer shorts or sometimes thigh length shorts. This is because the legs add more protection from chafing than a thong or briefs. For anyone who prefers to wear less restrictive underwear, choosing a brand with a great deal of spandex, or choosing a brief instead of a boxer brief, might be a good idea. For most, a good rule of thumb is that if the thighs touch when running, then boxer briefs or knee length shorts are the best way to prevent chafing.
Workout Underwear Brands
Choosing a brand is often a personal consideration but it should also depend on the type of exercise the underwear is being used for. Adidas, Jockey, Lacrosse, and other brands are very popular but there are also unbranded options as well. Sports specific brands can usually be chosen as a solid option for working out. Some brands also make underwear that is appropriate for workouts, although it may not be intended for working out. Some popular brands such as Calvin Klein, Polo Ralph Lauren, or Tommy Hilfiger may offer aerated cotton or spandex polyester blends that might be comfortable when working out. Sometimes one brand might work better than another, but this does not necessarily mean that the brand is better than others as different people are more comfortable in different types of fabrics and styles.
Buyers should consider that the more intense the workout, the more protection that the underwear has to offer. For a light workout at the gym, wearing standard cotton or spandex and polyester blend underwear should be fine. A more strenuous workout might require moisture wicking or compression properties in order to prevent rash and provide better support during the workout. For the most part, men can choose their workout underwear based on the type, intensity, and length of their workouts.
Buying Underwear for Working Out on eBay
eBay is a great place to find and purchase underwear for workouts. The site is home to a range of sellers who might list anything from popular name brand men's underwear to underwear made specifically for workouts. You can search for and purchase a popular brand or choose an unbranded option that is easier on the budget, depending on your needs and preferences. You can also look on eBay Deals to see if they have any bargains on the underwear you are looking for.
Most underwear sold on eBay should have the material and measurements listed in the description. It is important to pay attention to these details in order to choose underwear that is suitable for exercise and that offers the support and properties that you are looking for. For example, purchasing polyester underwear is likely a bad idea. However, purchasing polyester and spandex blend underwear can be a great idea for most workouts. Simply paying attention to the listing and asking the seller in case of any doubt can help you to select underwear that works for you.
Conclusion
Purchasing the best underwear for working out typically depends on the person buying. Different men have different needs and different preferences in underwear. There are many popular options including boxer shorts, briefs, and knee length shorts that are excellent for all sorts of exercise. Most men can choose a style and a brand based on personal preference, although the type of exercise, the fit, and the material matter as well.
For most, the material is the most important factor to consider when choosing underwear for working out. Some materials can cause chafing while others work to prevent it. A nice pair of underwear can actually be a substitute for workout clothes because it does the job of absorbing sweat during low impact exercise. Men can choose to purchase popular brands of normal or exercise underwear and then purchase them in shops, online stores like eBay, or speciality sports stores.
Workout Underwear|Cotton Underwear|Polyester Underwear|Microfiber Underwear|Spandex Underwear