The most important lens for your Canon EOS Digital SLR is obviously the one that you use most often. Hopefully, it is not the poor quality "kit" lens that came with your camera.
Your primary lens will almost certainly be a "standard" or "normal" range zoom model. It has to be "wide" and "fast" enough for indoor photos, but it must also be capable of capturing great portraits, close-ups and some not-too-distant telephoto shots too. This is the lens that most likely will be mounted on your camera every time you put it back into the camera bag. It will be the one that is your first choice for day trips, vacations, family visits, pictures of the baby or a quick shot of the dog, and it will always be working overtime throughout the entire holiday season.
To serve your "normal" focal range requirements, I can whole-heartedly recommend an extremely good "mid grade" model that has been very highly praised for its outstanding performance on EOS Digital SLRs, The Canon EF 24-85mm f/3.5-4.5 USM.
This affordable little lens has a retail list price of $600.00 (US), but it is very easy to find for under $400.00 (US). This is a genuine bargain, especially when compared to the professional "L" lenses in this focal range. The pro models sell for well over $1,100.00. Unlike those heavy, expensive pro models, this very compact ultra-wide angle to telephoto zoom lens is quite comfortable to tote around all day long and it is incredibly versatile.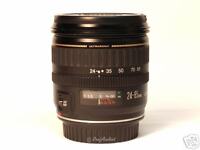 The Canon EF 24-85mm f/3.5-4.5 USM Ultra Wide Angle to Telephoto Lens
This model was designed by Canon to be a little bit wider than the EF 28-105mm f/3.5-4.5 USM, but not quite as long in the telephoto range. It is light and compact but it does not sacrifice anything when it comes to optical or mechanical performance. This model has excellent optics, capable of capturing very crisp images with excellent color and very impressive contrast. This same shift toward the wider end has also been seen in the Canon professional "L" lens lineup. The venerable Canon EF 28-70mm f/2.8L USM has been replaced by the new EF 24-70mm f/2.8L USM. This is no accident; there is a very good reason for this trend. I will explain the reason for this phenomenon in a minute.
I had used a copy of the EF 24-85mm USM on my old EOS 10S 35mm film body a while back, but I was very disappointed by the poor edge performance and barrel distortion at the wide end. It had a nasty fall-off in the corners and more pronounced barrel distortion than most of the good 24mm models that I had used. Even though the center of the image was outstanding, I just wrote it off as "unacceptable" because of the annoying vignetting and distortion problems.
On a whim, I tried a new copy the EF 24-85mm USM on my EOS 10D Digital camera and WOW, WHAT A SHOCK! This lens actually outperforms my trusty EF 28-105mm f/3.5-4.5 USM by a noticeable margin. The colors were a bit more deeply saturated and the contrast was definitely boosted up a notch. I always considered my EF 28-105mm USM to be very sharp, but this new lens is definitely a step closer to my "L" lenses, in both sharpness and contrast.
I suspect that the larger front element (67mm), combined with the slightly more limited zoom range, might be responsible for these improvements. I began to wonder if this lens had been "upgraded" since the last one that I had tried. I mounted the new copy on my 10S, and there it was again, the dark corners and distortions were back, just like the first time I checked out this model. It turns out that it wasn't an improvement in the lens that made the difference. Interestingly, the lens had simply found the right camera design to bring out its best performance. This combination of "standard" zoom lens and Digital camera body was made in heaven. This perfect marriage applies specifically to the Canon EOS 10D, 20D, 30D, 40D, Digital Rebel, Digital Rebel XT and Digital Rebel XTi.
Well, fortunately, we are living in the digital world now. Small frame digital SLRs only "see" an image through the center portion of a standard 35mm lens, due to the small image sensor size, even when shooting "wide open". This fact is especially beneficial for this particular model of lens, where the edges of the glass presented the only difficulties. By using only the center "sweet spot" of the optics, these problems are completely avoided!
After tons of test shots, I can tell you that this is the best performing "normal range" zoom lens in this price range, for your EOS "APS" or "small frame" digital camera! The optical advantages of the Canon EF 24-105mm f/4L or the EF 24-70mm f/2.8L professional lenses would be very hard to justify for the huge price difference. Yes, those are both better, more rugged lenses, but are they worth the extra $700.00 or more? You will have to make that judgment for yourself, but I just can't justify the difference after carefully studying my recent test photos.
This very affordable lens also has "Full-Time Manual" focus so you can make fine focus adjustments while the AF switch in activated, just like the "L" lenses. This is especially useful for setting the exact focus point in a close-up shot. It will allow you to dramatically emphasize a particular picture element while other parts of the image are intentionally blurred by a narrow depth-of-field.
This inexpensive little marvel also has a real distance scale window and employs the top-of-the-line "Ring" type USM "Ultrasonic" Auto-Focus design, again, just like the expensive "L"s. Auto focusing is lightning fast and whisper quiet (It is even quieter than the "L" models, with the exact same "ring type" AF motor drive).
This model is comfortably compact in size; about 2.75" long at 24mm to 4" at full zoom. It is very lightweight at only 13.5 oz. It has a nice solid "feel" with fairly smooth operation, although not quite up to the silky feel of the professional models. A very capable six-blade aperture diaphragm is employed here, so very pleasant "bokeh" is achievable. Amazingly, there are 15 lens elements arranged in 12 groups magically "squeezed" into this small lens barrel. Focusing is performed internally, so the front lens does not move as the focus is adjusted. The zoom ring is very comfortable to use and quickly goes from 24mm all the way out to 85mm in about an eighth of a turn. The barrel extends out for zooming, but the front lens element does not rotate at all, making it much easier to use polarizing and special effects filters. The position of the zoom ring relative to the focus ring makes this lens a pleasure use, although the focus ring is a bit "skinnier" and rotates less smoothly than the focus rings on the costly "L"s. That is a very small gripe when you consider the price difference. Besides, most amateur users will simply allow the lens auto-focus 99% of the time anyway. The Ultrasonic AF is so fast and precise that I find myself grabbing the manual focus ring much less frequently these days.
Image quality easily outperforms all of the popular "standard kit" zooms, and is at least on par with the more expensive EF 28-135 f/3.5-5.6 IS USM! On the digital bodies, distortions are extremely well controlled throughout the entire focal range. Lens flare is almost non-existent here, due to the use of a special "Flare Cutting Diaphragm" design. This is a fantastic lens for shooting sunsets and subjects with strong backlighting.
When used on a small frame digital, this has a "field of view" which is approximately equivalent to a 38-136mm zoom lens. That makes it ideal for portraits and excellent for nature shots, "street" photography, landscapes and general "normal" range photography. It can focus as close as only nineteen inches, just like the EF 28-105mm USM, so you can capture some very nice close-up photos. The wide angle to short telephoto range makes this a fantastic "walk around" or "travel" lens.
This is a perfect "normal" zoom to use with a Canon EF 17-40mm f/4 L ultra-wide angle zoom and the EF 70-200mm F/4L telephoto zoom. It offers a very smooth transition between these two professional lenses. A much less expensive lens kit would include the Canon EF 20-35mm f/3.4-4.5 USM Ultra-Wide angle zoom and the EF 70-210mm f/3.5-4.5 USM (discontinued, but well worth searching for!) telephoto lenses. The 24-85mm fits perfectly into either lens line-up.
This is definitely one of the best and most versatile "mid-grade" lenses ever produced for the Canon EOS Digital SLR cameras. I have recently switched to this model, after using the EF 28-105mm USM to cover the "normal" zoom range for many years. I still depend on my trusty 28-105mm, but now I use it much more on my film cameras. The 28-105mm works PERFECTLY on "full frame" bodies, unfortunately, the EF 24-85mm USM is only weak in this application. As I have upgraded to more professional grade lenses, I began to notice that I really needed the extra wide-angle coverage much more often than I needed the longer focal range of the 28-105mm. The overlap of coverage with the EF 17-40mm f/4L is perfect for many interior applications. I love my 17-40mm, there are applications where this pro lens is indispensable, but there are times when the extra weight and the requirement of adding an auxiliary flash to the camera can be an inconvenience. This is especially true for casual shots and impromptu family photos. The 24mm range allows me to use the EF 24-85mm in places where I would have been required to switch from the EF 28-105mm to the heavy-duty ultra-wide lens. I still have the option of switching to the "L" whenever I need to, but now that decision is a choice, not a necessity.
At the long end, the 85mm maximum focal length is plenty long enough, especially on an "APS" or "small frame" digital body. Remember, this is equivalent to a 136mm lens when compared to a "full frame" camera using the same lens. It offers just the right amount of focal range overlap to bridge the transition to my favorite telephoto lenses. It is very easy to anticipate when I will need the longer focal length capabilities, but it was often frustrating to find that my favorite middle range lens, the EF 28-105mm USM, was just not quite wide enough to get everything (or everyone) included within the shot. It has become obvious to me why Canon has been shifting many of their newer lenses toward the wider end of the scale. My good ol' EF 28-105mm USM has now found a new purpose, primarily on my film cameras now. It works equally well on both digital and film bodies, but I am finding the 24-85mm to be slightly preferable on the digitals. Please note that this is mostly because of how it fits in with the other lenses that I use most often.
There is no way that I can fully express just how great the EF 24-85mm USM works on digital SLRs. You should try one out sometime. I think that you might find that this wonderful little lens deserves to be in your digital camera kit. It deserves to be there, right next to the best professional models. Just keep it safe from the rain and away from your 35mm film camera and it will reward you with some very fine digital photographs.
If you have found this Guide to be informative or interesting, please let me know by clicking the "YES" button below. Your vote is completely anonymous. However, your comments and criticisms are welcomed. I am always happy hear about ways to improve my reviews and guides so that more people can find useful information in them. Your "helpfulness" votes are the only compensation that eBay reviews and Guides authors receive for their efforts. Your votes are used exclusively to determine writer's rankings. Encourage us with your votes and we will return the favor by supplying you with a lot more informative Buyer's Guides and honest Reviews.
Copyright © 2006 All rights reserved. ProfAudio1