THE CHIHUAHUA

The
Chihuahua
is a big dog in a little body. This
dog breed
is bold and spirited, lively, playful and devoted to their owners. He is friendly to others, although naturally wary of boisterous children or dogs much larger than he is. The
Chihuahua
was originally bred to be a companion.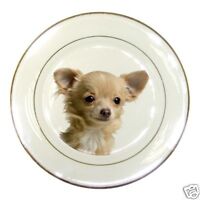 Chihuahua Characteristics:-
Alert, spirited, bold, friendly, affectionate.
Size: 15-23cm (6-8in)
Weight: 1-3kg (2-6lb)
Coat: Long haired - medium length, soft texture. Smooth Coated - smooth, soft texture.
Lifespan: 14-18 years
The
Chihuahua
is playful and likes human company. His exercise requirements are low however, he is enthusiastic about exercise.
Attitude to:-
Owners: Affectionate and devoted. The perfect owner should be gentle and affectionate who will play with and take care of this tiny

dog

.
Children:

Puppies

and adults may be injured by boisterous children.
Other

pets

: Good
Strangers: Friendly
Unfamiliar

dogs

: Friendly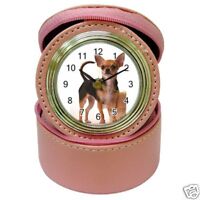 Chihuahua Health Concerns:-
Patellar luxation (the kneecap on the hind leg pops out of position, an inherited condition. All breeding stock should be checked for this).
Leg-Calve-Perthes (an inherited disorder of the hip joint).
Eye defect
Heart conditions
hypoglycaemia
Tracheal collapse
If you are considering a
Chihuahua puppy for sale
, make sure to contact a reputable
Chihuahua breeder
to ensure that the
puppies
are in excellent condition. You may also consider a
Chihuahua rescue dog.
I hope this guide has assisted you in your quest to find the right
dog
for you. For further information, please add my store,
Personalised Dog Gifts
to your favourites.