After a troubled childhood, Dean Ray Koontz went on to become a bestselling author, who has used his experiences to create remarkable characters and fantastic storylines. At least seven of his novels have hit number one on the New York Times hardcover bestseller list (Lightning, Midnight, Cold Fire, Hideaway, Dragon Tears, Intensity, and Sole Survivor), and he's one of only ten writers ever to have achieved that milestone.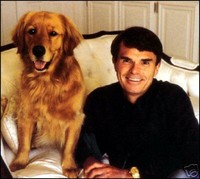 Mr Koontz is on the right. Trixie the Dog only writes romance ;-)

Mr Koontz writes under many pseudonyms, the ones I found are listed below. I hope you find this list helpful, I've tried to keep it as simple as possible! Please let me know if anything is incorrect… Thank you.
To Search, please use "Cntrl" + "F"…
I spend hours compiling and checking each of my guides before publication. It is my goal to be one of the top 25 reviewers in Australia. If you do find this guide helpful in any way, please recognise my hard work by voting yes. I appreciate every helpful vote I receive.


Pseudonyms
Leigh Nichols
Anthony North
Owen West
David Axton
Aaron Wolfe
Brian Coffey
Richard Paige
John Hill
K.R. Dwyer
Deanna Dwyer
Bill Munster
Joe Lansdale
I have deliberately omitted the "secret" pen name that Mr Koontz apparently wishes to keep private.

Novels as Dean Koontz
Star Quest (1968)
Dragon in the Land (1969)
The Fall of the Dream Machine (1969)
Fear That Man (1969)
Anti-Man (1970)
Beastchild (1970)
Bounce Girl (with Gerda Koontz) (1970)
The Dark Symphony (1970)
Hell's Gate (1970)
Dark of the Woods (1970)
The Crimson Witch (1971)
The Dark of Summer (1972)
A Darkness in My Soul (1972)
The Flesh in the Furnace (1972)
Starblood (1972)
Warlock (1972)
Time Thieves (1972)
Demon Seed (1973)
Hanging On (1973)
The Haunted Earth (1973)
A Werewolf Among Us (1973)
Aphrodisiac Girl (1973)
Blood Risk (1973)
After the Last Race (1974)
Surrounded (1974)
Dragonfly (1975)
Nightmare Journey (1975)
The Wall of Masks (1975)
Night Chills (1976)
Prison of Ice (1976)
The Face of Fear (1977)
The Vision (1977)
The Key to Midnight (1979)
The Funhouse (1980) originally by Owen West
Whispers (1980)
The Voice of the Night (1980)
The Eyes of Darkness (1981)
How to Write Best-selling Fiction (1981)
The House of Thunder (1982)
Phantoms (1983)
Darkfall (1984)
Darkness Comes (1984)
The Door to December (1985) originally by Richard Paige
Shattered (1985)
Twilight Eyes (1985)
Strangers (1986)
Watchers (1987)
Shadowfires (1987) originally by Leigh Nichols
Lightning (1988)
The Servants of Twilight (1988) was "Twilight" by Leigh Nichols
The Mask (1988) originally by Owen West
The Bad Place (1989)
Midnight (1989)
The Bad Place (1990)
Cold Fire (1991)
Hideaway (1992)
The Voice of the Night (1992)
Dragon Tears (1993)
Mr. Murder (1993)
Shadow Fires (1993)
Dark Rivers of the Heart (1994)
Winter Moon (1994) was "Invasion" by Aaron Wolf
Icebound (1995)
Intensity (1996)
Tick Tock (1996)
Sole Survivor (1997)
Fear Nothing (1997)
Seize the Night (1998)
False Memory (1999)
From the Corner of His Eye (2000)
One Door Away from Heaven (2001)
By the Light of the Moon (2002)
The Face (2003)
The Taking (2004)
Life Expectancy (2004)
Velocity (2005)
The Husband (2006)
Series
Moonlight Bay
1 : Fear Nothing (1997)
2 : Seize the Night (1998)
Odd Thomas
1 : Odd Thomas (2003)
2 : Forever Odd (2005)
3 : Brother Odd (2006)
Frankenstein Series
1 : Prodigal Son (2005) with Kevin Anderson
2 : City of Night (2005) with Ed Gorman
Tucker (writing as Brian Coffey)
1 : Blood Risk (1973)
2 : Surrounded (1974)
3 : The Wall of Masks (1975)

Anthologies
Again, Dangerous Visions (1977)
The Architecture of Fear (1987)
Stalkers (1989)
Under the Gun (1990)
Obsessions (1991)
Predators (1993)
David Copperfield's Tales of the Impossible (1995)
Cyber-Killers (1997)
Collections
Soft Come the Dragons (Dark of the Woods) (1970) contains:
To Behold the Sun
A Darkness in My Soul
Dragon in the Land
The Psychedelic Children
The Season for Freedom
Soft Come the Dragons
A Third Hand
The Twelfth Bed
Strange Highways (1991) contains:
Strange Highways
The Black Pumpkin
Miss Attila the Hun
Down in the Darkness
Ollie's Hands
Snatcher
Trapped
Bruno
We Three
Hardshell
Kittens
Night of the Storm
Twilight of the Dawn
Three Complete Novels (1991)
Watchers
Whispers
Shattered
Koontz III (1993)
The Bad Place
Mr Murder
Cold Fire
Koontz I (1996)
The House of Thunder
Cold Fire
Dragon Tears
Three Complete Novels (1998)
Key to Midnight
Shattered
House of Thunder
Three Complete Novels (2001)
Cold Fire
Hideaway
Key to Midnight

Short Stories / Novellas
"The Kittens" Atlantic Monthly 1966
"To Behold The Sun" Fantasy & Science Fiction Dec. 1967
"Soft Come The Dragons" Fantasy & Science Fiction 1967
"A Darkness In My Soul" Fantastic Stories Jan. 1968
"Dreambird" Worlds Of If 1968
"The Psychedelic Children" Fantasy & Science Fiction July 1968
"The Twelfth Bed" Fantasy & Science Fiction Aug. 1968
"Killerbot" Galaxy May 1969
"Muse" Fantasy & Science Fiction 1969
"In The Shield" Worlds Of If 1969
"Temple Of Sorrow" Amazing Stories 1969
"Where The Beast Runs" Worlds Of If 1969
"The Crimson Witch" Fantastic Stories 1970
"The Good Ship Lookoutworld" Fantastic Stories 1970
"The Mystery Of His Flesh" Fantasy & Science Fiction July 1970
"Sambolain" Worlds Of If 1970
"A Third Hand" Fantasy & Science Fiction 1970
"Unseen Warriors" Worlds Of Tommorrow 1970
"Bruno" Fantasy & Science Fiction April 1971
"Cosmic Sin" Fantasy & Science Fiction Feb. 1972
"Down In The Darkness" The Horror Show 1986
"Weird World" The Horror Show 1986
"The Interrogation" The Horror Show 1987
"The Season For Freedom" Soft Come the Dragons 1969
"Nightmare Gang" Infinity 1 1970
"Alterboy" Infinity 3 1972
"A Mouse In The Walls" Again, Dangerous Visions 1972
"Ollie's Hands" Infinity 4 Lancer 1972
"Gray World" Infinity 5 Lancer 1973
"The Sinless Child" Flame Tree 1973
"Terra Phobia" Androids, Time Machine 1973
"The Undercity" Future City 1973
"Wake Up To Thunder" Children Of Infinity 1973
"We Three `Final Stage'" The Ultimate SF Anthol. 1974
"The Night Of The Storm" Continum 1 1974
"Hardshell" Night Vision 5 1987
"Miss Attila The Hun" Night Vision 5 1987
"Twilight Of The Dawn" Night Vision 5 1987
"To Behold The Sun" Soft Come the Dragons 1970
"A Darkness In My Soul" Soft Come the Dragons 1970
"Dragon In The Land" Soft Come the Dragons 1970
"The Psychedelic Children" Soft Come the Dragons 1970
"The Season For Freedom" Soft Come the Dragons 1970
"Soft Come The Dragons" Soft Come the Dragons 1970
"A Third Hand" Soft Come the Dragons 1970
"The Twelfth Bed" Soft Come the Dragons 1970
e-Books
The Book of Counted Sorrows (2001)

Graphic Novels
Trapped (1993)

Children's/Young Adult
Oddkins: A Fable for All Ages (1988)
Santa's Twin (1996)
The Paper Doorway: Funny Verse and Nothing Worse (poems) (2001)
Every Day's a Holiday: Amusing Rhymes for Happy Times (poems) (2003)

Non-fiction
The Pig Society (1970) with Gerda Koontz
The Underground Lifestyles Handbook (1970)
Writing Popular Fiction (1973)
How to Write Best-Selling Fiction (1981)

Pseudonym Books
David Axton
Prison of Ice (revised and reprinted as Icebound in 1995)
Lippincott 1976
Brian Coffey
Blood Risk
The Face of Fear (revised and reprinted under Dean Koontz)
Surrounded
Voice of the Night (revised and reprinted under Dean Koontz)
Wall of Masks

Deanna Dwyer
Children of the Storm
Dance with the Devil
Dark of Summer
Demon Child
Legacy of Terror

K.R. Dwyer
Chase (revised and reprinted under Dean Koontz in Strange Highways Book)
Dragonfly
Shattered (revised and reprinted under Dean Koontz)

John Hill
The Long Sleep

Leigh Nichols
The Eyes of Darkness (revised and reprinted under Dean Koontz)
The House of Thunder (revised and reprinted under Dean Koontz)
The Key to Midnight (revised and reprinted under Dean Koontz)
Shadowfires (revised and reprinted under Dean Koontz)
Twilight (revised and reprinted as The Servants of Twilight under Dean Koontz)

Anthony North
Strike Deep

Richard Paige
The Door to December (revised and reprinted under Dean Koontz)

Owen West
The Funhouse (revised and reprinted under Dean Koontz)
The Mask (revised and reprinted under Dean Koontz)

Aaron Wolfe
Invasion (revised and reprinted as Winter Moon under Dean Koontz)