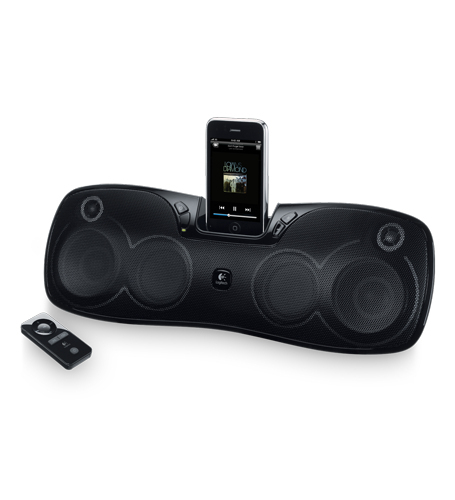 MP3 Players are one audio entertainment source that benefit massively from the components and additional items that can be bought to go with them. Alongside headphones and cases, one of the most important things to get the most out of any player in a social setting is an audio dock.
The amount of MP3 players currently on the market means that vast numbers of audio docks are available to buy. The following guide will explain the basics of MP3 player audio docks, how to identify the correct one and the best way in which to buy one safely and securely using eBay.
What Is an Audio Dock?
· Audio docks have been around almost since the advent of MP3 players and give users the chance to show off their device to a wider audience.
· Docks come in all shapes and sizes, with the model usually defined by the output it produces (in watts) when a player is attached.
· Over the years, audio docks have evolved, so they now have a number of additional features, which means they're much more than just a set of speakers.
Types of Audio Dock
Audio docks for MP3 players regularly come with additional features that make them an extremely useful multimedia and entertainment tool.
Individual docks can have one or many of the different features and it's one of the main things that buyers should look for when buying an audio dock.
Some of the most common variations are listed in the table below, along with a description alongside each.
| | |
| --- | --- |
| Feature | Description |
| Bluetooth | MP3 Players that have Bluetooth enabled will be able to connect wirelessly to the dock. |
| Play and Charge | When plugged in the MP3 player can be charged at the same time. |
| Mains Only | Audio dock must be attached at the mains in order to function. |
| Mains and Battery Operated | Dock can be powered by either mains power or battery, the latter making it a more portable machine. |
| Airplay | Apple devices, such as iPads, iPhones, and iPods, can be played through the dock using the company's AirPlay system of wireless connection. |
| WiFi | Music can be played wirelessly using WiFi – as long as the MP3 player functionality allows it. |
| Radio | Audio dock features a radio that can be played through the speakers. |
| Alarm | Device can be used as an alarm clock either using the in-built radio or by plugging the MP3 player into the dock. |
Compatible Brand
When researching MP3 player audio docks on eBay, it's imperative to make sure the dock is compatible with the brand of player that is owned by the buyer.
eBay allows buyers to search using compatible brands as a parameter with the following searches, plus many more, available:
· Apple
· Creative
· Samsung
· Sony
Most players will come with an output to allow the dock to be used not just with the player for which it has been designed. It won't let users fit other MP3 players into the dock, however, and this removes the charging capabilities.
Buying Considerations for Audio Docks
The following section outlines the main considerations to take before committing to an audio dock purchase.
Will it work with the MP3 player? The most important thing to make sure of before buying a dock is that it works with the player it's being bought for. Many audio docks with have a 3.5mm jack or auxiliary cable that fits the headphone socket on all MP3 players.
Is the output sufficient? Be sure to note down the amount of sound the speakers give out, which is given as a watts measurement. One that can be used at small scale gatherings and parties will need a significantly higher output than one that is just being used in the home for short periods of time.
Does the style suit you? Docks come in so many different shapes and sizes, so it's well worth considering what the dock looks like before buying. When it comes to style, colour is a big consideration to take into account. eBay allows buyers to use this as a parameter, thus making it simpler to choose the perfect audio dock.
Is the size suitable? Audio docks come in various different sizes and this has a lot of influence on whether to choose it or not. When looking at the dimensions of a dock, think about where it will spend most of its time, as well as if it will be transported around a great deal.
What condition is it in? Buying an audio dock from eBay will mean deciding on the condition of the item. The following table explains the different types of condition that are present on eBay:
Condition

Description

Brand New

Item is brand new in the original packaging and has never been opened.

New: Never Used

Audio dock is new with no use, but the packaging may have been opened.

Manufacturer Refurbished

The dock will have been returned to the company that produced it in order for it to be refurbished to appear new again.

Seller Refurbished

The eBay seller has purchased the item and then refurbished it himself or herself so that it's functional again.

Used

The audio dock will have had past owners and is listed as used as a result.

Buyers should ask the seller questions as to how used the item is and how many owners it has had.

For Parts or Not Working

Damaged items and those that aren't working will be listed as this and are only suitable for spare parts or to be refurbished.
How to Buy an Audio Dock on eBay
Buying audio docks online is a pain free process that allows buyers to look at vast numbers of items without having to leave the comfort of their own home. eBay has one of the largest collections of such items online and the items are affordable as well as being the highest quality available anywhere on the Internet. To make best use of the site and find items quickly, buyers are encouraged to use the following methods to look for items:
· Categories. eBay lists items according to certain parameters and searching by the initial category is the easiest way to find products. To find audio docks by category first go to click on 'Electronics' under the category type heading on the site's main page.
There will now be a number of sub-categories on the left hand side of the page. Scroll down until you reach 'MP3 Player Accessories' and either click it or hover over it to reveal more items. From that list, select 'Audio Docks & Mini Speakers' to be taken to all of those items listed on eBay.
· Search: One of the easiest ways to find a specific item is to use the auction site's extensive search feature. To do this, type relevant search terms into the box present at the head of any eBay page.
The search can be adjusted using the drop-down list of categories to the right of the search bar, as well as by clicking on the parameters on the left hand side once the search results have come up.
· Other Parameters: Once in the 'Audio Dock & Mini Speakers' category, buyers will notice a number of other parameters on the left hand side of the page. These include the ability to narrow down results by 'Compatible Brand', 'Colour', 'Product Type', 'Condition', and many more.
· Know the Seller. Before committing to a purchase do as much background research on the seller as possible. eBay makes this easy by providing an extensive transaction history for every seller, and looking at a seller's feedback is the best way to ensure the seller is genuine. The 'Ask The Seller' feature allows buyers to question anything they may be unsure about.
· eBay Deals. To take advantage of the best deals on audio docks check the 'Electronics' and then 'Audio' sections of the eBay deals site. There are some incredibly affordable options available as well as free postage.
Conclusion
Audio docks are an affordable way to get the optimum performance from an MP3 player and produce sound quality that is unmatched by many Hi Fi systems. Most docks are characterised by the amount of sound they can produce, and buyers are able to choose from various different shapes and sizes. All docks have a uniqueness about them, as well as various features that mark them out from each other.
eBay has one of the largest collections of audio docks for sale anywhere online and presents buyers with an excellent opportunity to find the best deals. In order to make sure the transaction goes through as safely and securely as possible, remember to use PayPal to pay for your items.