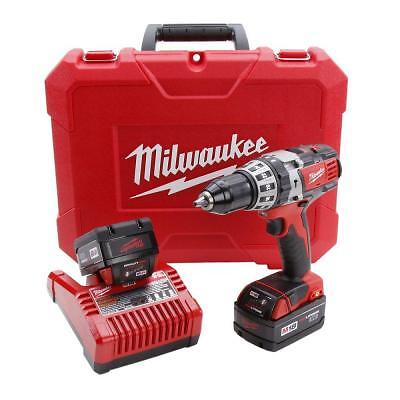 Power tools are very handy items to have when doing home improvements, and in some cases a necessity. These tools include drills, screwdrivers, sanders and saws, and it is important for the buyer to understand what each one is used for. Some buyers may be concerned about the price of power tools, but there is a large selection of new and used tools at low prices on eBay. This guide shall examine the major power tools used today, and explain how to find suitable models on eBay.
Types of Power Tools
Power tools are divided into specific groups depending on the function and purpose of the tool. Buyers should make a list of what tools are needed before beginning a search on eBay.
Drills
Drills are one of the most commonly bought DIY tools and are available new and used for very low prices. Buyers can purchase adaptors for a drill, allowing it to perform a multitude of tasks including driving screws, drilling holes and fastening bolts. Popular drill manufactures include Bosch, Black & Decker and Ryobi.
| | |
| --- | --- |
| Cordless Drills | Cordless drills are probably the most popular drill type on sale today. The benefit of using this type of drill is it permits buyers to work anywhere without having to connect the drill to an electric main. Cordless drills are lightweight and perfect for simple drilling jobs. However, cordless drills often lack the power to drill through brick and stone, and trying to do so can damage the headstock. Cordless drills are the least expensive drill type, and can be bought new for as low as $20. |
| Corded & SDS Drills | Corded and SDS drills are much stronger than the cordless models, and are able to drill through almost every material found in modern houses. Corded hammer drills have extra power and can be used to drill into brick. SDS stands for Special Direct System, and these drills are extremely powerful. However, both types of drill are considerably heavier than the cordless option, and are also more expensive, with corded drill prices starting at around $40. |
Saws
Saws are available in a range of shapes and sizes, and are made specifically to cut certain materials and profiles. The higher the voltage of the saw, the stronger it will be. Also, the more teeth a saw has, the finer the cut will be. Popular saw manufacturers include Bosch, Delta and Craftsman.
| | |
| --- | --- |
| Circular Saws | These are handheld saws that use circular rotary blades. The benefit of using circular saws is they can be fitted with different blades to cut through different materials. Circular saws are ideal to use for cutting straight lines, and prices for new models start at around $100. |
| Jigsaw | Jigsaws are small and light, and are made with portability in mind. Jigsaws are best for cutting through sheer material like sheet metal, and also light wood. Jigsaws are the best choice for buyers looking to cut curves and shapes, and prices start at $80. |
| Table Saws | These are stationary saws attached to a table or workbench, and are used to cut long, straight lines. Table saws produce very accurate and clean cuts, and are commonly used for most woodwork. Buyers can expect these saws to be expensive, with prices starting around $200. |
| Tile Saws | As the name implies, these saws are made specifically to cut tile, as well as ceramics and stone. Tile saws have very fine blades that result in a smooth cut. Prices start at around $120. |
Sanders and Grinders
Both of these power tools are used for preparation and fine-tuning. Sanders are ideal for smoothing down a surface and removing any paint or varnish. Sanders can also be used to remove rust from metal. Grinders are primarily used to cut metal, but those with large discs can be used to cut stone and paving slabs. Black & Decker and DeWalt are known for their sanders, while Delta and Bosch make excellent grinders.
| | |
| --- | --- |
| Belt Sanders | These are probably the most common type of sander used today, and belt sanders use a continuous roll of sand paper to quickly remove surface material. These are perfect to use on large areas and prices start at $100. |
| Palm Sanders | Palm sanders are small and compact, and are perfect for sanding small and hard to reach areas. These can also be used for finer sanding areas that have already been belt sanded. Prices for palm sanders start at around $45. |
| Angle & Straight Grinders | These are ideal for materials that are too large to be brought to a bench. As mentioned above, grinders with smaller discs are very suitable to use on metalwork, while those with larger discs can cut through masonry and paving slabs. If doing the latter then make sure the grinder has a high wattage and a disc around 9 inches in diameter. These tools can be bought for as little as $35, making grinders one of the most affordable tools on the list. |
| Bench Grinders | These are attached to work benches and are used for rough grinding and to hand grind cutting tools. Bench grinders are not generally needed for DIY work, but decent models can be bought for just under $80. |
Finding Affordable Power Tools
As buyers can see from the above list, the price of power tools can vary greatly. eBay is an ideal place to search for power tools, and the majority of items listed on the site are done so at much lower prices than those found in hardware stores or DIY departments. However, if buyers are still finding the tools a little too costly, there are a few alternatives that may help.
· Buyers should check 'eBay Deals' for power tools, as items sold on this part of the site are done so at reduced prices. To find these items, simply click on the Deals link located at the top of the page, followed by the Handyman link in the Tools tab.
· Buyers can search for used power tools by clicking on the 'Condition' filter on the power tools listings page. Used items are generally sold at much lower prices than those listed as new, but buyers need to be sure that tools will be in working order. It is advised that the buyer checks the description box on the item page for additional details about the tool's condition, and inspects photographs for any obvious damage. Buyers should also review the seller's history and keep an eye out for negative comments regarding item quality.
· Buyers can also search the eBay Stores for power tools.
Buying Power Tools on eBay
Once buyers have made a list of the power tools they want to purchase, they should head to eBay.com.au to start their search. To find power tool listings, first click on the Home & Garden tab, followed by the Tools link. On the following page click on the Power Tools link found in the 'Categories' table. Buyers will then be brought to the power tools listing page, and from here they can use the filters on the left to remove irrelevant tools and the search bar to find specific tools or tool parts.
Conclusion
Power tools can make a home improvement project a lot easier and often eliminate the need to hire a professional. Buyers should be aware of what the tools are used for before beginning a search, and are advised to make a list of what is needed. Although power tools can seem like expensive items to purchase, eBay has a large selection of tools at very reasonable prices. Buyers having difficulty finding tools that fit within their budget should check out eBay Deals, and search for used items.