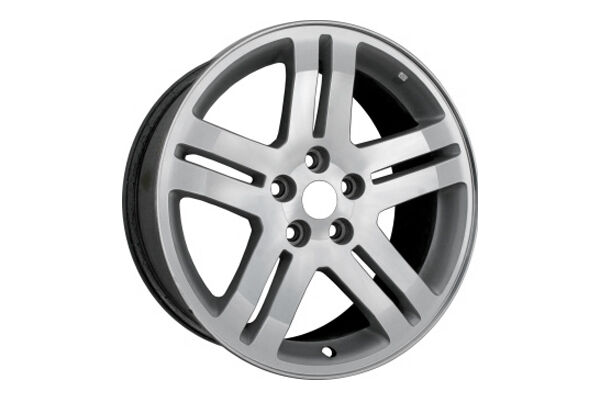 There are many reasons to switch out a caravan's steel wheels for alloy wheels. Alloy wheels are more attractive and come in a variety of paint and finish options. Alloy wheels are also lighter than steel wheels, which improves fuel efficiency, and brings improved agility on the road. They also conduct heat better, which helps dissipate heat from the brakes. When shopping for alloy wheels, it is important to understand wheel measurements and performance.

Characteristics of Alloy
Alloy wheels tend to bend more easily than steel when subject to bumps and impacts on the road. The fragility of the alloy depends to some degree on the nickel content; more nickel increases the weight of the wheel, while less makes it softer and more prone to bending.
Because alloy wheels can be cast and worked in more ways than steel wheels, they offer more flexibility in customisation. In fact, one of the primary reasons to upgrade to alloy wheels is for appearance. Unlike steel wheels, alloy wheels do not require a hub cap, which means they can be displayed to take advantage of their bright sheen and many possible finishes.

Alloy Wheel Finishes
There are four main types of alloy wheel finishes. When choosing between them, consider the cost of each and the desired appearance. Because alloy wheels are easy to damage on kerbs and railings, consider the cost of any potential repairs as well.
Finish

Characteristics

Repair Options

Painted

Most common alloy finish.
Consists of primer on bare metal, followed by paint coat, and clear coat sealant.
Available in wide variety of colours.
Usually applied with HVLP (high velocity low pressure) paint spray gun.

Touch-ups not recommended; must refinish entire wheel to repair damage.

Polished

Technique consists of buffing the alloy to a high shine.
Modern polished wheels generally have a clear coat.

Costly to repair, as repairs must be done by hand.

Machined

Involves spinning the wheel on a CNC (computer numeric control) lathe.
Characterised by small concentric grooves.
'Flange cut' exposes metal around the rim and leaves contrasting colour in the centre.

Can be repaired on CNC.
Repeated repairs result in thinning of the alloy and eventual need of replacement.

Chromed

Produced by polishing, acid-etching, and plating with layers of nickel, bronze, and chromium.
No clear coat.

Most likely of all alloy wheels to crack under impact.
Costly to repair.

Alloy finishes are prone to damage from kerb scratches, automatic car washes, acid-based cleaners, and inappropriate cleaning techniques. Chrome wheels are especially vulnerable to damage as the plating process makes the finish extremely fragile. They should not be used on caravans that will see rough off-road conditions.

Fitting an Alloy Wheel Properly
There are many decisions to make when upgrading a caravan's wheels to alloy. Always follow the caravan manufacturer's guidelines for wheel types and sizes. Generally, it is safer to stick with a wheel of similar size and specifications as the old one. However, the customisation options of alloy wheels make it tempting to go bigger. When installing a larger alloy wheel, keep a few guidelines in mind.
Rolling diameter. When upgrading to larger wheels, it is necessary to switch to thinner tyres. The final rolling diameter of the tyre must be the same as the diameter of the original wheel and tyre combination. Generally, up to 15mm difference is acceptable but it is important to maintain the same or better speed and load capacities. Check with the transit authority to determine rolling diameter regulations for vehicles in a particular state.

PCD (pitch circle diameter). The PCD of the new wheel must match the PCD of the vehicle exactly. The PCD measures the taper of the wheel relative to the taper of the bolts which hold it to the car. Most wheels have a 60 degree v-taper, however this is not standard across and makes and brands. It is vital to choose a new wheel which is engineered to match the studs and bolts on the caravan.
How to Buy Alloy Wheels on eBay
Once the decision has been made to upgrade a caravan's wheels to alloy, check eBay for a wide selection of wheels and wheel care products. In the search bar on any eBay page, type 'alloy wheel' or 'alloy wheel set'. For precise results, search the model and make of the specific caravan. Look for alloy wheel components as well, such as centre caps and lug nuts. The buyer can also search eBay for cleaning products and solutions which are specially designed to do no damage to delicate alloy finishes.