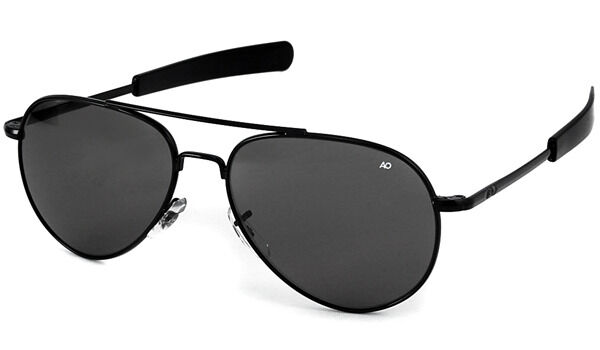 Aviator style sunglasses are distinctive and offer the wearer a timeless yet sleek look. The large teardrop shaped glasses offer maximum protection from sunlight. Sunglasses are useful in many situations, especially driving in low sun or very sunny weather. This guide will look at aviator sunglasses and inform the reader how to look for and purchase them on eBay.
The different tastes of individual and current fashions means there is a wide range of sunglasses available. eBay will have many listings of new and old varieties so the buyer can add a pair of vintage aviator sunglasses to their collection.
History of Aviator Sunglasses
First produced in the 1930's exclusively for pilots, aviator sunglasses were designed to prevent as much light as possible from entering the pilot's eyes. These sunglasses were first produced by a company called Bausch & Lomb but were later rebranded as Ray-Ban. The design of metal frames in solid colours such as bronze or silver is vastly appealing to a range of people. Ray-bans are unisex in style which ensured the lasting popularity of aviator style sunglasses.
Aviator style glasses became hugely popular in the 1960's and 1970's when many celebrities were seen wearing them. The general public have been wearing them ever since and top celebrities today are still wearing them. Ray-Ban is now considered a household name across the world.
Different Types of Aviator Sunglasses
Whilst the look of the aviator sunglasses has remained iconic, modern materials and styles have made them practical with different types of lenses available. The following table details the different types of lenses found on aviator sunglasses:
| | |
| --- | --- |
| Mirrored Lenses | These lenses are silver or charcoal coloured lenses which give a 'mirror' appearance to those looking at the glasses. The mirrored surface helps reduce more light coming into the lenses. These glasses can come in a range of different tints. The wearer has to be careful as the surface can be scratched easily if mishandled. |
| Polarised Lenses | This type of lens blocks UV light, the polarity refers to how they block reflected light. This is useful for those who take part in outdoor sports like fishing or cycling as no glare from reflective surfaces enters the glasses. Polarised sunglasses are also good for drivers. |
| Classic Lens | This is the original style of lens that the Ray-Ban came in, this is a tinted green which is still popular today. |
| Prescription Lens | For those who have bad eyesight and don't wish to wear contact lens to wear sunglasses. Prescription lens are typically more expensive but the buyer has the option to add extra coatings such as scratch resistant coating. |
| Transitional Lenses | These modern lens automatically adjust to the amount of light present, they will darken in bright sunlight and fade when inside. These reduce the need to switch between different glasses and sunglasses. |
What to Look For in Aviator Sunglasses
When selecting aviator glasses the buyer will want to think on a few aspects first, this will help them decide which lens type is suitable for their needs:
· Activity? What sort of activity will the buyer be doing? If simply for everyday wear, aviator glasses with good UV protection are ideal. If the buyer is going to be outdoors in harsh conditions then polarised lens will be a must. It might be worth considering getting something to secure the glasses to the head so they won't fall off.
· Size?The size of the glasses will be important, although aviator glasses are made to be larger than the average human eye, for women the style will need to be smaller, this can be done by buying women's aviator sunglasses.
· Frame Material? Some frames can be made from sturdy metal but for some plastic is lightweight and practical. It is down to the buyer's preference for the frame material.
Is Brand Important?
eBay features a huge range of aviator style sunglasses by Ray-Ban and other leading brands. The buyer may not be overly concerned about designer brands, but it is important for them to consider avoid copies or fake brands of aviator style sunglasses. The following points cover what makes up a fake brand:
· Spotting a fake is often straightforward; there may be obvious misspellings in the item's name and listing.
· Be wary of places listing the country of origin as China, East India and Malaysia, these are countries known for producing counterfeit goods.
· If a deal or offer seems too good to be true, then it likely is. It is worth looking at the feedback of the seller to see what other buyers have experienced.
· Many branded aviator sunglasses will have care instructions and warranty cards, a counterfeit warranty card may be made from flimsy paper and have poor spellings.
· Ray-Ban glasses produced after 1998 should be sourced as being produced in Italy. The sunglasses will feature something along the following on the left arm 'Ray-Ban Italy' or 'Ray-Ban made in Italy.' Anything produced from another country will be counterfeit.
· The packaging of the glasses will be high quality and detail everything about the glasses such as barcode, model number, the lens type and extra information. Nothing should be misspelled.
Popular designer brands of aviator sunglasses are some of the following:
· DG
· Ray-Ban
· Gucci
So long as the buyer is aware of the difference between branded aviator glasses and counterfeit they can confidently make a purchasing decision. For some people brand is important, but unbranded sunglasses can be a viable option if the buyer is simply wishing to try out a new style.
Buying Aviator Sunglasses on eBay
Aviator sunglasses can be purchased from a number of places like opticians and designer shops. There are also many online marketplaces to buy sunglasses and eBay is one of the biggest. eBay provides convenient search results and the buyer can follow these steps to navigate the site successfully:
· The buyer can first start off by entering search terms like 'women's aviator sunglasses' or 'Women's Ray-Ban' into the search bar. To find more precise listings the buyer can go into the categories. Go to the menu and select Clothing, Shoes, Accessories and then Women's Sunglasses. There are no further categories to refine the type of glasses so the search bar is the best to use.
· The buyer can search for lens type by using search terms like 'polarised Ray-ban'. For some women brand will the key factor that sways their choice of sunglasses. To find to brands of sunglasses as well, the buyer should type into the search bar 'Gucci Aviator Sunglasses.'
· eBay has a dedicated deals page that is always updating and changing. On here the buyer can often find great women's aviator sunglasses with significant discount.
· It's important to ensure the transaction goes smoothly as possible. This can be done by studying the description of the listing closely, this will confirm that the sunglasses are the brand or style the buyer is after. The buyer should always complete the transaction inside eBay and it is advised to use a secure payment system like PayPal.
Conclusion
Aviator sunglasses have a long history and are so popular today because the classic design. The style suits both men and women and many face shapes, and for those who are brand conscious many designer brands have a range of aviator sunglasses. Sunglasses offer benefits of reducing sun damage to the eyes, aviator sunglasses are the answer to mixing practicality and style. The exact detail of aviator glasses will come down to personal preference and personal need, but the buyer has all the information they need to purchase ladies' aviator sunglasses on eBay.