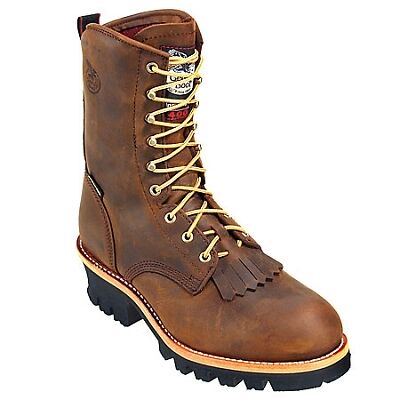 Boots are associated with being a sturdy type of footwear, with elevated sides that stretch over the ankle for additional support and protection. Traditionally, boots were deployed for use over rough terrains or in adverse weather conditions where footing would be difficult.
The boot style has developed over time to become a fashionable shoe and a distinguishable feature of some men's appearance. This guide will look at the different types of boots available on the market, and also how to acquire one at an affordable price.
The best way to achieve this is to check out eBay, a website where various boots can be purchased at amounts potentially lower than can be found on the high street or other online outlets.
A Look at Men's Boots
Boots were traditionally designed with durability and sturdiness in mind, covering up the ankle, as well as the foot. In modern times, they became synonymous with outdoor use, with army divisions and law enforcement agencies integrating them as part of their uniform.
Traditionally made from leather or rubber, tough synthetic materials are also sometimes used for contemporary boots. Their design is primarily concerned with protection against rough, slippery or dirty conditions and so that any floor debris cannot get inside the boot causing discomfort when walking.
Boots come in different shapes and sizes; for example, some will stretch further up the leg for added protection. Other types will be waterproof, most commonly Wellington Boots, and others will have added insulation inside for warmth. Industrial workers are usually expected to wear steel-cap boots as an extra safety precaution.
In fashion terms, boots have developed into a popular accessory with some men, and go well with jeans as part of a retro style. Versions that can be worn inside as well as outdoors known as ugg-boots have also become more popular in recent years.
Types of Men's Boots
Boots are designed specifically to suit the activity they will be used for. The table below makes note of the most popular kind with men with links provided to the relevant listings on eBay:
| | |
| --- | --- |
| Style of Boot | Description |
| Chukka | Chukka boots are ankle length and predominantly made from leather or suede. They are associated with the game of polo, mainly used by players when not in competition. Their sole is quite conspicuous, making them unsuitable as formal dress wear. |
| Chelsea | Originating in the 19th century and popular throughout the 1960s, Chelsea boots are a sleek and tight-fitting design. They are renowned by having a piece of elastic on the side of the ankle, although Chelsea boots can come in varying styles. |
| Cowboy | Although associated with American western culture, cowboy boots are still commonly found today. They are lengthier than other boots and come up above the ankle. They will also have an elevated heel and no lacing. The toe is usually pointed too. |
| Motorcycle | Motorcycle boots are primarily associated with motorcycle riders and will range from above the ankle to below the knee in length. They are designed with toughness in mind, so strong leather is used for additional protection in case of an accident. |
| Ugg-boot | As noted before, an increasing popular boot with both men and women is the ugg-boot. The boots are made of sheepskin and have a comfortable fleece lining on the inside. Ugg-boots are often used indoors as a type of slipper due to their cosy feel. |
| Wellington | The Wellington Boot is recognised all over the world as the main type used in wet weather conditions. They are made from rubber and extend high up the leg as an extra guard against muddy surfaces. They are often referred to as 'gumboots' in Australia. |
Buying Considerations for Men's Boots
Below is a list of aspects to consider before buying men's boots. Ensure to deliberate over these points with a price budget in mind, checking on eBay to see if any attractive offers can be found.
· Firstly, think about what the boots are going to be used for. Are they planned on being a fashion accessory to complement existing clothes, or is there a more specific reason for the acquisition? For example, for camping or mountaineering trips then look at hiking or walking boots; for labouring or machinery jobs then steel-cap boots will be needed, whilst Wellingtons will be most suitable for wet conditions or muddy festivals.
· Consider the boot's materials. Will they need to be waterproof, lightweight, sturdy or breathable? Leathers are commonly used for construct boots, but these can vary in terms of their quality – remember that trying to save money by purchasing lower-class or artificial leather can actually make the boots more of a hindrance, especially if walking long distances.
· Getting the size correct is crucial, particularly if buying online. Remember that boots will often be worn with thicker socks, so take this into consideration. Know personal measurements exactly before committing to buy a certain size. Boots should fit snugly around the foot, and must not be too tight, as discomfort can arise.
· The cost of men's boots is generally on the low side, although some versions can stretch to elevated amounts of over $1000, such as snake or crocodile-skin leather boots. Those at the lower end of the market can be found for roughly $20 or below, although a reliable new pair can set one back up to around $100.
· If looking to find boots for the best possible price then shopping eBay can unearth some great deals, especially if prepared to buy a pre-owned pair. Looking at boots listed as an 'auction' may present the chance to find some for below the market average. In addition, check out the eBay deals page and the 'Men's Boots' area of the 'Men's Footwear' section.
How to Buy Men's Boots on eBay
This section will look at how to complete a purchase on eBay. Remember to stay safe when using the site and take care when reviewing the item.
- To bring up men's boots onto the results page, type in a specific search term depending on personal preferences, such as 'cowboy boots' or 'size 9 boots' and then review the listings.
- Alternatively, enter the 'Men's Shoes' section in the 'Fashion' category from the eBay home page. From the menu on the left-hand side of the page now select 'Boots' – thousands of listings will appear that can be narrowed down in numerous ways.
- Firstly, examine the refinements menu and consider such aspects as the size that the boots need to be, the materials they should be made from, and finally their preferred colour. Brand new and used boots can also be separated, along with the desired price range.
- When a more refined list has been created, click on individual items and review the details closely, including the postage and payments information. Be sure to ask the seller a question if concerned about any part of the transaction.
Conclusion
Boots come in many styles that are suitable for various activities. Think of which particular design will match what is needed and then do as much research from different sources to gain a knowledgeable view of the options available.
Shopping in store will offer the chance to try the boots on first-hand, but not the wide selection that can be found online. eBay in particular has countless amounts of men's boots at potentially lower prices than can be found elsewhere.