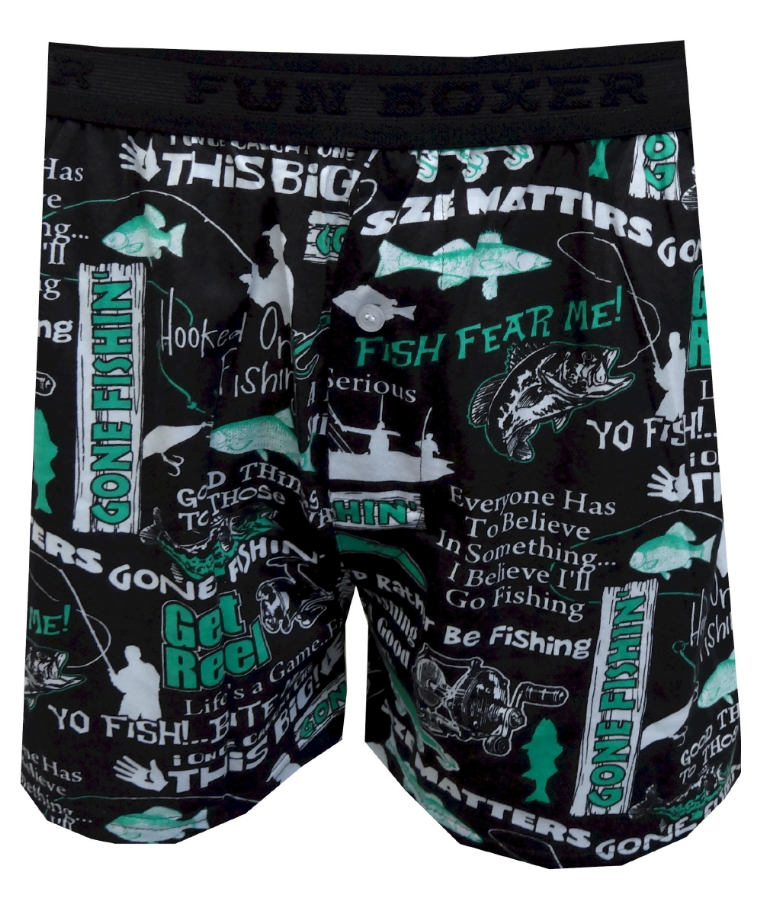 Boxer shorts are a type of underwear specifically designed for men. Boxer shorts may also be referred to as 'loose boxers' or shortened to simply 'boxers'.
Unlike most other forms of men's underwear, boxer shorts are loose fitting, providing men with freedom to manoeuvre down below, offering them the most comfort possible. Boxer shorts come in a wide variety of styles, shapes, patterns and designs. There are also many novelty boxer shorts that feature popular cartoons or humorous designs, which are currently for sale on the market.
The purpose of this guide is to inform the reader and potential buyer all about boxer shorts and to explain how to purchase these items of underwear on renowned auction-based website, eBay.
Boxer Shorts
Boxer shorts were named after the shorts worn by boxers, as they offered them a free range of motion in the lower half of the body - an essential part of boxing.
Most boxer shorts have a fly in the front, which is typically closed by a single or series of buttons and/or snaps. Some boxer shorts may not need a closing mechanism on the fly as they have been specifically designed to be kept closed by overlapping fabric. This is known as the 'open fly' design.
Many boxer shorts are made using non-stretch fabrics, so they feature a 'balloon seat', which is a large panel of loosely fitting fabric located in the middle of the shorts' rear. This feature is especially designed to accommodate for the owners range of movement.
Types of Boxer Shorts
Just like in women's underwear, there is a range of boxer shorts in different styles and designs. Boxer shorts typically come in three different styles: centre rear panel, gripper and yoke front.
Centre Rear Panel Boxer Shorts
The most common sewing design used in the mass production of boxer shorts are made with a panel seat that has two seams running down the outer sides of the back seating area, which creates a centre rear panel.
Gripper Boxer Shorts
These boxer shorts have an elastic waistband similar to traditional boxer shorts, but they feature a series of snaps (typically three) on the fly and waistband meaning that they can open up completely.
Yoke Front Boxer Shorts
Yoke front boxer shorts are similar to gripper boxer shorts, however, the wide waistband yoke on these underwear types usually has three snaps to close it and the fly itself does not have a closing mechanism.
Yoke front boxer shorts are available in two different styles according to their tying apparatus:
· The first style has a short piece of elastic on either side of the waistband that tightens up to the yoke to fit tightly around the waist.
· The second style of yoke front boxer shorts is 'tie sides' which have thin pieces of cloth located at each side of the waist yoke like shoe laces which are then tightened and knotted by the owner to provide a snug yet comfortable exact fit.
Yoke front boxer shorts were popular during the Second World War when the rubber needed for elastic waistbands had to be used for military reasons.
Underwear Type and Fertility
In recent years, it has been suggested that tight underwear (such as briefs or jockstraps) and high temperatures can be detrimental to a man's fertility and sperm count. Whilst this link is still yet to be proved or disproved, it is common knowledge among men that the boxer short style is often the most flexible, non-restrictive and coolest (temperature wise) type of underwear available on the market for men.
The suggestion that tight and restricting underwear impacts upon a man's fertility was introduced following some studies. The main principles of this theory are that:
· Testicles are located outside of the body for cooling purposes because they produce sperm at a lower temperature than the rest of the body and boxer shorts.
· The compression of genitals in briefs and other forms of restricting underwear may cause the temperature to rise and therefore discourage sperm production.
The link between underwear type and fertility in men is currently under much debate and the research is still inconclusive, meaning that the theory is not fact yet, but nor is it a myth.
Considerations When Buying Boxer Shorts
When buying boxer shorts, there are often many considerations to take into account. Here are the crucial considerations to bear in mind when shopping for the underwear type:
Forget Fashionable, Get Comfortable: A common mistake people make when buying underwear is to choose something that is fashionable rather than comfortable. Underwear sits against the skin all day long so it should feel as comfortable as possible. Choose design and features over colour or branding because 'designer' boxer shorts might not necessarily be the best fit.
Consider Organic: For those who have skin that's prone to irritation or discomfort then it's often a good idea to consider buying organic underwear. This underwear type is made without using dyes or bleaches which can irritate some people's skin.
Moisture Wicking Underwear: For very active people who spend a lot of the day, every day undertaking laborious activities that encourage them to sweat it may be worth considering investing in some moisture wicking boxer shorts, as they wick away wetness and dry quickly. These underwear types absorb water instantaneously rather than allowing beads to form on the top of the surface.
How to Buy Boxer Shorts on eBay
eBay is a great place to buy items of men's underwear like boxer shorts. Regardless of the material type, colour, pattern or design, and has an extensive range of boxer shorts on sale to suit everyone.
For a completely successful purchase on the website, please consider the following:
Conclusion
There are many factors to take into consideration when purchasing boxer shorts. However, with the important information and crucial considerations outlined in this guide, coupled with eBay's highly detailed, easy to use and customer service-focused website, buying boxer shorts can be quick and easy.
Purchasing on eBay should be considered due to the potential of finding a great deal and the extensive choice of boxer shorts available. Remember to always stay safe and secure on the website by using payment scheme PayPal to complete transactions with eBay sellers.