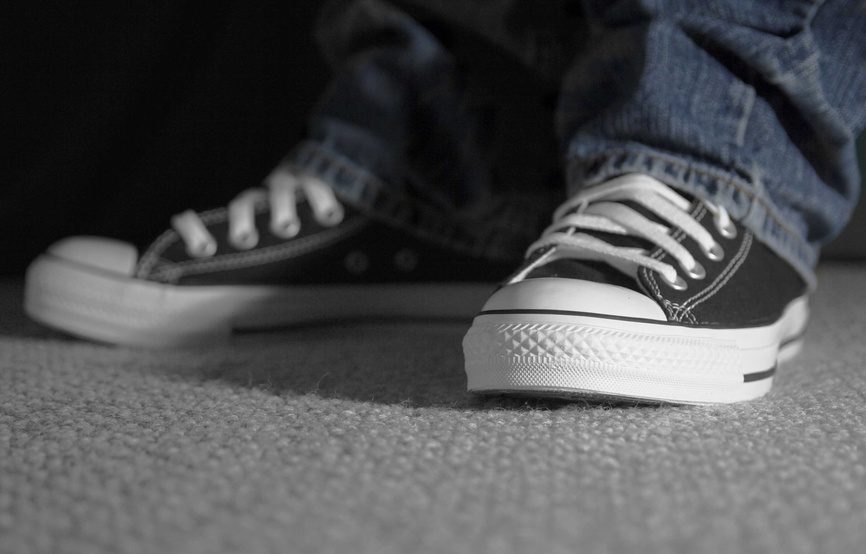 Athletic shoes, originally shoes designed specifically for use in a range of sports and physical activities, have become one of the most popular types of shoe to wear for everyday, casual use. Athletic shoes are most commonly designed to be light weight and breathable, ensuring that the wearers feet remain cool and comfortable, whatever they are doing. Converse, a brand which offers a variety of different types of athletic shoe, have become widely popular among many wearers. Whatever a pair of athletic shoes is needed for, the right type can easily be found on eBay.
The Types of Converse Athletic Shoe
The majority of Converse athletic shoes can be divided into different 'cuts', with their most distinctive differences being the height at which they sit on the wearers ankle or leg. Some may find different cuts more comfortable, and they may also be more suited to different sporting or casual uses.
| | |
| --- | --- |
| Low Tops | Low tops are shoes which sit below the ankle. This can ensure that the wearer has a greater range of movement in their ankle, and are often lighter and easy to quickly get on and off. This type of shoe is widely available, and a popular choice for casual use. It may lack the ankle support for some sports. |
| High Tops | The traditional type of Converse shoe, the high top generally reaches to about an inch above the ankle. Originally designed for use in basketball, these light, sturdy shoes provide ankle support to the wearer, though can take longer to get on and off. |
| X-Hi | X-Hi Converse shoes sit higher still on the leg, reaching up to the mid calf of the wearer. Taking longer than high or low tops to put on or take off, some find having the thick material sat high on the leg more comfortable. |
| XX-Hi | XX-Hi shoes can appear similar in design to that of a boot, as the tops of these shoes sit just below the knee. XX-Hi shoes offer a distinctive style, though the laced versions take much longer to get on and off. |
| Slip Ons | A popular alternative is the slip on shoe. This type of shoe is fast and easy to put on and take off, though are less suited for sporting activity, as they are more likely to slip and cause discomfort. |
Converse Shoe Materials
Converse athletic shoes can be found in a variety of different materials, from durable leather to the lightweight and comfortable canvas.
| | |
| --- | --- |
| Canvas | The traditional and widely popular material used in a wide variety of different types of Converse shoes is canvas. Canvas is a breathable material, keeping feet dry during strenuous activity, and is also light and comfortable. Canvas shoes are suitable for everyday use, as well as in sport and exercise. |
| Suede | Suede is a popular choice among the style conscious. Suede is a type of leather which has been treated to create a unique, softer appearance and texture, which is often considered desirable. Suede shoes, however, are not waterproof. |
| Leather | A popular material in shoes is leather. This durable material makes for a comfortable shoe that stretches and moulds over time to the shape of the wearers foot. Leather shoes are suited for a variety of uses, though are often more expensive than similar shoes of other materials. |
| Velvet | A less common type of shoe material is velvet. It offers a soft and luxurious appearance and feel, and are often considered highly desirable as a fashion accessory. However, velvet shoes are more expensive than other types and are less suited for athletic activities or sports. |
Converse Athletic Shoes for Sports
When buying a pair of athletic shoes, it is important to consider what may be most suitable for any sports that they may be worn for. Different sports have different needs, and it may be a good idea to have a different pair of shoes for different activities, in order to both increase comfort and the lifespan of the shoe.
· Running shoes should be light and breathable, with a tight and secure fit to ensure that there is no slippage. Those who are less experienced runners may also prefer additional padding and thicker material at the toe.
· Shoes to be worn on courts, such as for tennis or basketball, should have light coloured soles. This helps to avoid leaving a mark on the court surface, and some courts may require that they be worn. Tennis shoes are designed to provide cushioning for sideways movement, and low cut shoes may be most suitable.
· Converse shoes are a popular choice for basketball. Basketball shoes should offer sturdy support for the foot and ankle, as well as feature a strong and reliable lacing system. Canvas, leather and other breathable materials are a good choice for this type of shoe.
· Some court sports, in particular those such as squash or racquetball, require shoes which feature good grips on the soles, due to the high speed, stop-and-start nature of these games.
How to Buy Converse Athletic Shoes on eBay
A wide variety of Converse athletic shoes, suitable for all kinds of sporting and day-to-day use can be found on eBay.
· The full listing of Converse athletic shoes can be found in the Athletic section of Women's Shoes.
· The listing of shoes can be organised by a number of different categories, which make it easy to narrow down the wide array of choices.
· Match a pair of Converse shoes with an outfit by choosing a colour such as green, pink or brown. Vibrant, multicoloured designs are also available.
· Shoes can also be arranged by size, ensuring that the most comfortable fit of Converse shoe can be found. If men's shoes have proven to feel more comfortable in the past, don't hesitate to try them out. Many women find men's shoes more comfortable due to the shape of their feet, and vice versa.
· Further information about a specific item can be found on the item page, which will typically offer detailed information, often along with pictures, about a specific item. This helps the buyer to know precisely what they are purchasing, while information about the seller can ensure that a purchase is made with confidence.
· If a specific pair of shoes is needed, it may be easier and faster to use the search function which can be found at the top of every page. Entering a key word into the search bar will return relevant results from within a specific category, or from across the site.
· Don't forget to look out for any available deals on converse shoes which may be available under the 'Women's Shoes' section.
Conclusion
Converse shoes are a widely popular type of athletic shoe, and can be worn when playing a range of sports, as well as make a comfortable choice for day-to-day, casual wear. Whether looking for a practical and comfortable low top, or to make a statement with a pair of XX-Hi shoes, the right shoes can be found to meet the needs of the wearer. Available in various materials, colours and styles, converse shoes, and many other types of women's shoes, can be found on eBay.