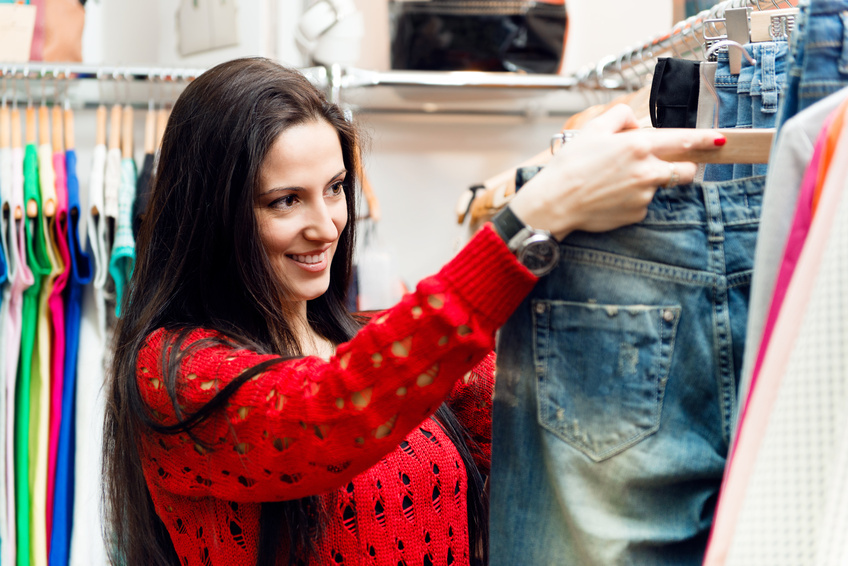 When it comes to a woman's wardrobe, there a few items that are as longstanding as a pair of denim jeans. The jeans we know today became popular back in the 1950s as a piece of factory work attire. The look of jeans has changed over the past sixty years, and women are likely to come across a variety of cuts and styles when shopping for a pair.
The art of jeans shopping is finding the perfect pair, which will stand tall through various trends and fads. In the world of fashion eBay is the new market leader. It is now the ultimate resource for getting the best deals on women's clothing.
Different Types of Styles
The styles of women's jeans have evolved since the beginning of the 21st century, and the sheer variety has made them ever popular. When shopping for jeans, women will have to choose from various different fits and washes. It is important to have a full understanding of what the differences between them are.
Boot Cut
· Designed for male workers of the 1950s.
· Wears well and can sustain even the most rigorous use.
· Flares out at the bottom in order to accommodate heavy-duty shoes and high-cut boots.
· Would evolve into the bell-bottom jeans of the early 1970s.
· Form fitting around the thighs and knees.
· Appropriate in casual and professional environments.
· The most common form of jeans, which are produced by almost all fashion companies, including unbranded and designer labels.
· If a woman wants a traditional and classic look, they can't go far wrong with a boot cut pair of jeans.
Straight Leg
· Popular amongst women of all body shapes.
· Designed to run straight down the leg.
· Loose on the thigh, whilst tight on the hip.
· Doesn't change in shape anywhere on the leg.
· Intended to be worn one inch below the ankle.
· Can often be seen tucked into mid-length boots or high-top tennis shoes.
· Varied in the sense that users can have either a high or low waistband.
· Perfect for shorter women who want to give off an image of increased height.
· Formal in appearance and perfect for a business-casual environment.
· Considered to be the standard option in the current jeans market.
Skinny
· Reached initial popularity back in the 1970s, as they were adopted by punk rock and glam rock bands of the era.
· They fell out of style in the 1980s.
· Triumphantly returned to the forefront of fashion in the 2000s, and are currently as popular as ever.
· A trendy and adventurous style option for women.
· Constructed out of a stretchable Lycra and denim mixture.
· Initially they may not appear suitable to many women; however, the stretchy fabric can comfortably adapt to any body shape.
Getting the Right Fit
Women should always do their utmost to find jeans that fit properly. Always take body shape, weight and figure into consideration when looking for a pair of jeans. Don't wear jeans that are too tight or ill fitting, as they can be unhealthy and affect the blood circulation in the legs.
Petite and Shorter Women
· Women of a petite figure can find it tough to find the right jeans.
· There are actually petite fit jeans available, which are purpose built.
· Straight leg fits of darker colours will flatter shorter women, as they will make the legs appear longer and sleeker.
· Always opt for something that has a standard rise at the waist.
· A waist rise that is too low will cause the ankles to be covered, and actually make a woman look shorter.
· Avoid Capri and cuffed variations, as they can come across as particularly unflattering.
Curvy and Full Figured Women
· Almost all styles of jeans will suit curvy women, but a straight leg pair is considered most optimum.
· Straight leg jeans will give full figured women a more uniform shape.
· Play it safe and look for jeans that are mid-rise, it will be more comfortable and fitting around the waist.
· If a woman has an 'apple' shaped frame, a wide leg pair of jeans is another option, as it will give the illusion of a fuller lower body.
· Pear shaped women should opt for a boot cut fit for similar reasons.
· Skinny fit jeans will hang on a woman's curves and create the effect of an hourglass figure.
Sizing
It is no secret that all women try to fit themselves into the smallest size of jeans possible. Many don't understand that wearing jeans that are too tight are unhealthy, and create an unflattering appearance. This is especially true in the case of skinny jeans.
· Always get the exact measurements of the waist and legs before shopping for a pair of jeans.
· If a pair of jeans feels tight, don't buy them and opt for the next size up.
· Even when a pair of jeans feels a little loose, they can always be taken in or worn with a belt.
· Never force legs into a pair of ill-fitting jeans; it will do more harm than good.
· The sizing standards are small, medium and large. However, each manufacturer approaches these sizes differently.
· Research what they classify these measurements as before buying.
How to Buy a Pair of Women's Jeans on eBay
When it comes to fashion, no item commands more attention than a perfectly fitting pair of jeans. The trick is finding the right pair to suit a woman's figure and body shape. This guide helps women evaluate all styles, and find something that is both flattering and stylish. It doesn't matter whether shoppers are after an unbranded high-street pair, or something from a designer boutique, eBay will have something to suit all tastes and budgets.
· To see what women's jeans have been listed for sale, select clothing, shoes, accessories from the list of product categories.
· Then select women's clothing and jeans. This will bring up all live jeans related auctions, meaning that shoppers can freely browse.
· When shoppers want a particular brand of jeans they'll need to use the keyword search and advanced search functions to find them.
Completing a Transaction
The perfect pair of jeans can be like gold dust to find, so when shoppers have located a pair it would be criminal to see them slip away. To stop this from happening, try doing one of the following when on an auction listing:
· Place a Bid
· Make a Best Offer
· Buy it Now
If a shopper is successful and wins the auction they will need to pay for the item. It is advised that all eBay users opt for PayPal in order to complete the checkout process. This ensures that the buyer protection programme covers the order and protects the shopper.
Conclusion
Women's fashion is big business and is in a constant state of evolution. If there is one item all women should own it should be a great pair of jeans. What factory workers and experimental rock stars once wore is now the key element of most women's daily look. Simply put, jeans are the cornerstones of the fashion world.
The issue is that finding the right pair of jeans can be tough, this guide is here to make sure that is never the case again. Jeans are an all-round great choice for pants, and eBay makes sure that they remain affordable to everyone.