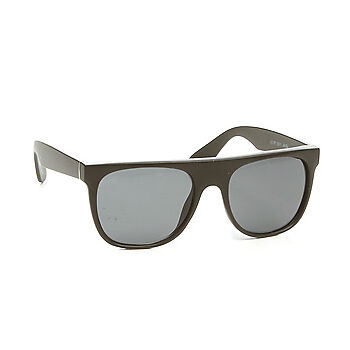 The primary purpose of sunglasses is to prevent high-energy visible light and bright sunlight from causing discomfort or damaging the eyes. Healthcare professionals generally recommend the use of protective eyewear to avoid serious eye problems. Sunglasses are also used as visual aids. These glasses feature coloured, darkened, or polarised lenses. For some people, the types of sunglasses they wear are a fashion statement. Regardless of the reasons for wearing sunglasses, there are many buying considerations that should be kept in mind when purchasing them.
Different types of sunglasses are suitable for different face shapes. Men's sunglasses for oval faces can be acquired from traditional department and discount stores as well as online. eBay offers a large collection of sunglasses for men and women for oval faces, round faces, and many other types of faces.
Buying Men's Sunglasses for Oval Faces
Sunglasses have evolved into common fashion accessories in addition to serving as protective eyewear, and they are considered by many people to be a statement about one's self. There are numerous factors to consider before purchasing a pair of sunglasses, regardless of the primary reason for purchasing them.
Eyesight
The eyesight of an individual is the foremost factor to consider when purchasing sunglasses. A person who already wears glasses for eyesight issues should consider glasses that have perspective lenses. Many opticians offer perspective glasses in place of normal glasses. Perspective glasses simply have a 'built-in' tint that reacts with light to turn clear glasses into sunglasses.
Protection
An important safety aspect is the ultraviolet (UV) protection in a pair of sunglasses. To protect one's vision from ultraviolet rays, a buyer should select a pair that has at least 60 per cent UVA protection and 95 to 99 per cent UVB protection. Cheap sunglasses generally do not offer full protection. To experience the full range of recommended safety features, one must be willing to spend a little more money.
Measurements
Three numbers are used to depict the measurements in millimetres of men's sunglasses, and the numbers are always written in a specific order. The first number reflects the width of a single lens, the second is the width of the bridge over the nose, and the third is the length of one arm. A typical measurement would look something like 55 - 20 - 130.
Size
In order to determine the right size of the sunglasses that would suit a particular face, a measuring tape or a ruler can be used. A buyer should measure the widest part of the face and the width of the bridge of the nose. Subtracting the width of one's nose from the total width of the face and dividing the answer by two gives one the appropriate lens width of the sunglasses.
Designs and Styles for Oval Faces
The process of picking sunglasses of a particular style logically comes after the selection of the right size. The design and style of a pair is a personal choice that varies from person to person. The number of options available to a buyer is virtually endless. Different frames suit different face shapes, and a buyer should carry out some research beforehand to figure out face shape and which sunglasses suit this shape. Men's sunglasses for an oval face, for example, might not suit a man with a diamond face and vice versa. Men with oval face shapes fortunately have a lot of options for sunglasses. The following table notes some popular sunglass shapes for oval faces along with some descriptive information.
Shape of Men's Sunglasses

Description

Softens the contours of an oval face

Also presents a nice, soft look

Great for people with oval faces

Help keep the face balanced and even

Creates an awesome look

Immensely popular in today's market

Ideal for people who spend a lot of time out in the sun

Offer optimum protection for users' eyes.
Oval faces are very balanced and proportionate, and a wide array of frames complement this facial shape. People who have an oval face with a narrow chin may prefer geometric sunglasses. The table provides a general description of the various shapes of men's sunglasses that are suitable for oval faces. A buyer is encouraged to carry out product-specific research before making any purchases.
Lens and Frame Colours
Colour selection can also be categorised as a design and style consideration. A buyer should keep in mind things like hair and skin colour when making selections. The frames are generally large enough to have a great impact on the overall appeal, which makes selection of the right frames highly important. The same holds true for lens colour. Although colour selection is a personal choice and is related to one's sense of style, the lens colour can also affect vision. Grey and green lenses are popular for driving, while brown and amber lenses are common for sports use because they block out blue light.
Polarisation
When sunlight reflects off flat surfaces like water or metal, a blinding glare can occur. Polarised sunglasses block this glare, which is why they are immensely popular sports sunglasses. These sunglasses block the glare while running, cycling, or boating and help sportsmen optimise their performances.
Budget Considerations
Budget is always an important consideration for most shoppers. A buyer should proactively allocate a budget range for the purchase of sunglasses. The allocation should depend on how frequently and where the sunglasses are going to be used as well as overall affordability. A buyer should only spend a large amount if he or she plans to use the sunglasses frequently.
Designer Sunglasses
Designer sunglasses are a fashion statement for many people across the globe. However, just because a pair of men's sunglasses has a designer tag (and a designer price), does not mean it is of high quality. Generally, there are many quality manufacturers of sunglasses in the marketplace who specialise in men's sunglasses. In some cases, the quality is second to none. Again, high price is not a measure of the quality of men's sunglasses. Many designer sunglasses look great but lack the basic safety features.
Buying Men's Sunglasses for an Oval Face on eBay
If possible, search for local listings for men's sunglasses for an oval face. This not only saves you the delivery charges, but it can also expedite the purchasing process in some cases since you can pick up the order from the seller at a convenient time soon after the transaction is successfully processed. Do not forget to go through the feedback and reviews for sellers before deciding on items to buy.
An easy way to begin the hunt is by using the search bar on the eBay homepage. Enter a query to see the relevant results. Some queries for this case might be sunglasses, men's sunglasses, eyewear, polarised sunglasses, or just general deals on eyewear. You can always filter the results based on your personal preferences and also sort them as you like.
Conclusion
Sunglasses are the most common form of protective eyewear. They are designed to ensure that bright sunlight and high-energy visible light do not cause discomfort or damage to the eyes. Protective eyewear is recommended by healthcare professionals and should be used to avoid serious eye problems. Other reasons to use sunglasses include as visual aids and as fashion statements. Whatever the motivation may be, important buying considerations should always be kept in mind before making any purchasing decisions.
Men's sunglasses for an oval face can be acquired from brick-and-mortar stores as well as online from the comfort of one's home. eBay features a huge collection of sunglasses for men and women, making it easy to find sunglasses that are ideal for different face shapes.