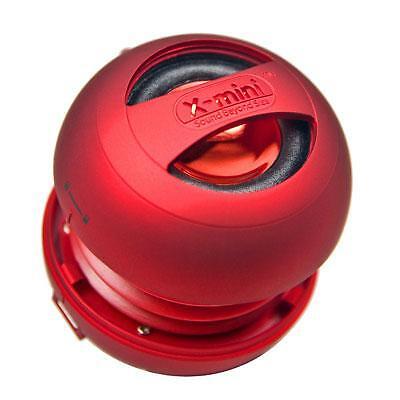 The way people consume music is always changing. Gone are the days of cassette, CD and Mini Disk players as we make way for the convenient alternatives of today. There are so many mediums to play music ranging from mp3 players to mobile phones to tablets. These are all great for listening to music on the move with fantastic quality.
Hi-fi systems are no longer needed to listen to music through quality speakers as there is a huge range of mini speakers and mp3 player docks widely available. This guide will give an overview of the benefits of buying mini speakers for your chosen devices and outline the array of mini speakers available as well. All of the items mentioned are available to buy and bid on in the Electronics category on eBay.
Why Buy Mini Speakers on eBay
Modern technology like mp3 players and smart phones have allowed anyone to store thousands of songs and albums onto their device and have access to them at a click of a button or a swipe on a touchscreen. Where most of the time, you will listen to music through headphones, it is easy to share your music with your friends using mini speakers. Some of the biggest benefits of unlocking your music with mini speakers are:
Listen to High Quality Music without Great Expense
Music enthusiasts can spend a large amount of money on top quality sound systems for their home which can include all sorts of equipment like amplifiers, surround sound and high end speakers. These can be extremely hard to move and set up as they are normally fixed in a room or set up to various settings. Mini Speakers eradicate this problem completely and allow the user to listen to music with high quality sound. Although Mini Speakers are designed for portability and ease of use, some models really do pack a punch in the quality stakes and put some home-based systems to shame.
Multi-functional
Mini Speakers are great for playing music but can also serve more than that one purpose. Many mini speakers can be used as charging docks for your smartphone or multimedia device as well as act as an alarm clock or radio.
Fantastic Sound Quality
Despite the fact that mini speakers are generally very small as their name suggests, they can have a powerful sound quality. Where they won't be as good as home surround systems, they offer a great quality of sound that can easily entertain a large room full of people and will highlight the various parts of the songs like bass and treble very well.
Ease of Use
Mini Speakers are extremely easy to use as they offer a plug and play option in which they are connected to the music device via the headphone port and then just press play as you would normally do. This makes it perfect for any occasion and means it can be used by anyone.
Types of Mini Speakers Available on eBay
There is a wide variety of types, sizes and brands of mini speaker available in the Electronics section on eBay. The different types of mini speaker are:
Home Mini Speakers
Home Mini Speakers are designed to be used in the home and are the largest of the portable speakers on offer. Because they are for home use, they will usually run on an AC adaptor rather than batteries. Home Mini Speakers have the sound quality to fill a large room with sound and sometimes a bit more. In terms of price, it can range greatly as some are just as good as home stereo systems.
Home Mini Speakers will often include a number of accessories like audio input and output jacks so the speakers can be attached to a home theatre system. Many of these speakers will come equipped with a remote control to adjust the bass, treble and volume.
Portable Mini Speakers
Portable Mini Speakers can be used around the house and outside. They rely on batteries for their power rather than an AC adaptor so they can be used in the back garden or just away from a plug socket. Many portable mini speakers will have additional features like an AM/FM tuner, remote control and carrying case.
Alarm Clock Mini Speakers
Alarm clock mini speakers are great for combining a music player and alarm clock into one efficient device. They will generally work as a charging unit as well, meaning you can listen to music while your device chargers its battery. Alarm clock mini speakers are usually powered by AC adaptor, but can come with a backup battery to ensure it is always working despite any short lapses in power availability.
How to Buy Mini Speakers on eBay
All of the mini speakers outlined above are available to buy on eBay. By simply searching for 'mini speakers' in the search bar on any eBay page, buyers will be faced with pages full of products.
However if from reading the above a specific product has now been chosen, more specific searches can be done. For example a search of 'sony mini speakers' will produce a more specific search.
There are two ways to buy products on eBay and this is through bidding or the buy it now function.
· Bidding – Buyers can bid on the product like a normal auction. The seller can put a reserve price on the product in case the auction does not reach their minimum requirement. Buyers will enter bids and will be notified via email whether you are the highest bidder or not.
· 'Buy It Now' – If the buyer does not want to wait for the auction to finish and the seller has opted for the 'Buy It Now' function there will be the option to buy the product at a set price which will be advertised and the buyer can buy the product there and then. This is good because the buyer is guaranteed to definitely get the mini speakers and to receive it quicker unlike using the bidding route.
Once the perfect mini speakers have been found it is advisable to check out the seller before purchasing from them. There are two main ways that buyers can check that they are buying from a good seller on eBay; through reviews and ratings. Other buyers who have bought from this seller are entitled to give feedback on their experience and they can also rate them with a star rating out of five. These reviews and ratingsare impartial and are crucial to making sure the eBay buying experience runs as smooth as possible.
You can search for the best deals on Mini Speakers by checking in the eBay Deals section. Some additional fantastic discounts are to be found, along with free postage costs.
Conclusion
When buying mini speakers it is important to consider where they will be used and how many people will need to hear what is being played. By taking the points in this guide into consideration it will be easy to find the mini speakers that are the best for your needs. To search for the range of mini speakers available, take a look in the Electronics section on eBay.