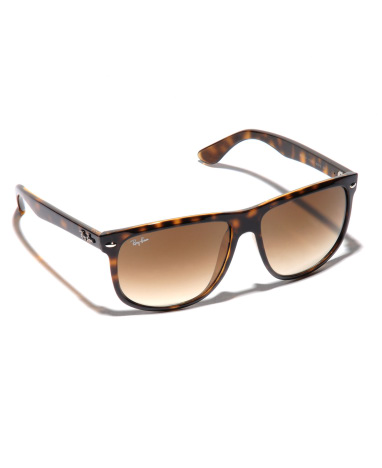 While Ray Ban sunglasses may not be the oldest brand on the market, they are one of the best known and most iconic brands of sunglasses in the world. In fact, they are so well known that the brand name alone is enough to identify the product. No one has to say that Ray Bans are sunglasses because everyone already knows. Introduced for the U.S. military, Ray Ban created and then popularised the aviator style of sunglasses that became as big a part of a pilot's uniform as the flight jacket. Even General Douglas MacArthur wore Ray Bans, and they were as much a part of his image as his corncob pipe. The company may have started out selling aviator sunglasses to pilots, but they offer many more styles now.
Sunglass Basics
The primary purpose of a pair of sunglasses, whether it is a pair of Ray Bans or any other brand, is simple: to protect the wearer's eyes from the sun. The secondary purpose of a pair of sunglasses is to make the wearer look good while doing it. While the style may come largely from the frames, the protection comes almost entirely from the lenses. Good lenses, such as those found in Ray Bans, do several things. They filter light towards the green wave to increase clarity, while reducing the total amount of light that reaches the eyes. They also protect against harmful ultraviolet radiation, which is especially important when the wearer's pupils are dilated because of the reduced glare.
History of Sunglasses
The first documented person to wear sunglasses was the Emperor Nero, who wore emerald lenses to protect his eyes from the sunlight while watching the gladiators. Just over a thousand years later, lenses of smoky quartz were worn by Chinese judges to hide their eyes from those who were brought before them. Modern sunglasses only date back to 1929 when Charles Foster introduced Foster Grant sunglasses to people visiting the shore.
History of Ray Ban Sunglasses
Unlike some other sunglasses, Ray Ban sunglasses were not developed in reaction to the success of other brands. Instead, they were developed by Bausch & Lomb at the request of the United States Army Air Corps in 1937. Combining stylish metal frames with tear-drop shaped green lenses, the Ray Ban Aviator was an instant success and the first to combine anti-glare with ultraviolet protection. Ray Ban introduced its second model, the Wayfarer, in 1952. Originally marketed solely to men, this plastic-framed design proved appealing to both sexes. Ray Ban has had its ups and downs in style since then, but since the 2007 reintroduction of the Wayfarer in designer colours, the company has grown in strength. There may be plenty of imitations out there, but there is no substitute for Ray Ban.
Finding the Right Ray Ban Sunglasses
The first step in finding the right Ray Ban sunglasses is to identify the buyer's needs. After all, it is very hard to find the perfect pair of Ray Ban sunglasses if buyers do not know enough about their wants and needs to recognise the right pairs when they find them. That is not to say that there is a bad pair of Ray Bans, but not everyone needs exactly the same thing from a pair of sunglasses. Some buyers may want Aviators, some may want Wayfarers, some may want other styles, and some may have specific tastes in colours. It does not matter which design a person wants, but it does matter that he or she recognises the 'right' design when searching for Ray Ban sunglasses.
The other thing every buyer should do is set a budget. Ray Ban sunglasses often cost more than many of the inexpensive brands. Buyers should be sure to set appropriate budgets before they start looking. That step can save them a lot of frustration because they can eliminate inappropriate choices before they are even tempted by them.
Understanding the Features
One thing that is very important when looking at a new pair of Ray Bans is understanding the various features and how they can benefit the wearer. Buying by colour is one thing, but buying by feature may be best for the wearer's eyes. The following table can help prospective buyers understand some of the various features.
| | |
| --- | --- |
| Feature | Benefit |
| Green Tint | Increases clarity and reduces glare |
| Ultraviolet Coating | Reduces exposure to dangerous ultraviolet radiation |
| Polarisation | Reduces reflection from roads, water, and flat surfaces |
Each of these features provides a tangible benefit to the Ray Ban wearer. Ray Ban sunglasses are not just about style. They are also important for both eye protection and road safety because they make it much easier for the wearer to drive in bright sunlight without being blinded by glare.
Buying New or Pre-Owned Ray Ban Sunglasses
One decision that it is helpful to make before looking for a pair of Ray Ban sunglasses is whether to limit the search to brand new sunglasses or to consider pre-owned sunglasses, as well. In some cases, such as when a person is looking for a genuine pair of vintage Aviators, there may not be any option other than buying a pre-owned pair since anything more than half a century old is unlikely to be available unused. However, for many current styles of Ray Ban sunglasses, both new and pre-owned options are readily available.
The biggest advantage of going with brand new Ray Bans is predictability. All the buyer needs to do is check the features and buy the style that he or she wants, knowing that every pair is the same as the next pair. It makes purchasing simple because every buyer knows exactly what he or she is getting.
Buying pre-owned is a great way for any buyer to stretch a tight budget. Many pre-owned Ray Bans are just as good as brand new pairs, but they are easier on the budget. The one thing that buying pre-owned does require is a little more research and caution. Every pre-owned pair has its own unique history, which means the buyer should research specific pairs before buying and not just rely on the style or features to make a buying choice.
Buying Ray Ban Sunglasses on eBay
One of the best places to buy Ray Ban sunglasses is eBay. The site has a wide variety of sunglasses to meet every taste and budget as well as the tools to find them. All you need to do is put your keywords into the search box that is conveniently located on every page of the site. Once you have those results, the next step is to use the available filters to eliminate the listings that do not meet your needs. You can filter by various criteria, including price, location, and condition (new or pre-owned).
After that, you can check out the sellers' feedback on their profile pages to help you choose a seller. In some cases, sellers allow local buyers to pick up items in person, and some even offer bundle deals for additional savings.
Conclusion
Buying Ray Ban sunglasses is an excellent way for wearers to protect their eyes from the damaging rays of the sun and make distinct statements about their personal styles. Originally developed in 1937 to provide eye protection for pilots, Ray Ban sunglasses gave pilots of the era the look they wanted combined with the protection they needed. That popularity carried on after the war, with other companies trying to imitate the Aviator style. Ray Ban took its own step forward with the equally popular Wayfarer style.
In order to purchase a pair of Ray Ban sunglasses that is certain to please, all a buyer needs to do is set a budget and determine which blend of style, features, and colour best fits his or her individual requirements. Whether new or pre-owned, Ray Ban sunglasses are available to match every taste and budget.