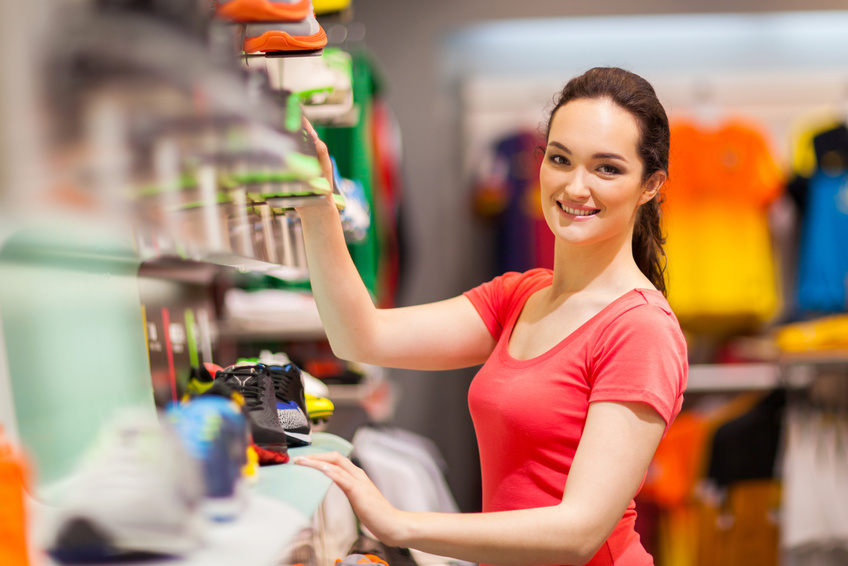 Sportswear for the summer has a lot of differences in comparison to sportswear that can be worn in the winter months. This is due to the fact that winter sportswear is designed to keep the body as comfortably warm as possible whilst working out, whereas summer sportswear is made with the intention of keeping the body cool and to stop it from overheating.
There is a wide range of summer sportswear available from auction like eBay, all of which is available at reasonable prices to allow for exercise lovers to have both a summer and a winter sportswear collection.
This guide aims to help with the choosing, as well helping the buyer be cost-effective when making a purchase.
Summer Sportswear Tops
There are a number of different styles of top that can be worn for taking part in sport and exercising during the summer and warm weather. These tops are designed to enable for body heat to escape, as well as to ensure that sweat does not become an issue.
Vest Tops
Vest tops are ideal for exercising in the summer, as they tend to be looser and made of breathable materials, such as cotton or a polyester and cotton mix. There are also tighter vest tops available, made from Lycra or nylon. Regardless of the material used for the vest top, the fact that vest tops are also sleeveless also means that less body heat is retained and sweat does not stick to the skin as much, something which can cause skin irritation and chafing.
Crop Tops
Crop tops are also a viable option for summer sportswear. Whilst they may be tighter than vest tops, they are generally made from materials such as nylon or Lycra that are breathable, as well as good at retaining moisture. Crop tops also do not cover much skin, meaning that body heat can escape and allow the wearer to feel cooler whilst exercising.
Summer Sportswear Bottoms
As well as there being a number of different of options for summer sportswear on the top half of the body, there are also a number of different items of sportswear clothing that can be worn on the bottom half of the body that are best suited for exercising in the summer:
| | |
| --- | --- |
| Running Shorts | Running shorts are often shorter than the other types of shorts than can be worn as sportswear. The benefit of this shortness is that more skin is exposed to the air surrounding the leg and thus, less body heat is kept inside the body. Running shorts are also looser than the likes of Lycra leggings and allow for a greater amount of breathability whilst exercising. Much like vest tops, running shorts are designed to prevent chafing, a common occurrence in the summer months. They will also often have a netted lining as an added means of structure and moisture retention. |
| Lycra Shorts | Lycra shorts are designed to be tight fitted but to also allow for breathability and comfort. The nature of Lycra means that it stretches over the skin, yet also soaks up moisture. If a greater range of movements is required in comparison to running shorts, then Lycra shorts are ideal. |
| Lycra Leggings | If one is looking for a more modest option in the summer, Lycra leggings may be the best option. Whilst there are those that cover the full length of the leg, there are also those that finish just below the knee. In a similar vein to Lycra shorts, Lycra leggings are breathable, allowing for a wide range of movements, as well as being well suited to preventing sweat from affecting workout performance. |
Sports Bras for Summer
For females, the sports bra is one of, if not the most important item of clothing that needs to be worn during exercise. Not only does a high amount of support need to be available, so does comfortability and breathability.
This is no more the case than in summer. For this reason, there are sports bras available with smaller straps that provide just as much support as those with larger straps. These may be preferred as less skin is covered and breathability is improved.
Furthermore, if support is not the highest priority or one is participating in low impact sports, such as cycling or weightlifting, there are tank tops available for purchase that serve the same purpose of sports bras. These tank tops provide a certain level of support but are looser and contain an inner bra. They are also light.
Sports Shoes for Summer
In terms of buying shoes to be used for exercise in summer, the lighter they are, the better. Whilst obviously support and stability are high priorities, one needs to purchase a shoe that allows for ventilation, so to ensure that the feet of the wearer do not get too hot.
Feet are one of the biggest generators of heat throughout the whole body and ore obviously used a lot whilst exercising, so it is important that they are kept as cool as possible. Look out for shoes with:
- Thin material
- Ventilation (this will come in the form of small holes in the material or areas of breathable material)
Summer Sportswear Considerations
As well as deciding which style of clothing is to be worn during exercise in the summer months, there are a few other considerations that need to be accounted for when buying these pieces of summer sportswear:
- Price: The price that is willing to be paid for sportswear designed for use in summer may play a role in affecting its ability to keep the wearer cool during exercise. Some of the higher priced and certain branded items of sportswear will incorporate specialised materials and technology, similar to that of soccer shirts, to allow for increased ventilation and breathability. This means that these items of sportswear will be higher on the price scale. If there is a budget limit set in place, it is better to go for lesser-known brands.
- Condition: This should only be an issue if buying used sportswear. If buying brand new sportswear then it should be in perfect condition. However, pre-owned items of sportswear may show signs of general wear and tear, loose stitching, as well as staining and tears in the fabric. Look out for signs of these and if they exist on the product, make sure that they are reflected in the price that is to be paid.
Buying Sportswear for the Summer on eBay
To find this seasonal sportswear on eBay and take advantage of the site's many easy-buying amenities, head to the Clothing, Shoes and Accessories category of the site. Then, click on the Women's Clothing link and choose Sportswear. Alternatively, one can always use the keyword search bar at any point to find listings of specific items of summer sportswear.
When a product is found that is suitable for wear as exercise gear in the summer, one can either; make a Best Offer, use the Buy It Now option, or enter into an auction by placing a Bid, depending on the choice of the seller. Before doing so, it is worth a visit to the Deals section of the site, as there are plenty of handpicked offers of sportswear that incorporate prices that are often much more reasonable than those that can be found elsewhere.
It is recommended that one should use PayPal as a payment method, so as to ensure a secure and honest transaction.
Conclusion
There are a couple of things that should be factored into the decision as to what items of sportswear should be both purchased and worn whilst exercising in the summer months.
Breathability in summer sportswear allows for air to circulate and reach the skin, causing the body to keep cool whilst working out. However, it is also important not to restrict movement whilst exercising, so buying the right materials can ensure that a certain level of body temperature is maintained, whilst ability and performance is not affected, and eBay is the perfect place to buy such items.