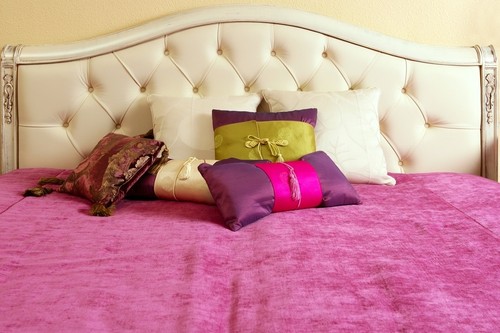 A quilt cover is a great way to add style to a bedroom and create a finished look in the space. Although many quilt covers on the market consist of organic fabrics, many owners prefer synthetic quilt covers for a variety of reasons. Synthetic quilt covers are easier to maintain and longer lasting than many organic alternatives, and this makes them reliable and attractive additions to a room. For consumers interested in purchasing synthetic quilt covers, learning about the various types of synthetic quilt covers and how to care for them is important. Consumers may also wish to explore their retail options. Traditional, brick-and-mortar department stores offer some selection, but the online retailer eBay often delivers a more diverse and consumer-friendly shopping environment.
Fabrics Used in Synthetic Quilt Covers
Wide varieties of synthetic fabrics are available in the marketplace. Each type offers its own range of advantages, and some mimic an organic fabric to some degree. Consumers in the market for a synthetic quilt cover should familiarise themselves with the advantages and characteristics of each type.
Polyester and Polyester Blend Synthetic Quilt Covers
Polyester has something of a negative reputation in some circles, thanks to its stiffness and unnatural feel. However, when blended with cotton and other natural fibres, polyester delivers a much more natural feel while also extending benefits that far outpace organic fabrics. Polyester and polyester blended quilt covers are wrinkle-resistant and durable. They also retain their colours for much longer than organic fabrics, making them a good long-term investment for a home. Polyester blends are also very good at blocking out mould during the wetter months of the year.
Acrylic Synthetic Quilt Covers
Acrylic serves as a substitute for anything from cashmere wool to cotton. Users love it for its resilience, and it is actually stronger than natural fibres and many other synthetic options, as well. For consumers with allergy sensitivities, an acrylic quilt cover delivers a hypoallergenic approach to bedding. Acrylic fabric holds colour well, even in sunlight. As a result, many acrylic quilt covers feature dynamic designs. For consumers looking for a sturdy and long-lasting quilt cover, acrylic delivers a quality product that resists everything from moths to oil stains with ease.
Rayon Synthetic Quilt Covers
Rayon is an increasingly popular alternative to cotton. Surprisingly, many experts consider it more biodegradable than cotton. Some rayon quilt covers use bamboo as a base ingredient, but the end product is a purely synthesised product and not organic bamboo, although it may have some of the same qualities.
Acetate Synthetic Quilt Covers
Acetate is a high-maintenance synthetic, but it gives homeowners a silky sheen and finish that rivals silk at a more accessible price point. The sheen and soft appearance of acetate is well suited to many applications. Household items and garments made with acetate feel velvety, smooth, and comfortable. Acetate fabrics are also environmentally friendly.
Caring for Synthetic Quilt Covers
Although synthetic fabrics have a reputation for easy care in general, some synthetic fabrics do require careful maintenance. The true virtue of synthetic quilt covers is the overall longevity and resistance to the factors that usually destroy quilts made from natural fibres. Maintaining synthetic quilt covers is not overly difficult and only requires a little attention to detail.
Caring for Acetate Quilt Covers
Acetate often requires dry cleaning, but there are options that consumers can wash. Washing on a delicate cycle or hand washing in warm water are the best options. The real challenge in caring for acetate comes in the drying. Homeowners should avoid stretching acetate during the drying process so that it does not lose its shape.
Caring for Acrylic and Polyester Quilt Covers
Acrylics and polyesters are much easier to maintain. All-purpose detergents on a regular cycle in the washer suffice for both options. Tumbling dry at a low temperature dries these fabrics quickly and leaves them wrinkle-free.
Caring for Rayon Quilt Covers
Caring for rayon runs the gamut from hand washing to dry cleaning and depends on the specific criteria listed by the manufacturer on a quilt cover. Hand washing rayon is a simple matter of using lukewarm water with a light-duty detergent. Machine washing one of these quilt covers involves warm water on a gentle cycle with a light-duty detergent.
Finding the Right Dimensions
No matter which material a homeowner chooses, finding the right size for a quilt is important. Synthetic quilt covers come in a range of dimensions. Consumers may also come across products sold by international vendors that use dimensions that vary from Australian standards. The best approach is to measure the exact size of the quilt before shopping. The following table outlines the standard dimensions used for beds in Australia.
| | | |
| --- | --- | --- |
| Bed Size | Width (cm) | Length (cm) |
| | 92 | 87 |
| | 137 | 187 |
| | 153 | 203 |
| | 183 | 203 |
With this information in hand, consumers can then explore the various quilt sizes available and find appropriate options for their beds. Confirming the dimensions of a quilt cover at the point of purchase is essential to finding the right fit.
How to Buy Synthetic Quilt Covers on eBay
To find a synthetic quilt cover on eBay, begin by leveraging the search bar available on any page on the site. Enter a search term related to the item you want, such as ' blue poly quilt cover', and then click the search button. Review any appealing listings in detail by clicking on the titles. By getting to know the different advantages and features of synthetic quilt covers, consumers can approach this marketplace ready to make an informed decision. At times, the site also offers special deals on bedding. With the right knowledge in hand and the advantage of eBay's wide-ranging catalogue, consumers can readily find synthetic quilt covers that deliver comfort and durability for any bedroom in the home.