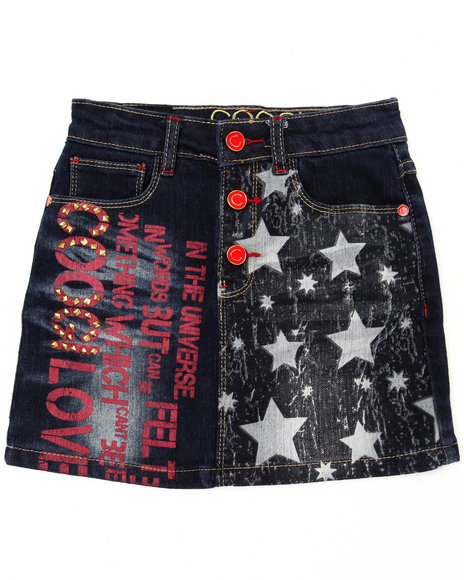 Skirts are a versatile and classic addition to any woman's wardrobe. They are casual or dressy additions, or are accessorised and embellished with the right jewellery, top, and shoes to create a one of a kind outfit. The biggest consideration for women buying skirts is the length of the skirt. Skirts range from quite short to floor-length and varying lengths in between.
While most skirts fit around the true waist, some buyers rather have skirts that sit on the hips. Various types of skirts are more flattering for some women than others, and the traditional A-line skirt works well on most every body type. Lightweight skirts are meant for warmer weather, while wool and heavy cotton skirts carry women throughout the winter months. No matter what buyers are looking for in used skirts, after doing proper research, they can find just the right used skirts to complete different looks from the various skirt types, colours, and styles available on eBay.
Skirt Fit
When shopping for used skirts, buyers discover the various designs of skirts that are available. Women may be looking for skirts that offer a flattering fit. Some skirts, sometimes referred to as body-conscious skirts, are fitted to the body and hug the hips and tummy. Other styles of skirts hang in an A-line design or have pleats that are flattering on each person. Pencil skirts are a favourite for business because of their professional length and shape. Women who do not want a tight fitting skirt may opt for a trumpet or flared design, or for a more forgiving silhouette, a tiered skirt is best.
Skirt Fabrics
Skirts are made from every fabric imaginable, including leather. Most skirts are created from cotton, polyester, or jersey, but dressier skirts are made of silk, chiffon, or satin. Lace skirts offer some extra embellishment, and suede or denim skirts are good for cooler weather.
Buyers should choose skirts based on where the skirts will be worn, the convenience of taking care of the skirts, and budget. Some materials, such as linen, may wrinkle more easily than polyester, so for consumers purchasing skirts for work, that may be a factor, or for buyers who need items that pack well for travel purposes.
Types of Skirts
Skirts run the gamut from tight and short to long and flowing. Consumers looking for skirts should have specific types in mind, or buyers can shop by colour. They can also decide on a certain skirt shape, such as skater skirts or midi skirts. Choosing used skirts is sometimes frustrating, but only because of the wide variety of options that buyers are offered.
Mini Skirts
A mini skirt is essentially anything above the knee. Mini skirts are generally not appropriate for a work situation. They come in a variety of styles and materials, including denim, lace, and cotton. Mini skirts vary in price based on brand. Some popular brands of mini skirts include Supre and Topshop.
Bandage mini skirts are quite body conscious and slip over the body to fit tightly against the skin. Some mini skirts flare out, and there are others which have embellishments such as a ruffle around the hem, sequins, or pockets. Mini skirts come in a variety of styles and colours including floral prints, animal prints, and polka dots.
Knee-Length or Midi Skirts
The most common length of skirts worn by many women is the knee-length skirt. Another popular length is midi-length, which is in between floor-length and knee-length, and falls in the mid-calf area. Knee-length skirts are flattering and appropriate for almost any occasion, and there are many types available, such as plaid, ruffled, pleated, pencil, and stretch skirts.
A knee-length denim skirt is a versatile piece of clothing. Some knee-length skirts have the addition of a peplum for added detail, or a scalloped hemline. A popular type of midi skirt is the high-low skirt, in which the front of the skirt is above the knee or higher, and the back of the skirt falls midi-length or longer.
Maxi Skirts
A maxi skirt is another name for a full-length skirt. These skirts are casual or dressy, and are typically made of flowing material that drape on the body, such as jersey cotton, chiffon, or soft cotton. Typically solid coloured, these skirts are sometimes also found in patterns such as floral and geometric.
Maxi skirts look best on women of average to tall height, and their length may overpower a petite woman's physique. Maxi skirts may also have an asymmetrical hemline, also called a high-low skirt. Maxi skirts are versatile and functional. They are casual for daywear or elegant for a night out, depending on what they are paired with. Popular brands of maxi skirts include Roxy and Zara.
Skirt Sizes
Women should ensure they are buying the right sizes skirts when purchasing used skirts. Buyers can check their exact sizes by measuring around their natural waistline with a soft tape measure. Women who prefer looser fitting skirts that are worn around the hips as opposed to the waistline may want to go up a size.
| | | | | |
| --- | --- | --- | --- | --- |
| One Size | 6 | 8 | 10 | 12 |
| | 60 cm waist | 63 cm waist | 68 cm waist | 73 cm waist |
Most skirts look best when fitted properly around the waist. Elastic waist skirts may vary in fit, so buyers may want to really see how these skirts fit before making a purchase. Elasticised waists or a one-size style skirts may fit small to average women, but they may not work comfortably on plus-sized women unless there are drawstrings or other ways to modify the waist size.
How to Buy Used Skirts on eBay
Skirts are essential to every woman's wardrobe, whether they are for work, professional functions, or daywear. Buying a used skirt is the perfect way to purchase an affordable piece that is versatile and add something to your wardrobe. Get great deals on skirts when you buy them on eBay. Browse all of the available skirts by navigating to pre-owned skirts, or use the home page to key in specific search terms, such as "pre-owned mini skirts", "pre-owned denim skirts," or "used jersey cotton midi skirts".
When you are purchasing used skirts, ensure that the skirts are in great condition by carefully reading the seller's listings for any notes of flaws, rips, or tears in the items. Purchase quality skirts from authorised merchants who are Top-rated sellers on eBay, and check for excellent feedback before purchasing. Once your transaction is completed and you are a satisfied shopper, go back and leave your own feedback for the seller, which helps future buyers make smart purchasing decisions.
Conclusion
Skirts range from elegant and professional to fun and sassy. There are skirts for every occasion, whether it is a day event or a sophisticated evening party. Women of all body types are able to find flattering used skirts, whether they are shorter mini skirts or more forgiving midi or maxi length skirts. Pre-owned skirts allow more flexibility for buyers' budgets, and consumers may find name brand skirts for a much lower cost than purchasing retail items.
Skirts are more flexible than dresses due to the fact that they can be paired with many types of tops, blouses, sweaters, or tanks for additional looks, and their various materials and fits create totally different and unique looks each time they are worn. Skirts are feminine, classic, and fun, depending on what types of skirts buyer choose to purchase.