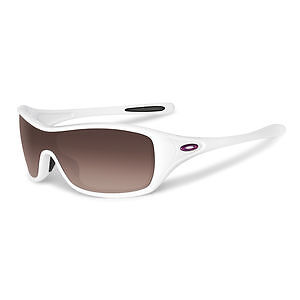 Nothing signifies summer style better than a great pair of sunglasses. They're the ultimate accessory during the warmer months, and are the staple of any outfit. They look the part, while protecting the eyes from harmful UV elements.
With the commonality and popularity of sunglasses being as prominent as ever, it means that there is a burgeoning used market. Choosing to buy used is great way to make savings without sacrificing on quality.
When it comes to sunglasses, shoppers should only have one shopping destination in mind. It doesn't matter whether it's a high performance pair or the latest designer release; eBay has great deals on all forms of eyewear.
Types of Sunglasses
It almost goes without saying, but like every other fashion accessory market, sunglasses are not short on offerings. The following are the types that shoppers are likely to come across when browsing through eBay's auction listings.
| | |
| --- | --- |
| Aviator | The most recognisable form of sunglasses, largely due to their bold nature. Consisting of a wire frame and large lenses, which are often mirrored. |
| Novelty/Celebrity | Usually doesn't provide the best form of sun protection, but they are fine for short-term use. They allow shoppers to own versions of sunglasses that they may have been seen in a film, TV show or music video. |
| Designer | For the fashionista out there, they may want to opt for a pair of designer sunglasses. Made and released by the world's top fashion houses, so expect to find offerings from Armani, D&G and Gucci on eBay. |
| Sports | The world of sport can be rough and rigorous, so appropriate sunglasses are required. Sports specific sunglasses come in a variety of styles, and are often water resistant for when the situation calls for it. |
| Oversized | Originally built to offer extended UV protection, but have since become a fashion statement in their own right. |
| Driving | These are purpose built sunglasses that have high contrast lenses. They cut out glare and provide a sharp image for drivers. Not really suitable for use outside of driving. |
Finding the Right Look
Buying a pair of sunglasses may seem simple, but it is not a cut and dry process. Shoppers need to understand what types of sunglasses actually compliment their face, as wearing a pair that doesn't will feel ill fitting and look unflattering.
| | |
| --- | --- |
| Oval | If a shopper has a well-balanced, oval shaped face, they should pick sunglasses that go with the colour tone of an outfit. Look for sunglasses that have a square frame, their soft edges will really compliment the face. For those who like to experiment, retro wraparound frames are also an option. |
| Round | Round faces are versatile when it comes to wearing sunglasses. In order to get the best look, people should try angular frames or wide frames. Sunglasses that feature a double brow are also worth considering. They raise the look of the eyes and add length to the brow line. |
| Square | Women who have a square face should try oval and round shape frames. Sunglasses with soft angles add a touch of femininity, along with a curvy flair. |
| Triangle | If a shopper has a triangular looking face, they should opt for a pair that draws attention away from the jaw line. Classic styles like aviator and rimless will brighten up the look of a face, while emphasising skin tone. |
What to Look Out For
The sheer array of styles and looks are what makes the used sunglasses market so appealing. However, buying used sunglasses isn't a foolproof process and shoppers need to be careful when exploring the market. When buying used, always remember that if the glasses don't feel comfortable do not buy them.
Authenticity
eBay does everything in its power to make sure that all products that reach sale are authentic. But sadly fake products do reach auction on rare occasions. This means that shoppers need to be cautious when looking at buying a pair of used sunglasses.
· If a designer pair of sunglasses is priced suspiciously low, it pays to be cautious.
· Simply put, if a product seems to good to be true it probably is.
· The name of the brand should be etched into either the frame or lens of the sunglasses.
· Real sunglasses will not feature stickers anywhere on the product.
· When a shopper suspects that a pair of sunglasses is counterfeit it is best that they avoid them.
If a shopper is unfortunate and purchases a counterfeit pair of sunglasses, they should try returning them for a refund. After this the seller should be reported to the appropriate authorities. Selling counterfeit items of any kind is a crime, and should be treated as such.
Condition
Before committing to a purchase, shoppers need to grasp what the product's condition actually is. The best way to do this is to speak to the seller. Ask them the following questions in order to make sure that what they're describing is legitimate.
· Do the sunglasses feature the original frame?
· Have the lenses suffered any damage?
· Has the frame suffered any damage?
· Do the sunglasses have the original screws?
· Are they under designer or manufacturer warranty?
· Have the sunglasses been subjected to any repairs?
How to Buy Used Sunglasses on eBay
Summer style is big business, and no accessory symbolises beach and BBQ wear better than the right pair of sunglasses. The key is locating a pair that flatters the shape of the face, and suits a woman's personal style. Sunglasses should never be an item that takes away or detracts from a look, it should always be adding to it. eBay is a leading retailer in the sunglasses market, and should be the number one choice for people looking to acquire a new pair.
· To start exploring the array of women's sunglasses for sale, click on the clothes, shoes, accessories portal when on eBay's homepage.
· From that point click on women's sunglasses, this will bring up all live auctions and allow shoppers to browse what is on offer.
· Branding is a big part of the sunglasses market, so when a shopper wants a specific brand they should utilise the advanced search options.
Completing a Transaction
Sunglasses aren't always produced in mass (this is especially the case when it comes to vintage pairs). When someone has found the perfect pair they shouldn't hesitate in snapping them up. To win the auction, try doing one of the following when on an item listing.
· Place a Bid
· Make a Best Offer
· Buy it Now
When the auction has ended the winning bidder will need to put through payment for the item. All shoppers should complete their transaction with PayPal, as other online payment systems don't offer the same amount of buyer protection.
Conclusion
Around six million Australians buy a new pair of sunglasses every year, and women on the hunt for a pair should know what to look out for. The used market continues to grow, and has become a great way for people to find high quality products.
This guide looks at all types of sunglasses available, and how to go about buying a pair that is stylish and compliments the face. When it comes to used sunglasses, there is no doubt that eBay is the world's leading online retailer.