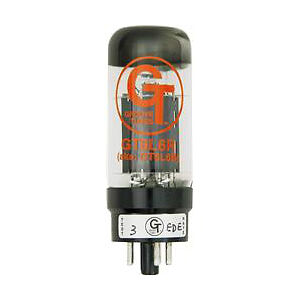 In the world of electronics, the vacuum tube is perhaps one of the most significant inventions in its history. Tubes (also known as valves) are devices that are used for controlling an electric current through a vacuum in a sealed container, usually made of glass. It was the invention of these tubes that allowed for devices such as radios, TVs and computers to become commonplace in society, as they allowed for electric currents to be amplified. Given their historical importance, it is little wonder that they are sought after collectors' items, as well as in demand for those restoring vintage electronics. This guide will outline the key features to look out for when buying vintage tubes on eBay.
Key Features of Vintage Tubes
Given the extensive range of electronic equipment that has been made over the last century, there are plenty of different specifications and classifications when it comes to vintage tubes. The very basic diode consists of an incandescent light bulb containing an added electrode – when a current is passed through, it enables the diode to convert an alternating current to direct current. The turning point for tubes was when a third electrode was introduced into the system, meaning that a device could be used as an electronic amplifier. As time has passed and technology has moved on, solid-state devices including transistors and semiconductors have replaced tubes, meaning that most people are not familiar with the features of the vintage components:
Classification
The classification of a component is based on a number of different variables. The main classifications are diodes (two active elements) and triodes (three elements). However there are other classifications too:
· The frequency range (e.g. radio, audio, microwave)
· The power rating (high-power transmitter, small-signal etc.)
· The design (sharp or remote cutoff)
· The application (receiver, transmitter, amplifier or switcher)
· Any special qualities it has (long life, low noise amplification etc.)
These classifications are not cut and dry however, any device can share multiple classifications. This makes tubes versatile and as such they are found in many different devices.
Diodes
From the early 1900s until the 1960s, diodes were used widely in radio detectors and communicators as they were robust and a more stable replacement for previous components. They were eventually replaced with silicon rectifiers.
Triodes
Triodes were important for the development of telephonic communication as they were particularly useful for amplifying audio signals. The extra electrode meant that they could amplify signals of all frequencies. They were also crucial in the development of radio communicators.
Tetrodes and Pentodes
To improve on the stability and potential to amplify sound, engineers added a second grid of electrodes, giving rise to tetrodes and pentodes and components that were free from the problems that plagued earlier models.
Other Tubes
Over the years there have been numerous iterations of tubes, each specialised for a specific purpose, or to overcome a problem in application with one of the other main types. Some of the other tubes to look out for are:
· Multifunction and Multisection tubes
· Beam power tubes
· Gas-filled tubes
· Miniature tubes
· Cathode ray tubes
· Electron multipliers
Modern Uses for Vintage Tubes
Although tubes have largely been replaced by solid-state devices for the purpose of amplifying, switching and rectifying, there are still a range of uses for the humble tube:
Musical Amplification
Many music lovers will know that the sound of tubes in an amplifier for guitars is unrivalled and irreplaceable. As such, many modern amps will be tube amps, giving a raw crunch that can't be found elsewhere.
Radio and Microwaves
Tubes are still used in some niche radio transmitting equipment as they give a greater integrity across some frequencies. Household microwaves also use a tube system to generate such high concentrations of microwaves.
Collectors and Restorers
When it comes to purchasing vintage tubes, there will always be a market for the enthusiasts and collectors of vintage electronics. Vintage tubes are essential for restoring or recreating authentic vintage electronics equipment. There will also be those people who are simply collecting a little piece of history – some of the earlier pieces are quite sought after and offer a unique insight into the development of the technologically advanced society we now live in. Although small, the first tubes and valves would change the world and the way we communicate and consume audio.
Buying Consideration
When purchasing vintage tubes, there are some important factors to consider before making a purchase:
Cost
The cost of vintage tubes can vary drastically, from a few dollars to many hundreds of dollars. Because of this it is important to clearly have in mind the type of tube that is going to be purchased, and then research the type of cost it will be. Having a budget in place is always a good idea; as if it is for a restoration project then costs could get large.
Condition
There are items that are in different conditions, and a certain amount of this will come down to user preference. There are those items that are new, as well as those that have already been used. There are also parts that are spares or need restoring. The condition will usually affect the cost, so bear this in mind when looking at different options.
Buying Vintage Tubes on eBay
Once the above features have been considered and decided upon, it's time to start buying. Visit eBay and the Electronics section of the site, and then either do a keyword search or visit the vintage electronics section. After reaching here there are some useful features that make using the site easy:
Left-hand Refines
On the left hand side of the site is the refinement filters. This allows the user to pick and choose from a number of different variables, such as price, condition and brand, which will show only the items that meet those criteria.
Detailed Product Information
After refines have been made, a list of relevant products will be displayed. Clicking on one of these will open the listing page for that product, where information such as a detailed description, image gallery, delivery options and seller information can be found.
Sellers
By clicking on the seller name, that seller's unique page will be displayed. This shows all their vital stats, such as their seller ratings and comments made by their previous customers. It is also possible to contact the seller to find out more information about a product.
Auctions and Buy It Now
Once a desired product has been found, there will be listings that are either registered as auctions or buy it now. Auctions work just the same as normal auctions, where bids can be placed during the time limit with the highest bid winning the auction and paying for the item. The other option is to buy it now, meaning just that.
Conclusion
It is clear that vintage tubes will be sought after for many reasons. They played a big part in the development of modern electronics, and are essential for enthusiasts, collectors and restorers alike. Buying vintage tubes on eBay is a process that is made easy by the sites numerous functions and features, and with their buyer protection programme shopping is made safe and secure.