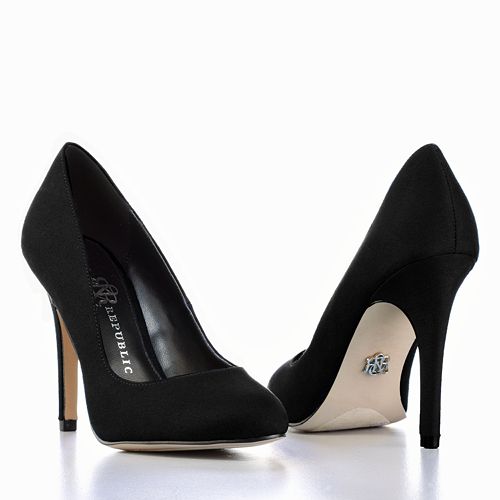 Women's heels are not just a clothing accessory women want to have, they are also a necessity. Women wear heels for a variety of reasons. Some types of clothing require heels to be worn with them, like dresses. Although there are other types of shoes that women choose to wear with dresses, such as boots for example, this does not mean that boots are going to be acceptable dress wear on all occasions.
There are many different types of heels for women. Some are designed for practical everyday use, while others are designed to make a statement. Heels are found at department stores, retail outlets, and online at eBay. Heels come in a variety of styles and have various features. Knowing what types of heels to choose helps a woman feel confident every time she steps out of the house.
Types of Heels for Women
One thing that many people are unaware of is that heels are more than just a dressing accessory. Men might not understand a woman's need to have multiple pairs of heels when men themselves are usually comfortable with just one or two pairs of shoes. But for a woman who wears heels, having a variety of styles is often very important, especially if she works in an environment that has a dress code which requires a type of attire that makes wearing heels necessary.
Heels come in a variety of brands, colours, and materials to choose from and finding them is very easy when a woman shops for them on eBay. Understanding what types of heels are available can help a woman choose the right ones to make her outfits look great while feeling comfortable at the same time.
Kitten Heels
Many women might not have heard of the kitten heel, but this particular type of heel is not a new one. It is one that made its debut in the 1950s, primarily for young teenagers to wear as formal attire. This type of heel closely resembles the stiletto, however, the heel itself is much shorter, being only on average 2.5 to 3.8 centimetres (1 to 3 inches) vs. stilettos which are as tall as 12.7 centimetres (5 inches).
These tapered heels are a good choice for women who have not worn heels before. They are attractive and go well with almost any outfit. Kitten heels, once overpowered by stilettos, began to make a comeback in 2003 and are still a very popular style of heel to wear. Kitten heels may be hard to find in many locations, but one is sure to find them on eBay, due to the large number of vendors on the website.
Block Heels
Block heels are big and chunky. This type of heel is more understated than some other varieties, however, they are ideal for day or night wear. Block heels are typically only 2.5 to 5 centimetres (1 to 2 inches) in height which makes them more comfortable to wear for extended periods of time. This style is designed to be attractive and ladylike, which makes them perfect for professional settings or for a night out on the town.
Stiletto Heels
The name for this type of woman's shoe comes from the stiletto dagger because of the long, thin shape of the heel. The stiletto heel became popular in the 1960s and is still an extremely popular style today. The height of the heel can range anywhere from 2.5 centimetres all the way to 25.4 centimetres (1 to 10 inches) tall. The circumference of the heel is extremely narrow, and in most cases is approximately 1.3 centimetres (0.5 inches) wide.
The original stiletto heel stem is constructed of metal or in some cases an alloy. Today the heels are generally fashioned from plastic with a metal tube, which although they do closely resemble the original stilettos, they are still not quite the same. If women want to have stilettos the way they were originally designed, they should browse through vintage stiletto heels on eBay for an authentic pair.
Court Shoes
Often called "pumps", court shoes are a style of women's heels that do not often come with straps. They are designed to have a low-cut front which makes them a good choice for formal occasions or even for work. Court shoes are often made from patent leather, however, these shoes also come in a wide variety of materials and colours to choose from.
The heels are 2.5 centimetres (1 inch) or taller, and are generally thicker than stiletto heels. Court shoes are very versatile because they go well with suits, dresses, and even jeans. Women often lead very hectic lifestyles which does not give them many opportunities to shop for new shoes, however, one of the nice things about turning to eBay to meet this need is that this online marketplace never closes, so women are able to shop for shoes right from home whenever they find the time.
Wedge Heels
When some people think of women's heels, the wedge is probably not the first shoe to come to mind. Wedges differ from what many people associate with the term "heel" because a heel is typically separated from the body of the shoe on most styles. Wedges do not have the heels that are separate from the body; instead, they run along the bottom of the shoes and sometimes stop midway or even run the entire length of the shoes.
This style of women's heels is often worn anytime of the day or night and goes well with a pair of jeans or a summer dress. As far as comfort is concerned, wedges are one of the best shoes to wear for extended periods of time because the weight of the body is more evenly distributed down the length of the shoes rather than on the balls of the feet or the toes.
Sizing Heels for Women
There are some things to know when it comes to sizing heels for women. One thing that makes heels different from other types of shoes is that they are not worn with socks. Socks add thickness to the feet and thus increase the need for shoes to be larger. Since heels are typically worn with stockings or bare feet, the size of the heels runs smaller than what women wear in tennis shoes, for example.
In addition, sizes vary in other countries, so a size 6 in Australia is not the same as a size 6 in the United States. The best way to know what size heels a woman wears is to have her feet properly measured. Many shoe stores have a sizing tool which is used to find out what size the feet are and what size shoes work best. Listed in the table below are the shoe sizes in Australia and how they compare to sizes in the United Kingdom, Europe, and the United States.
| | | | | | |
| --- | --- | --- | --- | --- | --- |
| Australia | 4 | 5 | 6 | 7 | 8 |
| United Kingdom | 3 | 4 | 5 | 6 | 7 |
| Europe | 36 | 37 | 38 | 39 | 40 |
| United States | 6 | 7 | 8 | 9 | 10 |
Not only does the lack of accessories such as socks make a difference, but the style of the heel also plays an important role on whether the shoes should be the same size or larger than other heels. If the positioning of the feet in the heels is higher than other types of heels, it may create the need for shoes that are a half size larger or more, depending on the height of the heels.
How to Buy Women's Heels on eBay
If you shop on eBay, the chances are much better that you can afford to buy several pairs of heels for what they would pay for just one pair in a upscale department store. It is easy to find a new pair of women's heels, or even a used pair by typing in keywords on the eBay home page. For example, if you want to find a pair of court shoes designed from patent leather, all you have to do is type in the keywords "patent leather court shoes", and all heels tagged with those keywords are displayed for you to browse through. You can further refine your search by selecting such things as a brand, colour, size, and your results are limited to patent leather court shoes in those categories. Alternatively you can search for deals on heels and browse dozens at one time.
Conclusion
There is much more that should go into choosing women's heels than simply falling in love with a pair. There are a variety of styles to choose from, but not all heels are appropriate for every setting. For example, although stiletto heels might look great, they may not necessarily be the pair a woman should choose to wear if she is going to conduct a business meeting or to wear to other formal gatherings.
Some other women's heels are stylish, however, they may not be comfortable if worn for extended periods of time. Knowing what to look for when buying heels ensures women pick the right pairs every time, and finding the perfect pair on eBay makes the task a much more enjoyable one.