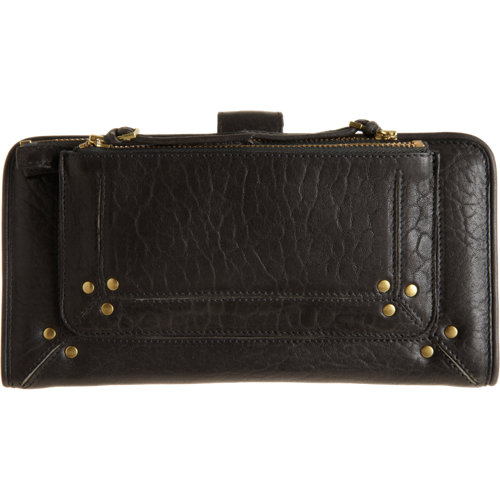 Wallets are more than just an accessory; they are used by women all over the world to keep their personal items in order. Wallets are personal as well as practical; a woman may choose keep one in her handbag or in her coat pocket. However a woman may choose to carry one, bifold wallets are hugely useful for storing money and cards. The range of materials of bifold wallets varies; this can come down to personal belief or budget.
Bifold wallets have evolved to cater for every taste and also every function, this guide aims to inform the buyer how to look for and purchase a bifold wallet on eBay.
A Brief History of the Bifold Wallet
The phrase 'wallet' can be dated back to the early 14th century when the wallet was used to carry food provisions and other important items. The idea of using it to store money came into the 19th century when carrying a wallet on the belt was consider uncivilised by some people. Bifold wallets came into widespread use over the mid-20th century when the first 'slots' were created to store the earliest credit cards. Bifold wallets can also feature small zipped compartments, clear sections to display photographic I.D or personal photographs.
Bifold wallet means that the paper currency is folded over once, creating a double layer. Women may choose to keep a wallet in their handbag or carry it loose in their pocket, a bifold wallet can slim and compact enough to fit in a small coat pocket.
The Styles of Women's Bifold Wallets Available
Whilst men's bifold wallets seem to be simple, black leather wallets, women's bifold wallets are available in a few different styles. Some may be similar to men's in dimension but come in brighter colours. Some bi fold wallets can be wider and have a long zip compartment along the back. Women's bifold wallets will contain more zipped sections for coins or other important items. Some may come secured with a small strap and even have a small handle to loop over the wrist. Wide bifold wallets are useful for carrying paperwork or receipts in. Credit card holder cases are popular for finding plastic cards quickly, the only disadvantage is that these don't contain any space for coins.
The Types of Materials Bifold Wallets Come In
Wallets were traditionally made from leather but in the last few years new synthetic materials are being used to create practical and pretty bifold wallets for women. The following table breaks down the range of materials used:
| | |
| --- | --- |
| Leather | The most common material, leather offers properties of being hardwearing and also waterproof. The quality of leather will depend on the price and brand of the bifold wallet, high quality leather will be very soft but firm. |
| Synthetic leather | Synthetic leather bifold wallets have the appearance and hardwearing qualities of leather without the leather content. Such wallets are often cheaper than leather and are ideal for those who don't like leather products. |
| Suede | Suede is a soft material and can be damaged by water and is probably is more for formal occasions that everyday use. |
| Canvas | A woven fabric that is hardwearing and can be dyed and printed in nearly any design, these bifold wallets are fashionable and popular for younger women, such brands may be Roxy. |
| Nylon | Nylon is a practical fabric for outdoor use and is perfect for long days out. |
| Exotic animal skin | Rare materials such as crocodile skin will make an unusual wallet for any woman. |
The brand of wallet can be a swaying factor in the purchasing process; some women will only ever use one brand of wallet for years. Branded wallets will have the reputation of fine quality work and also the top quality materials. Some brands such as Billabong as known for being funky and have unique patterns and logos.
The type of closure will be important to consider, some may fasten shut with a small button or a zip, and this will come down to what the buyer wants out of a bifold wallet. A woman may not want a wallet coming loose in her handbag and risk spilling any contents inside the handbag.
Selecting a Bifold Wallet
Based on the information given above the buyer can start to think what sort of bifold wallet is suited to their needs. Here are some further aspects for the buyer to think about when purchasing a woman's bifold wallet:
· Brand? Is the brand of the wallet important? Whilst the brand can be a concerning factor when selecting a bifold wallet the buyer may want to consider the dimensions of the wallet, they may quickly become frustrated if it is too small.
· Matching Accessories? The buyer may want to purchase a wallet that matches a particular bag or coat, but it can be worth purchasing a wallet in more neutral colours rather than bright blue or pink, a good wallet can last for many years and one's personal taste may change over time.
· Can it hold the right currency? Some bifold wallets are made outside Australia so it is vital to check that it will hold the Australian dollars and not the currecncy from the country it was made.
· Multiply uses for wallets? Why not combine the use of a bifold wallet and use it for travel as well? There are many travel wallets that hold passports and important documentation. There are even mobile phone bifold wallets that make life easier by keeping the important things together.
Buying a Bifold Wallet on eBay
A wallet can be bought online with little hassle; the buyer doesn't have to shop at busy or inconvenient times. They can view the range online at their own pace and compare prices and brands. Online marketplaces such as eBay are ideal places to look for a woman's bifold wallet. The buyer can use the following steps to find the right bifold wallet:
· The buyer can start on the eBat homepage and navigate to Women's Accessories and then click on Wallets. The buyer can then type into the search bar 'bifold wallet' to view the range of listings that come up. They can further choose to refine the search by selecting brands, like Gucci.
· The size of the wallet can be search for as well, so the buyer can look for 'large bifold wallets' if they are after more practical sizes. They can also prefix the material of their choice into the search term, 'Leather bifold wallet.'
· The buyer can also have the choice to browse eBay's deals. These offer the buyer a great choice of items at amazing discount; they are sure to find a good bifold wallet at a reduced price.
· Remember when browsing and shopping on eBay it is important to read over the item's description carefully and consider the cost of postage. Viewing the seller's feedback is highly recommended. It is also suggest for the buyer to use only secure methods of payment such as PayPal.
Conclusion
Money exchanging hands has always been part of everyday life, and no matter if a person is poor or rich, everyone will need and carry a wallet or coin purse. These days a bifold wallet is best for modern living, it can fit neatly in a pocket and hold many of the plastic cards people need on a daily basis. Women can spend a long time looking for a bifold wallet that is both practical and pretty, eBay is the perfect place to begin their search.