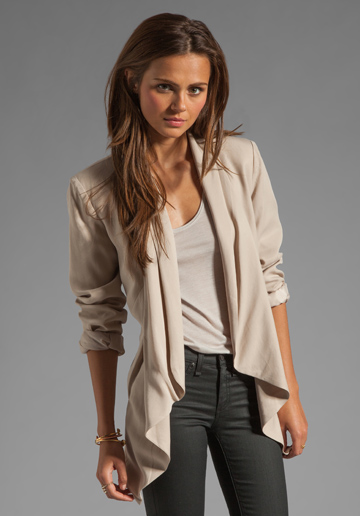 When it comes to men's style there is no item more versatile in terms of use than a blazer. It isn't a suit jacket, but it isn't a hoodie either, it is the perfect go between, which makes it suitable for use in both professional and casual environments. Blazers actually became prominent amongst men in the late 19th century, and have been a popular fashion choice ever since.
For men, the art is in finding a blazer that treads the fine line between social and formal. This guide breaks down the types of blazers that are available. With the help of eBay, shoppers are sure to find great deals on men's clothing.
Blazer Features
Blazers are a truly wonderful piece of clothing design. They offer a great, simple look, but are by no means short on features. The three main features are listed below, all of which increase the comfort factor and versatility of a blazer:
| | |
| --- | --- |
| Vents | Blazers can come with one-centre vent, two side-vents or in some cases no vents at all. The most common form has a double vent, but those looking for a traditional piece of clothing can opt for a no vent option. Be aware that having no vents can restrict both airflow and movement. |
| Buttons | Even though small in stature, buttons actually play a part in the style of a jacket. Single button blazers are hard to find and double button blazers offer a classic style. Triple button blazers are an option for men looking to experiment with their fashion. Buttons should be either black, metallic, or match the colour of the blazer. |
| Pockets and Breasts | Men can choose from either a single-breasted or double-breasted blazer. There is very little difference in style outside the potential for added pockets, and where they can be placed. |
Sizing
Blazers come in sizes that are distinguished by a letter or word, along with a number. This allows companies to release blazers for all men, no matter their shape and body size. Before buying, it is important to have a grasp of how the sizing system works.
| | |
| --- | --- |
| Number | The number part of a size will represent the chest measurement, which is the over arm-measurement minus seven inches. The measurements should be about the same. If this is the case, opt for the chest measurement, but if there is a noticeable different go for the over-arm measurement as a size. |
| Letter | Usually denotes the second part of a measurement, and will distinguish whether the blazer is short, regular or long. In many instances it will be labelled as S, R, or L. Its importance is undervalued and shoppers should always consider their body proportions when shopping for a blazer. For example, those with a long torso should choose an L or long sized blazer. |
Materials and Colours
Blazers come in all shapes and sizes, and shoppers can theoretically get one in any size or colour they desire. Even though the variety when it comes to blazers is endless, there are five forms that should be a staple part of every man's wardrobe.
| | |
| --- | --- |
| Corduroy | They may come across as old fashioned and possibly a little dated, but the versatility of a corduroy blazer can never be doubted. The perfect quick fix for any social or business situation in which a classic look is required. |
| Camel Hair | The classic light blazer that is perfect for the colder evenings. Looks great when partnered up with a button-down formal shirt or casual polo shirt. The light brown shade also fits well with dark colour jeans. |
| Navy | Some say it's preppy, some say it's nautical, but few can deny the classy look of a navy blazer. It fits with almost every colour of shirt or pants. Oddly enough, gold accessories tend to bring out the colour of a navy blazer best. |
| Linen | The lightest and thinnest type of blazer available. It is far from hard wearing, however, this is a blazer that is best suited to warm weather. |
| Grey | Grey blazers offer a dressy look and feel. They are perfect for the office environment, and varied enough that they would also be perfect for after work drinks. |
| Velvet | It's a bold option, but perfect for an up-market setting. Velvet blazers are the height of luxury when it comes to feel, and are considered an indulgent item of men's clothing. |
Buying Used Blazers
The market for used clothing continues to grow, and what was once classified as thrift is now considered vintage. One particular piece of used clothing that is popular is the men's blazer. Even though there are some gems to be found in the used market, it isn't a good area for those who aren't willing to take a bit of a risk. Shoppers should talk to the seller, ask them questions and become knowledgeable on the product being sold.
· Was the blazer purchased from new?
· Is it a dry clean only product?
· Has the blazer suffered any rips and tears?
· Has the blazer suffered any cosmetic damage?
· Has the blazer been subjected to any repairs?
· Has the blazer had any sizing customisations?
How to Buy a Blazer on eBay
When it comes to men's fashion, it is all about what can be worn that will accentuate someone's personal style. A blazer is the one item that can complete an outfit, and there is no shortage of designs to choose from. It doesn't matter whether a shopper is looking for casual or formal, there is going to be a style of blazer to suit. This guide (along with eBay) will ensure that buyers get the exact blazer they're after at the best possible price:
· Shoppers can find men's blazers on eBay in just a few short steps. First off, click on the clothing, shoes, accessories category.
· Look through the options available until the men's clothing option is found, and then click on the coats/jackets sub-option.
· If shoppers are looking for a certain fit, size, brand or style they should use the search bar found at the top of the homepage.
Completing a Transaction
eBay has made finding the right blazer and effortless task, but it's a pain to see the perfect blazer get purchased by someone else. In order to avoid this occurrence, shoppers should act fast and do one of the following:
· Place a Bid
· Make a Best Offer
· Buy it Now
When the auction is over it will be time to pay for the item and complete the purchase. All eBay users should opt for PayPal in order to complete the checkout. This ensures that the buyer protection programme protects shoppers.
Conclusion
In the past, men's clothing has been an afterthought in the world of fashion, but it's safe to say that isn't the case anymore. The industry continuously evolves, but there is one item that remains a key piece of every man's wardrobe. It isn't by any mistake that the blazer has been worn for over 100 years; it is arguably the most vibrant, functional and versatile piece of men's clothing. Simply put, blazers are an absolute must have item for all men.
Buying the right blazer has become a simple point and click process thanks to eBay, the world's leading online marketplace.