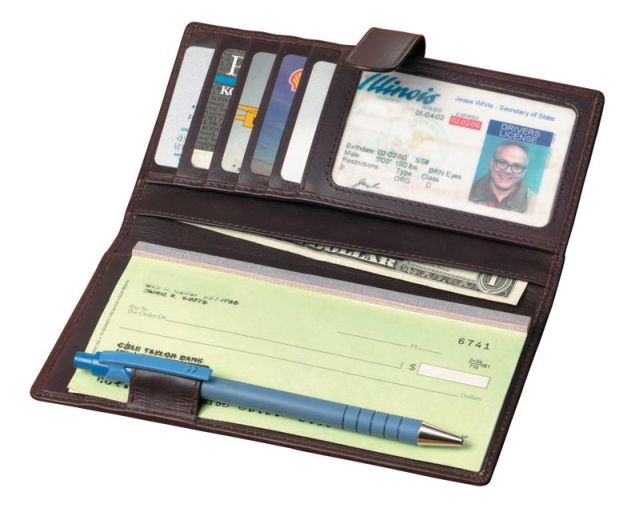 A wallet can be a practical and attractive fashion accessory, useful for carrying currency notes and coins as well as bank or ID cards, photographs and even checkbooks. Wallets can be a small and more convenient way to carry these items around, or can be used to keep money and cars together within a larger handbag. Checkbook wallets are larger types of wallet which are designed specifically to hold checkbooks and bank notes, without the need to fold and crease them. Checkbook wallets can be found offering a wide array of styles, materials and features on eBay.
The History of the Wallet
In the past, currency was so rarely used that there was little need for the average person to easily store and carry coins. The earliest examples of wallets were used in ancient Greece to carry small amounts of food and provisions, while in other parts of Europe the wallet was used to carry tobacco and cigarettes. It was only during the Nineteenth Century, when metal currency became widely used, that wallets and coin purses came into common usage. As credit cards came into use in the 1950's, the modern wallet, with separate compartments for coins, notes and cards, emerged.
Today, wallets are available featuring an enormous variety of different styles and materials, meaning that a wallet can be found to suit any personal taste and preferences, as well as complement or contrast with an individual's style.
Different Features of a Wallet
Modern wallets can over an enormous range of different features which can be found on wallets, which can offer additional benefits to a wallet.
· Waterproof wallets are available, often featuring treated materials or hard cases, which provide additional protection to the money, cards, checkbooks and other items that may be kept inside a wallet. This can be a great choice for someone who is outdoors a lot, or who carries a wallet on their person rather than in a handbag.
· Many wallets, particularly the larger checkbook wallets, feature a compartment designed for holding photographs and ID cards. These compartments are typically clear, meaning that a photograph of a loved one can be seen, while ID cards can be displayed without the hassle of removing them from the wallet.
· Some checkbook wallets may also feature an organiser. These wallets can feature ten or more pockets, meaning that it can hold a large number of bank and ID cards along with the checkbook. Such wallets may also feature compartments for coins, stamps and other small items.
Checkbook Wallet Closing Mechanisms
A key characteristic of any wallet is the method which it used to remain closed. A number of different methods are commonly used, which can have different strengths and benefits.
| | |
| --- | --- |
| Velcro | Some wallets make use of velcro, a simple mechanism to use. However, it is loud when opening, and can hold the wallet less securely closed than other types. |
| Snap | The snap wallet features a locking mechanism which snaps into and out of place, either closing or allowing access to the wallet. This mechanism is easy to use, and can often only require one hand to open. |
| Twist | Wallets which feature a twist lock features a small twisting mechanism which has to be turned to open and lock the wallet. A twist lock is reliably secure, though some may find it difficult to easily use due to the small size of the lock. |
| Kiss Lock | The kiss lock is often used on smaller wallets and coin purses, though can appear on checkbook wallets. This locking mechanism features two metal balls which clasp together. This is a quick and simple mechanism to use. |
| Magnetic | Some wallets make use of a magnetic locking mechanism, which use magnets to hold a wallet closed. These can be easily opened and closed, and the strength of the lock depends on that of the magnets used. |
| Zip | Many larger wallets make use of a zip, along with other locking mechanisms, to keep he wallet securely closed. Some wallets may only have the top open, wall many checkbook wallets feature a zip around design, where the whole wallet can be opened up for easy access. |
Wallet Materials
A key aspect to consider when purchasing a wallet is the material that it is made out of. Different materials can suit all kinds of different styles, as well as offer different properties and benefits.
· Some wallets are available which are made out of fur. These wallets can offer a luxurious, soft feel and appearance, which some may find desirable. However, such wallets are often more expensive than other types. An alternative can be found in the more affordable faux fur, which can offer a similar look and feel to fur.
· Synthetic materials, including options such as plastic or PVC, are used in some of the most affordable wallets available, and can be found in an enormous array of different colours and styles.
· Leather wallets are widely popular. Wallets made of leather offer a great deal of durability, and are often desired for their unique texture and appearance. Available in a range of colours, leather wallets are also often more expensive than those made of other materials. Faux leather is also available, which offers a similar appearance to leather at a reduced price. Another option is patent leather, a type of leather which has been treated to give it a shiny finish with a high gloss.
How to Buy a Checkbook Wallet on eBay
A wide range of checkbook wallets offering all kinds of designs, features and materials can be found on eBay.
· The full listing of available checkbook wallets can be found through the Clothing, Shoes, Accessories portal, under the Wallets section of the Women's Accessories category.
· The listings can be arranged by a number of different categories, including condition, brand and price, making it easy to narrow down the selection of available wallets.
· Wallets can also be arranged by size, making it possible to find, for example, a small wallet that can be easily kept in a pocket or bag, or a larger wallet which can hold more cards and currency.
· Important aspects of a wallet, such as any features offered by the wallet, are often prominently displayed in the item listing, making it easy to quickly establish if it meets any requirements. Further information about an item, often including pictures, can be found on the item page. This includes information about the seller, such as item ratings and feedback reviews, which can help to ensure that a purchase can be made with confidence.
· When looking for a specific wallet, it may be easier to make use of the search function, which can be found at the top of every page. Entering a key word into the search bar will return any relevant results, from within a specified category or from across the site.
· Look out for any deals on checkbook wallets, which can be found in the Accessories section of Women's Clothing.
Conclusion
Checkbook wallets are a popular accessory used by women, and are often kept in a larger handbag, or placed in a pocket. Checkbook wallets are designed so that they can hold bank notes and checkbooks easily, without having to fold and crease them. These wallets are available in a variety of different materials, including affordable synthetic materials and durable leather. They can also offer additional features, such as clear pockets suited for storing ID cards or photographs of loved ones, as well as compartments for coins or stamps. A wide range of wallets of all types, as well as other accessories for women, can be found on eBay.