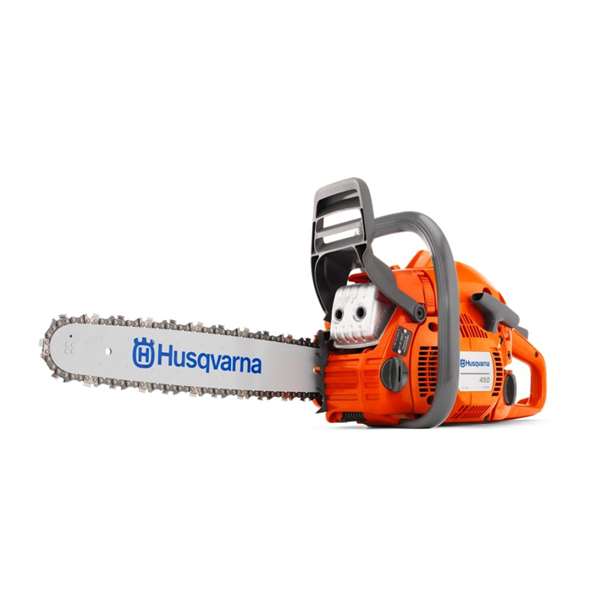 The Husqvarna 450e chainsaw is a homeowner saw with professional-level features and capabilities. One of the world's leading chainsaw manufacturers, Husqvarna designed the 450e to be an all-round chainsaw that can handle regular usage in a variety of jobs large and small. The 450e is powerful for its size and price, easy to start and manoeuvre, and features an attractive, ergonomic design and quality build. It is lightweight enough for small jobs, but tough enough to fell small-to-medium trees or chop logs up to a half-metre thick. Knowing the saw's features and specifications helps consumers ensure the 450e is the right model for them, and get the most from their chainsaw.
Preliminary Considerations
Consumers considering buying a Husqvarna 450e should first assess how they intend to use the saw. Chainsaws come in different sizes, usually measured as the cubic centimetres (cc) of displacement in the engine. The Husqvarna 450e has a displacement of 50.2 cc, placing it in the centre of the Husqvarna line, which ranges from 35.2 cc to 68 cc. The Husqvarna 450e is a perfect chainsaw for the homeowner who plans to use their saw regularly for a variety of jobs: clearing brush, chopping wood, cutting trees, and more. While it is not as robust as professional-level saws, it is heartier than several of the smaller models, such as the Husqvarna 236, a saw for hobbies and lighter tasks like pruning. With a recommended bar length of 33 to 50 cm, the Husqvarna is a versatile, powerful machine.
Another consideration is how experienced the buyer is with chainsaws. For safety's sake, those with less experience should look for lighter saws. The 5.1-kilogramme 450e is relatively lightweight for its class; however, newer chainsaw users may want to opt for an even lighter model, like the435 or 440, weighing 4.4 kg each.
Finally, consumers should never operate a fuel chainsaw indoors, as they pose a fatal risk of exhaust fumes. For indoor use, look for an electric chainsaw.
Features of the Husqvarna 450e Chainsaw
The Husqvarna 450e is well equipped with many professional qualities that set it apart from other chainsaws, enhancing performance, handling, and safety. The following are some of the more salient features.
Inertia Chain Brake
The inertia chain brake is an important safety feature that stops the chain when activated in one of two ways. The first way is if the saw kicks back, causing the front hand guard to bump the user's hand: the impact of the bump activates the chain brake. Secondly, special inertia sensors detect the type of rotation typical of kick-back and brake the chain even sooner.
Smart Start
Thanks to the 450e's patented Smart Start system, users consistently express satisfaction at how easy the chainsaw is to start. This design of engine and starter minimises effort to get things running, having reduced starter-chain resistance by 40 per cent. Combined choke/stop control also makes starts easier and reduces engine flooding.
Air Injection
Fresh air forced into the exhaust stream enhances exhaust-fuel combustion. This technology means less frequent filter cleanings, extended engine life, and better efficiency.
X-Torq
Husqvarna's innovative engine design employs dual flushing ducts, one for clean air, and one for the air-fuel mixture. First clean air forces burned gases out, and then the air-fuel mixture enters. X-Torq technology reduces emissions up to 75 per cent, and fuel consumption up to 20 per cent. Moreover, it improves engine efficiency, since the fuel that passes over the main and crank bearings has a higher concentration and better lubricates them.
Ergonomic Handle and Two-Mass Principle
A chainsaw that is comfortable to hold makes the job easier, reducing operator fatigue and improving safety. Two features make the 450e particularly easy to manoeuvre. First, it has an ergonomic, asymmetrical rear handle with a soft inlay and ergonomic trigger. Second, its two-mass principle isolates the engine from the handle, minimising vibration.
Felling Marks
The 450e features felling marks, which looks like a raised ridge along the top of the chainsaw. For precise felling, by aiming the ridge in the direction they want the tree to fall, the user can make an accurate felling notch.
Tool-Free Chain Tensioning
A crank-and-wheel mechanism allows the user to lock and unlock the chain bar and adjust chain tension manually. This can also improve safety, since proper adjustments are fast and easy.
Husqvarna 450e Chainsaw Specifications
In addition to familiarity with the Husqvarna 450e's features, it also helps consumers to know more detailed specifications about the saw. The following chart outlines some of these important details.
| | |
| --- | --- |
| Cylinder Displacement | 3.06 cu.inch / 50.2 cm³ |
| Power Output | 3.2 hp / 2.4 kW |
| Maximum Power Speed | 9000 rpm |
| Fuel Tank Volume | 0.45 litre |
| Fuel Consumption | 504 g/kWh |
| Idling Speed | 2700 rpm |
| Spark Plug | NGK BPMR7A, Champion RCJ7Y |
| Electrode Gap | 0.5 mm |
| Maximum Torque | 7200 rpm |
| Oil Tank Volume | 0.26 litre |
| Oil Pump Type | Fixed flow |
| Oil Pump Capacity | 13-13 ml/min |
| Equivalent Vibration Level | 2.3 m/s² front handle, 2.7 m/s² rear handle |
| Sound Pressure Level at Operator's Ear | 104 dB(A) |
| Sound Power Level, guaranteed | 115 dB(A) |
| Chain Pitch | .325" |
| Recommended Bar Length, minimum-maximum | 33-50 cm |
| Chain Speed at Maximum Power | 17.34 m/s |
Specifications can tell the buyer more details about the saw's power, efficiency, and capabilities, and also helps compare it with other chainsaws in its class.
How to Buy
You can purchase a Husqvarna 450e from a variety of sources, including brick-and-mortar shops specialising in landscaping equipment, as well as numerous Internet retailers. You can also browse listings on eBay for new and pre-owned items at greatdeals. Locate the search bar on any eBay page and enter keywords like " Husqvarna 450 chainsaw". Once you find an item of interest, read the full listing carefully, noting details on condition, postage fees, and the seller's feedback score. Following these steps, you can soon have a high-quality, hard-working Husqvarna 450e chainsaw in your hands.