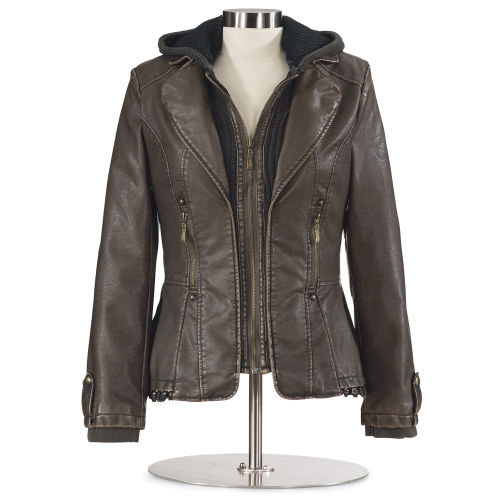 Leather jackets create a sense of style that cannot be found in other garments. More than just outerwear, they became a fashion statement for future generations after being worn by actors like Marlon Brando and James Dean. Leather jackets provide more than just protection and style. They have an aura about them, and the best way to capture that aura is to wear one of the jackets.
Buying the right leather jacket is about matching style to size, form, and function to provide exactly what the intended wearer wants and needs. For some, it can be as simple as finding a rack of new leather jackets. For others, finding the right leather jacket takes hours of searching to find the exact jackets to meet their needs.
History of Leather
The history of leather clothing goes back almost as far as the history of humanity. People have been using animal skins as a source of garments for as long as there has been hunting. At first, these garments were made of uncured hides, but with the invention of tanning, people were able to produce actual leather, which was far superior in every way. No one knows exactly when or where tanning was invented. It was probably invented independently in several different times and places. What the record does show is that it was in widespread use in Egypt by 1300 BC, and by the time of the Roman Empire, tanning was common everywhere.
Origins of the Leather Jacket
While leather coats date back for centuries, the short-waisted leather jacket really entered the scene with the advent of technology. The shortened cut made them practical for use on motorcycles and in the open cockpits of early airplanes. Both pilots and motorcyclists flocked to the short jackets, enamoured with the combination of warmth and protection that they offered. Before World War II, most of these early jackets were brown, and many used sheep shearings for additional warmth, particularly around the lapels and collars.
The Perfecto Leather Jacket
The year was 1928, and the style was the Perfecto. This thick leather jacket with heavy zippers proved to be a quintessential design. Its wide, snap-fastened lapels made an immediate fashion statement. This was the jacket that Marlon Brando made famous.
The Black Leather Jacket
While most leather jackets were brown, the ones that really made an impact on society and became the symbol of youth and rebellion were black. The first widespread use of black jackets was with the German military during the First and Second World Wars, although the colour was also popular with Allied generals, such as George Patton, who also wore one. However, it was only after the war that the black leather jacket truly entered civilian society. Originally a symbol of the counter-culture as seen in movies like "The Wild One", it gradually became synonymous with masculinity and power.
Choosing the Right Leather Jacket
The first step in choosing the right leather jacket is to consider the person wearing it and his or her needs. One person may want a heavy jacket for motorcycle riding, while another may be more interested in the fashion statement that a particular jacket makes. There is no right or wrong answer, but the jacket that best meets the needs of one person may not meet the needs of another. This is why it is so important to start by recognising the needs that any given jacket is meant to meet and whether it is form or function that matters most to the prospective buyer.
After that, it is a good idea to set a budget. Leather jackets can be expensive, and knowing how much money is available for a purchase makes it easy for buyers to focus on just those jackets that they can afford and ignore those that are outside their planned budgets. This both speeds the process and helps make it more satisfying for buyers since they are less likely to become frustrated by looking at leather jackets they do not intend to buy.
Size is also a factor to consider, not only the size of the person, but also the size as reflected in the cut of the jacket. Different jackets are cut for different body types, and even when the size is right, the wrong cut can make a jacket look ill-fitting. Buying the right size means nothing without buying the right cut.
New or Pre-Owned Leather Jackets
One of the benefits that results from the fact that many leather jackets are designed for protection as well as style is that they can often last a very long time. In fact, some leather jackets last long enough to be worn by the original purchaser's children. It is this very longevity that makes a pre-owned leather jacket a desirable purchase for many buyers.
On the other hand, for some buyers, only new leather jackets are acceptable. They want leather jackets to be theirs alone and reflect their own personal life experiences. The big advantage of buying new is that it is a very predictable and simple choice, and new leather jackets are relatively easy to find. It does not matter which specific new jacket a person buys since they are all made to the same standard. A person can buy the first or fifth jacket on the rack from a given seller, and they are both the same. Buying new jackets helps buyers manage their expectations more easily than buying pre-owned.
For other buyers, the best choice is a pre-owned leather jacket. Some people love that they are easier on the budget and are generally much less expensive than new jackets. Other buyers may want to buy pre-owned jackets specifically for their history and their character. This connects to the fact that all pre-owned items are unique with their own individual histories, which means that buyers must pay attention to the specific jackets they intend to buy and not just the jacket style. For some buyers, that little extra research can be very rewarding.
Buying a Leather Jacket on eBay
eBay is one of the best places for anyone to buy a leather jacket. You can find one in any size or style to fit any form, function, or budget. All you need to do is put your requirements into the search box. eBay makes it easy with a search bar on every page. Once you have your results, you can use the filters to eliminate the ones that do not fit your requirements. You can filter by anything from price to seller location to new or pre-owned condition. You can also refine your search or sort your results.
Once you have the results you want, you can check out the sellers and their profile pages to see their feedback and policies. Some sellers may allow local buyers to pick their leather jackets up in person, or they may offer bundled deals to sweeten the pot.
Conclusion
Buying a leather jacket is the easiest way for anyone to capture the spirit of the early pilots. These jackets combine form, style, and function in a way that has made them popular for the better part of a century. While they were invented earlier, for many people, the leather jacket was perfected in 1928 with the creation of the appropriately named Perfecto leather jacket. It popularised thick, leather, snap-down lapels and heavy zippers that quickly became permanently associated with motorcycle riding.
For a buyer, finding the perfect leather jacket is all about finding the purpose of the jacket and matching that function to the body of the wearer. Jackets need to fit the wearer and be cut appropriately for the best look. All it takes is a little time and research, and buyers can find the right leather jackets for their own personal styles.