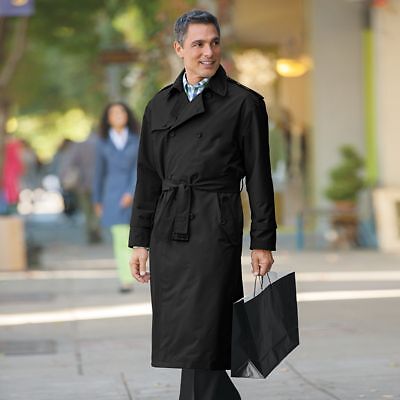 In modern times, trench coats are worn predominantly as a fashion item, as opposed their intended, original purpose of practicality during wartime.
The means by which trench coats became so popular defines the way that they look, as they have certain design and style feature that make them unique to many of the other types of coat available on the market.
Despite having a number of specific features that make the trench coat unique, they are also available with certain differences. There are different lengths of trench coat, different colours, as well as different materials all available, especially on the likes of eBay.
The subsequent guide aims to take those wishing to buy a trench coat through the purchase.
Trench Coat Features
Whilst some trench coats may not have the same overall design, there are staple features that make the trench coat what it is. These features first came about during the fighting of the First World War as practical solutions to problems that were occurring whilst wearing coats during combat or in the trenches.
Here are some the fundamental design features that can be found on the majority of trench coats:
Trench Coat Features

About

Storm Pockets

Storm pockets are a form of pocket designed to protect important documents and other such vital goods being carried during the wars.

In more modern times, these pockets are appreciated for their suitability to carrying the likes of tablets, as well as being deep and lined to keep hands warm during cold weather. These pockets will often be able to be buttoned up for added security. Storm pockets will sit around the waist and underneath the belt.

Belt

One of the main features that make the trench coat unique, in comparison to the other coats available on the market, is the belt that is incorporated into the design. This belt is often used to give the trench coat its distinctive shape, as well as being used to stop the coat catching or flapping in windy conditions.

With the belt originally being used as a way of keeping soldiers warm, it is now used in a very similar way in contemporary fashion. The two loose ends of the belt can either be tied together for a casual look or can be fastened to create a smarter appearance.

Epaulettes

Trench coats will also tend to have epaulettes. These are a shoulder decoration. Whereas they originally served the purpose of showing rank in the military, more contemporary style trench coats have retained this feature purely for aesthetic purposes.

Sleeve Straps

Again, much like the rest of the design quirks that feature on trench coats, the sleeve straps originated from the desire of the soldiers involved in trench warfare to keep warm. The straps on the sleeves can be tightened to act as a form of protection from wind and rain, as well as a way of stopping body heat from escaping.

Storm Flaps

Storm Flaps sit on the front and at the top of the coat. They are an extension of collar of the trench coat and can be crossed over to provide added warmth, as well as being able to be fastened via a button.

Buttons

Trench coats will often have buttons running down the front of the coat on both sides. More often than not, these buttons cannot be fastened, as the belt provides the wearer with the ability to close the coat. However, there are some available that will have holes to allow for the buttons to act as a means of closing the coat. Most trench coats will have between 8 and 10 buttons, with either 4 or 5 on each side.
Trench Coat Materials
There are three main materials used in the contemporary manufacturing of trench coats. There are other materials used to make trench coats, yet they are either hard to find, or are not particularly suitable.
The three materials that are used for trench coats and are widely available are as follows:
- Wool: Wool was the original material used for the production of trench coats. The way that is was tightly woven meant that it was lightweight but also durable and very well suited to repelling water. Whilst woollen trench coats are readily found on the likes of eBay, they will often be second hand. This is due to the fact that new woollen trench coats are highly priced due to their high production costs and fittings.
- Leather:Leather trench coats were not made use of when the trench coat first became popular. However, along with the introduction of leather for other pieces of clothing, it became popularly used for trench coats too. It is a fairly heavy material in comparison to others used for trench coats but it gives off a professional look, as well as being suitably water repellent and warm.
- Cotton: Trench coats made from cotton tend to be more affordable. This is due to production costs. However, when combined with the likes of polyester, cotton trench coats perform in a very similar manner to those of woollen trench coats; they are water resistant, good insulators (when lined) and are lightweight whilst durable.
Buying a Trench Coat on eBay
There are many ways of acquiring a trench coat and there are plenty of fashion retailers that sell them. However, an auction site such as eBay is a way of buying one at an affordable price and in a secure environment.
eBay allows for buyers to make a Bid on their desired trench coat, buy the coat immediately with the Buy It Now option, or even make a Best Offer (this option is only made available by some sellers). eBay also offers buyers to find an affordable trench coat via the Deals section of the site.
In order to find the wide range of trench coats available on eBay, head to the Clothing, Shoes, and Accessories or Fashion categories of the site. From here, click the Men's Clothing link and follow it through to the Coats and Jackets listings. The listings can then be narrowed to suit personal tastes by typing in desired features or sizes into the keyword search bar and by using the refinement tabs at the side of the page.
It is also always worth reading product descriptions several times, as well as going through a seller's transaction feedback, purely as a way of ensuring the honesty of the purchase. There is also the option for potential buyers to be able to contact the seller directly if there are any questions or issues regarding the product or the transaction.
Conclusion
When buying a men's trench coat it is also important to know which type of material is best suited for the occasion it is to be worn for, as well as the features that may or may not be part of the design.
It is also worth thinking about the colour of the trench coat before searching for a trench coat as there are a number of different colours available.
All in all, it is best to know what is wanted before beginning the buying process on eBay. This way the transaction can be as secure as possible.