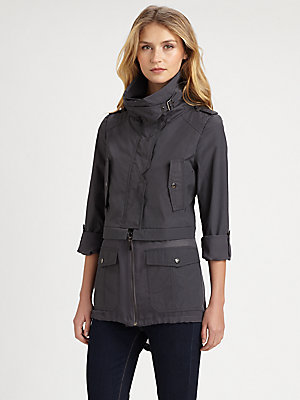 The mention of the word 'parka' brings up the image of an oversized coat which is used in the harshest and coldest of conditions. The user however might not be aware of the fact that parkas have become increasingly fashionable and more practical for everyday use. Parkas are a versatile piece of clothing that every man should consider for their outdoor needs, whether more for more casual days out or a skiing holiday.
This guide will look at the different varieties of men's parka available on eBay and inform the buyer how to search for one that meets their needs.
The Parka: A Brief History
The parka was traditionally made from seal or caribou skin and was worn by Inuit people to say warm, especially during hunts. It was often stuffed with soft down to help insulate and maintain body heat. These original designs of parkas were hooded, long garments with no front fastening apart from a button at the neck. The fur around the hood was to prevent snow and wind from further cooling down the wearr's face.
The modern parka was developed by American military in the early 1950's and included the addition of a zip and buttoned closure with extra pockets. Parkas have stayed reasonably close in design, many featuring a faux fur lined hood and made from synthetic materials. Parkas became popular in the 1970's and 1980's when they were seen to be practical coats for schoolchildren. Parkas since been used for skiing or other such climate rated activities, but in the recent years have become a more fashionable and increased greatly in popularity.
Different Styles of Parkas
Current fashion has ensured that the modern parka will appeal to a wide range of men. The following list breaks down the most common types of parka to be found on online:
· Fishtail Parka- this style of parka is longer in the back than in the front and offers the buyer a more warmth, especially when they sit down. Many also have a drawstring around the bottom to help bring the parka closer to the body. Fishtail parkas will come in a range of styles depending on the brand. Buyers can often find original ex-army fishtail parkas on eBay.
· Military/Snorkel Parka- the snorkel parka is reminiscent of the original parka design of the 1950's, this style has been widely copied and is a popular item for many alternative fashion groups. Vintage parkas are also sort after by collectors.
· Down Filled Parkas- These parkas has a thick quilted inside that may have goose down or a similar synthetic material which is light and warm. These will come in varying lengths; the longer ones will be suitable for very cold weather.
· Windbreaker- a great buffer against the wind, this type of parka is thinner and generally can be rolled up and stored away into a small space for convenience. Windbreakers are also waterproof but aren't made from breathable material like cotton.
· Ski Jacket- this type of parka will be hard wearing but also warm. The materials will allow the buyer to maintain a regular body heat with the aid of vents placed at certain points on the garment. This style parka tends to come in bold colours in order to stand out against the snow.
Features and Materials of Parkas
When looking for a parka the buyer will need to consider a few key features before making a purchasing decision. They may want a thick parka for a skiing holiday, or perhaps one with a detachable hood, the following table breaks down the main features of a parka:
| | |
| --- | --- |
| Hood | This can be lined with fur which is a traditional look for parkas. This can be real fur or fake fur depending on the buyer's preference. Some parkas feature a removable hood which is advantageous for those who don't need a hood all the time. Drawstring hoods are a good feature for those likely to be out in cold, wet weather. |
| Zip | A good parka, especially for colder climates and strenuous activity will need a strong zip, ideally a two way zip that can be secured whilst wearing thick gloves. More fashionable parka may have a normal zip or be secured with a few fasteners. |
| Coverings | Parkas will have a cover over the zip and pockets to protect the wear from cold and also protect anything in the pockets. |
| Pockets | Most parkas will have at least two pockets, some may have more on the body or inside the parka. This is again down to the need of the wearer and their personal preference. Some parkas come with inside pockets for wallets and electronic gear. |
| Drawstring Sleeves | Parkas which have a drawstring on the sleeve will be ideal for very windy conditions. Look out for other fastenings such as Velcro to adjust the tightness of the sleeves. |
| Collar | Some collars will come to under the chin and are quite insulated. This will help keep the individual warm whatever the weather. |
| Seams | Parkas intended for very cold weather will have sealed seams that prevent wind and cold from getting in. |
The materials parkas come in are varied; especially what the outer and inner layers are made from. Nylon will be durable, fleece is warm and practical, it will last for many years if looked after properly. Synthetic down will be soft and keep the wearer warm for hours on end. The buyer could go to a sportswear shop and find out how the materials feel and then purchase one on eBay.
Selecting the Size of Parka
Some may think that an oversized parka is needed, but it is down to the style and intended activity of the user that will impact the sized needed. If purchasing a windbreaker parka then a size bigger might be needed to go over thick clothing.
For those who intend to wear a fashionable parka on a casual basis a more fitted parka will be suitable. A good tip for selecting the sizing is to consider what the wearer might be wearing underneath it, such as a thick fleece or sweater. Being able to move about freely and bend the arms properly is key to a comfortable, good fitting parka.
Buying a Parka on eBay
Selecting a parka could take many hours online, the buyer should look to eBay for a parka first. There are hundreds of listings available to view and the buyer may do so from the comfort of their home. There are a number of ways to shop on eBay:
· Categories and Word Search- the buyer the option to browse the different categories to find parkas. They can start at the Fashion tab and select Men's Clothing and then Coats, Jackets. This method of searching can be further enhanced by putting search terms into the search bar such as 'XL Parka' or 'Ski Jacket.' The buyer also has the choice to select their favourite brands or select the size they are after.
· eBay Deals- The deals page is the next place to look for unbeatable offers and bargains. These are updated regularly and can offer the buyer amazing deals on parkas.
· It is important to remember to keep safe when shopping on eBay, view the listing carefully and if unsure don't hesitate to ask the seller a question. Secure payment systems like PayPal take all the worry away, the buyer's money is 100% protected and eBay is there to handle any problems.
Conclusion
If a man is looking to purchase outdoor wear that is both fashionable and practical, it can seem difficult to combine the two. Parkas however offer both warmth and style. Depending what the wearer is looking for, a windbreaker will keep them warm on a brisk walk to work, or those looking to take a holiday abroad, a down lined parka is the answer.
It is important to think about when and where the parka will be used and the different types of features available, but the buyer can shop for a men's parka on eBay once they have done a little research.