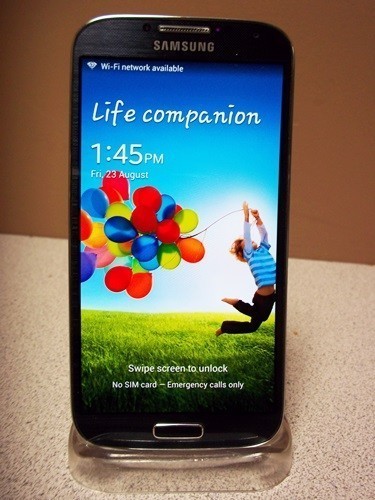 The global smartphone market is growing at such a pace that almost everyone now owns one of the devices and the Samsung Galaxy S4 is in the upper echelon of that market. Samsung's device comes with a plethora of high tech specifications all packed into a durable shell and the following guide will feature an in depth look at all the features as well as details on how to buy a Samsung Galaxy S4 on eBay.
What is a Samsung Galaxy S4 GT-I9500?
The Samsung Galaxy S4 is the fourth reincarnation of Samsung's Galaxy smartphone and was unveiled in 2013. The device has all the features expected of a top-level mobile phone and it is built to a different specification depending on the location.
Adding GT-I9500 onto the end of the device name indicates that it doesn't have 4G LTE connectivity, and runs on a slightly different chip set to the GT-I9505 and SHV-E300K/S/L models.
The following table outlines the device specifications in more detail:
| | |
| --- | --- |
| | Samsung Galaxy S4 GT-I9500 |
| Released | 2013 |
| Talktime Battery Life | 10 hours and 50 minutes |
| Screen | 1080p Super AMOLED HD |
| Memory | 16, 32 and 64GB, expandable up to 64GB with microSD card |
| Processor | Cortex-A15 1.6GHz quad-core |
| Camera | 13-megapixel |
| Weight | 130g |
| Connectivity | MicroUSB, WiFi and Bluetooth |
| Colours | Arctic Blue, Black Mist and White Frost |
On-board Memory
· The Samsung Galaxy S4 comes in a numerous range of different storage sizes with 16, 32 and 64GB models available to eBay customers.
· Prices rise depending on the size of memory present and certain buyers can offset the initial cost of the device by getting a smaller memory and simply expanding it at a later date using the microSD card slot on the phone.
Locked or Unlocked?
One choice that potential buyers must make before buying a Samsung Galaxy S4 is whether they require a locked or unlocked version. The following headings outline the differences between the two.
Locked
· If a device is locked it means that it can only be used on the network for which it has been bought and to be used on another one it must be unlocked by either a specialist shop, the user or the current network.
· Consumers can buy locked Galaxy S4's on eBay for use on Optus , Telstra and Vodafone .
Unlocked
Buying a Samsung Galaxy S4 unlocked means that it can be used straight away on any carrier and in any country.
· The phone will either have been factory unlocked, meaning it was bought from the manufacturer as an unlocked device, or a former user will have changed it from a locked device.
Condition of the Smartphone
The nature of eBay means that Samsung Galaxy S4 smartphones will come in a variety of different conditions. The table below explains the different conditions and what to expect from each one.
| | |
| --- | --- |
| Condition | Description |
| Brand New | Phone will still be brand new and sealed in the original box and in the exact condition that it left the factory. |
| New: Never Used | The smartphone will be brand new and only differs from the above as the box will have been opened. |
| Used | Item has been owned and used by another person in the past. Buyers should clarify how many owners it has had and in what used condition it is before finalising a purchase. |
How to Buy a Samsung Galaxy S IV GT-I9500
eBay has one of the largest collections of smartphones for sale anywhere online with sellers on hand to help buyers negotiate every stage of the buying process:
· A number of options will be available on the left hand side of the page and under Brand the buyer should click the tick box next to Samsung and then type 'Galaxy S4' into the search box at the top of the page.
· Here will be a list of the Samsung Galaxy S4 smartphones for sale on eBay and the buyer can choose to narrow the list down according to the listing's colour, style, carrier, condition, and various other options.
· When buying a smartphone from eBay, it's recommended to research the seller thoroughly before completing a transaction. This can be done by browsing the extensive transaction history that eBay keeps for every seller and working out how reliable they are, from this.
There are a variety of special deals available on mobile phones that can be accessed exclusively through eBay. They offer the best prices on many items and all items offer postage free of charge.
Conclusion
There aren't many smartphones that have a specification that can match up to the Samsung Galaxy S4 and it offers users the latest technological advances without having to splash out on an Apple iPhone 5.
There are hundreds for sale on eBay with sellers and this guide able to help buyers navigate the process and offer advice on whether the smartphone is best for them. Once ready to buy, buyers are encouraged to use PayPal to make sure the transaction is completed as safely and securely as possible.