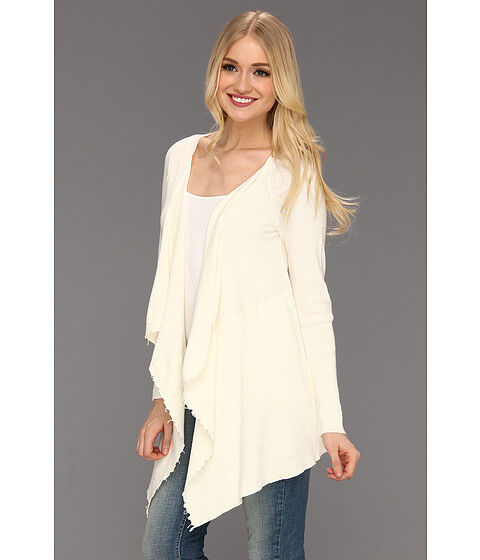 A cardigan is a great piece for layering over a tank, camisole, or T-shirt, or simply to slip into on a chilly evening as an alternative to a light jacket. Cardigans are generally made of acrylic, cotton, or polyester, and they vary from lightweight and short styles to oversized, chunky knits for colder weather. Cardigans come in many styles and colours to match every type of outfit, and some offer patterns such as prints or geometric designs.
A used cardigan saves money, and purchasing a pre-owned cardigan on eBay is a budget-friendly way for a consumer to expand her wardrobe. Whether a woman is building an entire look around the style of a cardigan, or simply using it as an additional layer against inclement weather, cardigans are stylish, serving as a functional and versatile addition to a woman's look. Cardigans are also a more stylish and work-friendly alternative to zip-up jackets. When searching for used cardigans, consumers should look for items based on fabric and fit, as well as type, such as long-sleeved or jumper style varieties.
Selecting a Used Cardigan
There are so many styles of cardigans that it might be hard for consumers to choose one. It is best to keep a few factors in mind when purchasing a used cardigan, such as the way the cardigan feels due to the fabric it is made of, the weight of the cardigan, and the way that the cardigan fits.
Fabric
Most cardigans are made of acrylic, but are sometimes blended with other fabrics like cotton or polyester, makes the cardigans softer. An even more luxurious fabric is cashmere, which feels very soft against the skin and looks a bit more elegant than traditional cotton.
Lace offers a feminine touch to a used cardigan, and lambswool is soft, though not as practical, because it is harder to take care of. A wash and wear fabric such as acrylic or cotton is easiest to care for since it can be washed at home, and holds up well over time.
Fit
There are several types of fits when it comes to cardigans. Some cardigans hang open for a loose fit, and some button up or are belted around the waist for a more form-fitting silhouette. Consumers need to factor in how they want the cardigans to fit in order to find the sweaters that they desire.
A short cardigan may only come to the waist, and works well with something colourful or stylish underneath, since the layers underneath are likely to be visible. Before purchasing a used cardigan, consumers should decide what colour cardigans are needed and what existing clothing will be worn with the cardigans, so the best fit can be determined to create an outfit.
Types of Cardigans
Though the basic function of a cardigan remains the same, the styles vary widely. From tight, body-hugging cardigans to loose, open sweaters, there are sizes and styles for every need. Whether buyers are using their cardigans as jackets or simply creating a stylish look, there are cardigans for every body type and every style.
Long, Loose Cardigans
A loose, oversized cardigan is generally worn open, or is belted around the waist. These cardigans are lightweight or heavyweight, and made of various fabrics. A popular style of loose cardigan is the batwing style, which offers loose, open sleeves that form a wing design and drape around the arms.
Long cardigans generally fall past the waist and end about mid-thigh, or even longer. Cardigans in this style may have embellishments such as a crocheted design, lace, or ruffles. Some long cardigans are made entirely out of lace, which may not serve to keep the wearer warm, but add a fashionable flair to an outfit.
Jumper Cardigans
The most traditional type of cardigan is very similarly styled to a regular jumper. It falls right around the waistline, and typically has buttons that go up to a V-neck styled sweater. A jumper style cardigan is typically made of acrylic, cotton, or polyester. These cardigans offer many styles and even printed fabrics, such as leopard print, polka dots, flowers, or stripes.
Jumper-style cardigans can be left open or buttoned up, and some may fit closer to the body than others. Wrap-style cardigans are also popular, and instead of buttons, this type of cardigan wraps around the waist and ties with a belt or sash. Some cardigans may also offer the additional option of a hood. Billabong is a popular brand that makes jumper-style cardigans.
Shrug Cardigans
Shrugs are very small sweaters that generally cover the shoulders and only come down to the chest area. They are useful to slip over a spaghetti strap or strapless top or dress, and their many colours add a stylish layer to an outfit. Shrugs tie or button in the front, and they may be short or long sleeved.
Shrug-style cardigans come in various patterns and prints as well. These are also called jackets or cropped cardigans. Additions such as fur trimmed collars, lace, embroidery, or peplums may also be included on these fashionable cardigans. Some cropped cardigans offer a zip-up style. They are created from the same materials that regular sized cardigans are, such as cotton or polyester.
A Quick Guide to Cardigans
When purchasing used cardigans, buyers should make sure the sweaters are in great condition and are the right size. Since sweaters tend to fit larger, especially oversized ones, buyers should pay close attention to the sizing of the cardigans.
| | | | |
| --- | --- | --- | --- |
| Length | Cropped | Traditional | |
| Fabric Weight | Lightweight | Medium/heavyweight | Heavyweight |
| Style | Shrug or jacket | V-neck, buttons | Open, loose |
| Silhouette | Fitted, button or wrap style | Fitted | Belted for a more form fitting look |
Used cardigans are affordable and a fashionable way to stay warm without having to wear a heavy coat or jacket. They are available in a multitude of styles and fabrics. They are also versatile depending on what they are paired with on the bottom, and what they are layered with underneath.
How to Buy a Used Cardigan on eBay
Purchasing a used cardigan is easy when you use eBay. You can find some great deals on all types of cardigans, including wrap cardigans or cropped cardigans. Navigate to jumpers and cardigans to find a wide selection and many colours of cardigans, then select the option for pre-owned to find gently worn cardigans in many styles. When you are seeking the right cardigan, ensure that the size is correct. You can shop by size such as 8, 10, or 12. You can also shop by your favourite brand of cardigan, such as Roxy or Witchery, or select the colour of cardigan you wish to purchase.
For the best shopping experience, buy cardigans from merchants who have excellent feedback and high ratings from other buyers. To communicate with the seller, click "Ask a Question" to discuss how the cardigan fits. Also, for a lowered shipping price, ask whether the seller is offering any additional products you can bundle with your cardigan, such as tops or accessories.
Conclusion
A used cardigan is an affordable clothing item that is also quite versatile. A cardigan slips over a dress to keep a woman's shoulders warm, or it provides a layered look over a dress, tank top, or T-shirt to change up an outfit a bit. Cardigans are form fitting and similar to jumpers, or they are looser and longer for a more comfortable, oversized fit.
The great thing about a cardigan is that it instantly changes the way an outfit looks, or adds some much-needed colour to a somewhat bland outfit. Cardigans come in so many fabrics, styles, and designs that women can use them to create various looks out of a single piece, such as a dress or trousers.