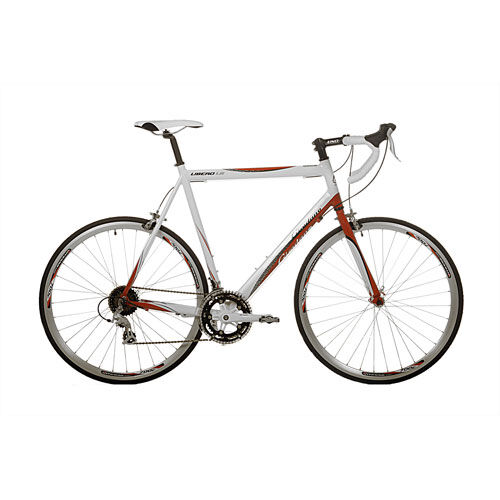 There are a lot of things about road bikes that make people fall in love with them. Road bikes have the ability to go many places where a motorised vehicle cannot travel. If people have never owned a road bike, there are some things to consider before buying one.
This style of bike can be expensive, and for this reason many people enjoy buying used models. U sed road bikes are located at some sporting goods stores, garage sales, and online at eBay. One of the best things about road bikes is that they are lightweight, but even so they can be very durable and versatile. These bikes are designed differently than other bikes, so knowing what to expect from one is important. Also, when purchasing a road bike, becoming familiar with the different types is necessary.
Overview of Road Bikes
Even though road bikes offer a great amount of diversity to the riders as far as where the bikes can go, this type of bike is designed primarily to be used on paved roads, unlike some other styles of bikes that are designed primarily for off-road use. Road bikes are typically used for touring, racing, and normal leisure rides.
Although there are some basic features about road bikes that are similar among others in their class, not all road bikes are the same either. That is why it is important to become familiar with road bike features. In addition, there are other things that need to be considered before buying a road bike, such as making sure it is sized right for the rider. Road bikes can be very expensive so it is crucial to make sure the right one is purchased or all the work is for naught. Buying a good, used road bike is a great way to save extra money.
Features
Some models of road bikes have features that differ from one another based on what the manufacturers decides to include. Overall, there are features that put this type of bike into the road bike classification. In order to minimise rolling, the tyres on a road bike are high pressured, smooth, and not as wide as standard bicycle tyres. Road bikes also commonly have derailleur gears, however this is one feature that often varies by brand, but one feature that does not vary much is that the bikes are constructed from materials designed to make them lightweight.
Buying a used road bike is a good choice for many reasons. One of the best reasons is that a buyer can find a higher-end road bike often at a fraction of the cost for what a new road bike costs. Even a road bike that is not an expensive one often yields much satisfaction by replacing existing bicycle parts like wheels, tyres, and shifters with new or used ones. Many times, the cost of upgrading a bike in this way is still less expensive than buying one with all the top features, and the buyer still gets a great bike without a lot of money being invested into it.
Types of Road Bikes
One of the first things that should be considered when choosing a used road bike is what the intended use of the bike is. If a person uses the bike primarily for touring, then there are bikes that are designed more toward this purpose than other road bikes. The same thing is true for a bike that is being used for fitness or even utility purposes. Knowing additional information about these bikes helps a person choose one that is best suited to his or her needs. Listed in the table below are various types of road bikes as well as some notable characteristics of each.
| | |
| --- | --- |
| Type of Road Bike | Notable Characteristics |
| | Rugged yet comfortable bikes designed for carrying extra weight while travelling long distances |
| | Versatile bike designed for utilitarian purposes and off-road use |
| | Lightweight and versatile; ideal for work or play |
| | Characterised by flat handlebars; upgraded features designed with fitness activities in mind |
These types of road bikes are some of the most common types in use. Things that typically differ between the styles are features such as seats, handlebar positions, tyre structure, and the amount of gears available.
Sizing
After choosing a bike based on its intended purpose, the second most important thing is sizing the road bicycle to the rider. If used road bikes do not fit the rider, they are practically worthless unless modifications are performed, which then adds an additional expense to the price of the bike.
In order to find the find the right bicycle frame size, the height of the rider plus the length of the rider's legs need to be taken into account. These measurements should then be applied to the frame to see if the height is ideal. The crank sizes also need to be taken into account. Short crank sizes allow a person to pedal more rapidly while long crank sizes allow for more leverage.
One thing to keep in mind when sizing a bike to a rider is that every person's body is different. What size of road might work well for one person does not necessarily mean that it works well for someone else who has the same height and leg length. If a person has the ability to try the bike on for size, then that is the best way to know if the bike works for the rider or not. However, this cannot be done if buying a bike online, unless you try the bike elsewhere before purchasing. In order to ensure that the sizing is accurate, it is recommended to have measurements taken by a professional, such as one might find at a bike shop. It is much easier to have accurate measurements and then shop for the best deal.
How to Buy a Used Road Bike on eBay
Road bikes are popular types of bikes for so many people because of the comfort and durability that they offer. Road bikes are sometimes very expensive when purchased at brick and mortar locations, and for this reason many people turn to eBay to find the perfect used road bike.
Locating a used bike on eBay is as easy as performing a keyword search. This is done from the eBay home page and typing in descriptive keywords about the bike in the search query box that is located at the top of the page. For example, if you use keywords like "used touring road bike", all results tagged with those keywords are displayed for you to view. You may also find out more about the bike by reading the full item description from the seller.
Conclusion
Used road bikes are very versatile and come in a variety of styles to choose from. Picking out the perfect bike requires some careful thought about how the bike is used in order to obtain one that is best suited to the needs of the rider. Determining what features are necessary for the use helps to ensure the rider is more comfortable, even if taking long journeys.
Correctly sizing a road bike to a rider is of the utmost importance in order to use the bike properly and be comfortable. Used road bikes are less expensive than new models and are easily upgraded by adding new or used accessories. Finding the perfect used road bike is easy when these things are taken into consideration before the buying process begins.