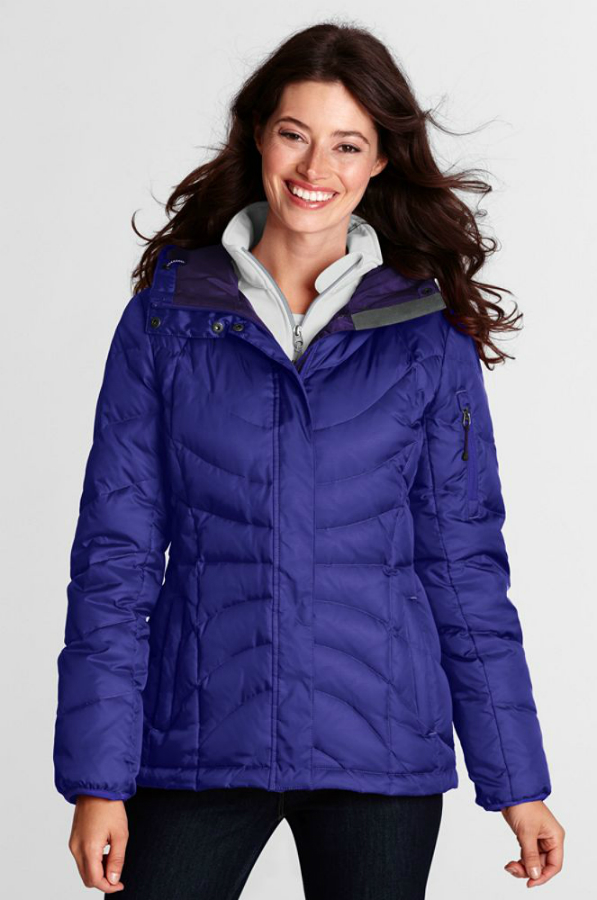 When the temperature drops and it gets cold outside, nothing protects quite like a good winter coat. Whether it is only used during the winter or it has its occasional use on cold, windy mornings, the winter coat is an essential purchase. Finding the right winter coat does not have to be difficult, but it can be time consuming with all of the options that are available today.
A visit to a local department store or browsing the coat collection available online on eBay can be overwhelming if the buyer does not know what she wants. There are long trench coats, sleek pea coats as well as thick, insulated coats available in a number of cuts and colours. Finding the right one depends on several factors, including the material of the coat, its purpose, and how it fits one's body shape.
Types of Winter Coats
Coats come in a seemingly endless variety of styles. However, there are several coat types that are perennial favourites amongst buyers and never go out of style. Other types, such as the thick insulated jacket, may not be as fashionable as the other styles, but it does keep the wearer warm on even the coldest of days.
The Trench Coat
The trench coat is a long coat that keeps the wind away from one's body. It was heavily worn during World War I by soldiers, but its appeal continues to this day. As far as winter coats go, the trench coat is a lighter option. It is made out of light fabrics such as cotton or polyester blend and usually has little lining. This makes a good choice for areas with mild winters, though if the owner wears layers, the trench coat does well as a winter jacket.
Trench coats come in either a single- or a double-breasted style. A double-breasted coat has overlapping buttons that provide an additional layer of warmth over the chest while the single breasted style does not. It is normally tied around the waist with a belt.
The Pea Coat
Similar to the trench coat, the pea coat was commonly worn by soldiers as well. The United States Navy used the pea coat as part of standard uniform back in 1830. Since that time, however, it has become a popular fashion accessory. Jacqueline Kennedy, the wife of US President John Kennedy, often wore pea coats and was responsible for bringing them back into style during the 1960s.
Traditional pea coats are always either black or navy, but modern versions come in plenty of colours, including red and white. It has a very high collar and is almost always made out of heavy wool. This makes it an exceptional choice for an outdoor winter jacket. However, the pea coat is not nearly as long as the trench coat and usually falls just below the hips, leaving the legs exposed. Most pea coats have a somewhat boxy shape with two rows of three buttons.
Insulated Jackets
These incredibly puffy jackets look a lot heavier than they truly are. A high-quality insulated jacket is filled with soft material such as goose down that keeps the wearer incredibly warm. These are ideal jackets for extremely cold temperatures and are often worn by skiers and other outdoor winter enthusiasts.
Most insulated jackets hang down to the waist, though a few extend further to cover the hips. Women's styles are darted a bit around the waist, but this is not a body-flattering jacket. It is not meant to be worn as a fashion statement but instead serves the practical purpose of keeping the wearer warm in really cold climates.
Jackets for Body Types
Just as winter coats come in different types, so too do women's body types. What looks beautiful on one woman can look unflattering on another. The key to finding the right jacket is to understand the wearer's body type and then pick a coat that flatters the figure. An easy way to do this is to consider the four basic body types.
| | | | |
| --- | --- | --- | --- |
| Body Type | Top | Waist | Bottom |
| | Large | Average | Small |
| Pear | Small | Average | Large |
| Banana | Small | Average | Small |
| Hourglass | Large | Small | Large |
Based on the chart, it is clear that a jacket that looks good on an apple body type may produce the opposite effect on a pear-shaped body and vice versa. A consumer who knows her body type is already halfway on her way to picking out a fabulous winter coat.
Coats for the Apple Shape
Apples tend to be a little heavier up top than at the bottom. Therefore, they need to select winter coats with smaller collars since larger collars emphasise the bust area. The cut of the coat, or the overall shape, is also important. A coat that is tight around the bust is only going to draw attention to that area and make the wearer seem top heavy. Select a style that flares out around the hips, giving the illusion of extra curves. Peplum-type jackets are ideal for apples.
Coats for the Pear Shape
The pear body shape is the opposite of the apple and is heavier around the bottom than the chest. Therefore, women of this body shape should select coats that emphasise the bust. A coat with a large, fluffy collar is a great choice. Try to find one that has a high waist, to draw attention upwards. Flared styles tend to make this type look too disproportionate.
Coats for the Banana Shape
The banana body shape is also called boyish. The goal when buying a coat for this type is to select a style that adds curves. Any type of coat that is darted around the waist is ideal. Coats that flare around the hips also add the illusion of extra curves, such as the peplum style. A large collar makes the bust area seem larger than it truly is.
Stay away from straight coats, such as wraps and the like. This style only makes the banana body shape look narrower than it truly is. Most double-breasted trench coats and pea coats do well with the banana shape.
Coats for the Hourglass Figure
Hourglass figures are those who are equally proportionate across the hips and bust but smaller around the waist. They can get away with wearing almost any style, but an asymmetrical cut looks best, as this emphasises the already-curvy hourglass without going overboard. One thing hourglass figures do need to watch out for is the size of the coat. Very curvy hourglasses usually end up having ample room around the waist, but little room around the hips or bust. Double-breasted jackets, for example, sometimes end up causing problems for the hourglass because the buttons do not go together correctly.
Hourglass figures also have to watch out for coats that make them seem disproportionate. For example, a pea coat in the peplum style looks flattering on a banana but can make an hourglass look a little heavy around the hips.
How to Buy a Winter Jacket on eBay
There is no better place to shop for winter coats in all shapes and sizes than at eBay. This online website offers a staggering collection of coats that can fit a fashionista's needs, even one on a tight budget. Many of the clothing items are sold brand new with their tags still attached, but buyers who are not picky about buying used merchandise can score great deals and find brand name apparel at a fraction of the original price.
Start off by typing in 'women winter coats' into eBay's search engine. This allows you to browse through the entire coat collection on eBay at your leisure, but chances are the selection is too large for specific shopping needs. You can search by brand name, such as 'Columbia winter coats', to find items for sale from a specific brand. If you are looking for a coat of a specific colour, such as black, then enter 'black winter coat' into the search engine. You can also use the other search options such as size and material. Play around with the search feature to find a coat that is right for you.
Conclusion
Winter coats are a must-have when the weather drops down into the single digits. These heavy coats keep wearers warm when they must venture outdoors, and the coats come in different styles to accommodate different preferences. Trench coats, pea coats, and insulated jackets are always popular, no matter the current fashion trend, but each one has its uses and intended purpose. One may need to purchase a trench coat for moderately cold days and then keep a thicker pea coat or insulated jacket for freezing temperatures.
The size and cut of a coat is also crucial in relation to body shape, and a wise consumer looks for pieces that flatter her body type. All types of winter coats, new and used, are for sale on eBay, where buyers can choose from a number of options. A buyer who understands what type of coat is needed and what style looks best on her body is sure to find a jacket that lasts for many years.