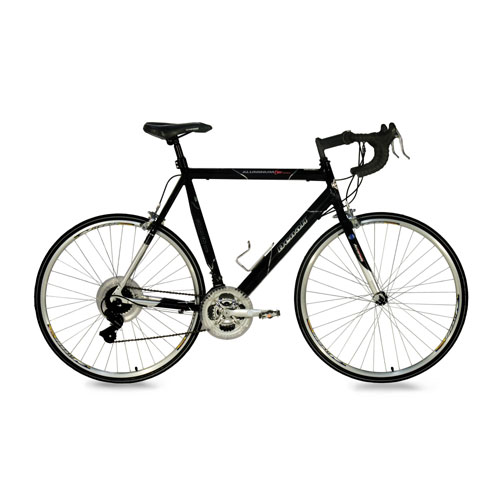 Buying and maintaining wheels for a road bike can seem difficult if the cyclist is unsure of what type of wheels to buy and how to look after them. There are many different types of wheels to choose from and being sure to get the correct wheels and looking after them in the correct way is vital. This guide is in place to help choose the right wheels for a road bike and to explain the way in which they should be looked after in order to keep them functioning to their full ability. No matter what wheels are decided upon, they can usually be found quickly and easily on eBay.

Buying the right wheels for a bike can be dependent on the type of cycling that is going to be undertaken with it. Whether it is for uphill, long distance, high speed or a mixture of all of these, choosing the right wheels could give the rider an edge in their type of cycling.


Parts of the Wheel

There are several parts of the wheel that can be different, causing a slight difference in the way that the bike will ride. Wheel parts can have an effect on speed, strength, comfort and many other aspects. This is why the cyclist needs an understanding as to which wheels will be the best fit.

Rims – One of the parts of the bike wheel that can differ is the rims. There are two main types of rims that to choose from; box and aero. Each has their own advantages and disadvantages:
· Box Section – Box section rims are light and they accelerate quickly, making them particularly good for racing or high speed in general. They also provide the most comfort for the rider which is something that a lot of cyclists are looking for when they are buying wheels for their bike.
· Aero Section – Aero section wheels are stronger and stiffer, making them better than box section for long distance cycling. They are also shaped slightly differently to make them more aerodynamic which give this type of rim less wind drag. A downside to aero section rims is that because of their stiffer frame, they provide less comfort.
When considering which of these types of rim to buy, give thought to where your cycling is most likely to take place. If cycling at leisure on slightly rougher pavement or country roads is preferable, the box section rims may be the best fit due to their added comfort. However, if the cycling will most likely be long distance on smooth main roads, the aero section may be the best option because of the strength and sturdiness of the rim, making them better equipped for distance travel.


Tyres – There are many different styles of tyres available for road bikes in the current day and each type will make a difference to cycling.

One thing that can make a difference with cycling is the type of beads the tyres are made with. Beads are located on both sides of the tyres, and are the part of the wheels that hold the tyre to the rim. These can be made from different materials and it is this that makes the difference. Some beads are lighter, increasing the lightweight virtues of speed and acceleration and the handling of the bike.

Another aspect of the tyres that can have a huge effect on cycling is the width of the tyres. The width of the tyres can have an effect on many things such as the amount of air the tyre can hold, how the bike itself handles, and the durability of the tyre. There isn't a right or wrong thickness for a bike's tyres. The thickness of a tyre is dependent on how often the bike will be used, thus this decision is dependent on the style of cycling practised.

Another option available when buying tyres for your wheel is tubeless or tubular tyres. The slight difference between these types of tubes is that the tubular tyres offer a slightly smoother ride and are lighter. Tubular tyres, however, tend to be slightly more expensive and they have a high risk of punctures. When cycling long distances on the road this can become annoying and so tubeless tyres tend to be the preferred option for people who cycle often. They are more durable and tend to last longer.
As well as these parts there are many other parts of the wheel which can be customised to best suit individual cycling needs. Whatever the type of wheels of interest for your road bike, they can usually be found quickly and easily on eBay.


Maintaining the Wheels
Looking after the wheels is another important thing to consider. Without proper care they can often get in bad condition quickly and can be expensive unless they are given the correct treatment.

Tyre Pressure - It is important to remember that the more air that is in the tyres, the higher the risk of tyre cuts or punctures. If cycling long distances, particularly on slightly rougher surfaces, ensure that the pressure in the tyres does not make them too tight.

Make sure that the wheels are fitted correctly. When the bike is turned upside down and the wheels are spun, they should spin for a long period of time without any friction. If something is stopping the wheels spinning then they will need to be adjusted. Failing to do this could damage the rims or the tyres and could result in new wheels needing to be bought.

If the bike is not cared for correctly, it can turn out to be an expensive task. Make sure to be up to date on how best to care for the specific type of wheels as well as the rest of the bike to avoid unnecessary costs.
How to Buy Road Bike Wheels on eBay


Now that you know what you want out of road bike wheels, you can find them quickly and easily on eBay. While you shop, give thought to goggles and helmets. To start shopping, go to the sporting goods category, followed by cycling then wheels and wheelsets.

Categories
The categories list on the left side of each page will help you narrow down your listings by item type.

Product Finder
Use the road bike wheel Finder to quickly narrow down item listings by brand and condition (new or used).

Keyword Search
Search eBay listing titles for specific words. For example, if you want to find new road bike wheels, type the keywords "Road bike wheels new" (without quotation marks) into the search box. Click, "Search title and description" to expand your results. Visit eBay's Search Tips for more tips on searching with keywords.

If you can't find exactly what you want, try browsing eBay Stores or tell the eBay Community what you're looking for by creating a post on Want It Now. Alternatively, use the save a search option on My eBay and eBay will email you when a matching item becomes available.

Buy Road Bike Wheels with Confidence
Make sure that you know exactly what you're buying and understand how eBay and PayPal protect you.
Know Your Item
Read the details in the item listing carefully.
Remember to add delivery costs to your final price. If you're buying a high value item, check that the seller will insure it until it is delivered to you.
If you want more information, click the "Ask seller a question" button on the seller's profile or the "Ask a question" link at the bottom of the item listing page.

Know Your Seller

Research your seller so that you feel safe and positive about every transaction.

· What is the seller's feedback rating?

· How many transactions have they completed?

· How many positive responses do they have?

· What do buyers say in their feedback?

· Do they offer a money-back guarantee?

· What are the terms and conditions?

· Are buyers positive about the seller?

Most top eBay sellers operate like retail shops and have a returns policy.

Conclusion

There is great range of road bike wheels available from sellers on eBay. Make sure that you are buying wheels and tyres that are appropriate for the type of cycling the rider does and all will be well.