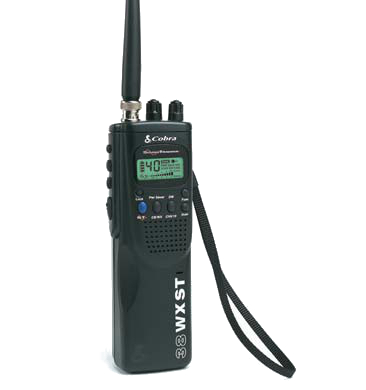 CB radios are a form of two-way radio that allows users to communicate across short distances. CB radios are available in many different forms, styles and functions to cater for the difference in individual differences, tastes, requirements and preferences.
Whist modern technological advancements have paved the way for similar methods of communication; CB radios are still popular and widely used in many countries across the world today.
The purpose of this guide is to inform the reader all about CB radio antennas and to explain how to purchase them safely, securely and efficiently from eBay.
CB Radio
CB or "Citizen's Band" radio is a system of short-distance radio communications between individuals on channels within the 27 MHz (megahertz) band. Typically, there are 40 channels to choose from within this bandwidth.
CB radio may be used for personal and business communications and owners do not require a licence to use the system. Citizen Band's channels are the form of a two-way radio service, however only one station may transmit at any given time; other stations must listen and wait for the shared channel to become available.
Whilst modern technological developments such as mobile phones have reduced their appeal, CB radios are still very practical and are popular in many countries (including Australia) in modern times.
CB radios typically consist of:
· An automatic noise limiter or blanker (to reduce background noise)
· ALC (Automatic Level Control)
· CB/WX switch
· PA (Public Address) System
· RF (Radio Frequency) gain
· Pre-set channels for emergency services
· Volume control
· SWR (Standing Wave Ratio) meter to monitor reflected power caused by incorrect antennas and antenna cables
CB Radio Microphones
There is an extensive range of microphones to choose from to work in conjunction with CB radios. Microphone choices typically include (but aren't limited to):
· Ceramic microphone
· Dynamic microphone
· Echo microphone
· Electret microphone
· Noise-cancellation microphone
· Power microphone
CB Radio Antennas
The frequency of 27 MHz is a fairly long wavelength used in mobile communications and the choice of antenna has a significant impact on the performance of a CB radio. In general, there are three types of antennas used with CB radios:
The Quarter-Wave Vertical Whip Antenna
This is the most common antenna used with CB radios. The quarter-wave vertical whip antenna is about nine feet (2.7m) tall and it is mounted low onto the vehicles body. These antennae typically have a spring-and-ball mount to offer added flexibility when passing through or under overhead objects.
Co-Phased Antennas
Co-phased antennas are another type of CB radio antenna that is mounted to the vehicles wing mirrors. Using two antennas generally provides a better CB radio performance than using a single antenna- however the performance is only enhanced when the two antennas are spaced at least eight feet apart from each other. Due to the nature of their size and space requirements, co-phased antennas are popular with truckers and long distance drivers who have the necessary space needed to host two separate antennas.
The Continuously-Loaded Half-Wave Antenna
The final antenna type suitable for CB radio use is the continuously-loaded half-wave antenna. This antenna type is often used on fiberglass vehicles such as boats and snowmobiles as well as in base stations. Handheld CB radios often feature a continuously-loaded antenna or a telescoping centre-loaded whip.
Whilst shorter antennas are available for CB radios, the perfect antenna is 8.5 feet, because it is equal to ¼ of a wavelength.
CB Radio Channels & Frequency
There are forty CB radio channels to choose from available at the following frequencies:
| | | | | | | | |
| --- | --- | --- | --- | --- | --- | --- | --- |
| CHANNEL | | CHANNEL | | CHANNEL | FREQ. | CHANNEL | |
| 1 | 26.965 MHz | 11 | 27.085 MHz | 21 | 27.215 MHz | 31 | 27.315 MHz |
| 2 | 26.975 MHz | 12 | 27.105 MHz | 22 | 27.225 MHz | 32 | 27.325 MHz |
| 3 | 26.985 MHz | 13 | 27.115 MHz | 23 | 27.255 MHz | 33 | 27.335 MHz |
| 4 | 27.005 MHz | 14 | 27.125 MHz | 24 | 27.235 MHz | 34 | 27.345 MHz |
| 5 | 27.015 MHz | 15 | 27.135 MHz | 25 | 27.245 MHz | 35 | 27.355 MHz |
| 6 | 27.025 MHz | 16 | 27.155 MHz | 26 | 27.265 MHz | 36 | 27.365 MHz |
| 7 | 27.035 MHz | 17 | 27.165 MHz | 27 | 27.275 MHz | 37 | 27.375 MHz |
| 8 | 27.055 MHz | 18 | 27.175 MHz | 28 | 27.285 MHz | 38 | 27.385 MHz |
| 9 | 27.065 MHz | 19 | 27.185 MHz | 29 | 27.295 MHz | 39 | 27.395 MHz |
| 10 | 27.075 MHz | 20 | 27.205 MHz | 30 | 27.305 MHz | 40 | 27.405 MHz |
How to buy CB Radio Antennas on eBay
The choice of CB radio antennas online greatly outnumber those that can be found on the high street and numerous amounts can be reviewed and analysed alongside each other aligned with the buyer's individual tastes, requirements and preferences. In this case, eBay is perfect for presenting a quick, easy and effortless route into searching for CB radio antennas on the internet.
For the most successful purchase, bear the following advice in mind for the most efficient and safe shopping on eBay:
· Search – In order to start a search on the website, enter "CB radio antenna" into the search toolbar. Then, using the menu on the left-hand side of the screen, select "Consumer Electronics" followed by "Radio Communication". Finally, click the category entitled "Antennas". Buyers can then click "CB Radio Antennas" if the option is available.
· Brand – Many people have favourites when it comes to electronics brands and manufacturers as they have already purchased products from them that were of good quality. In this sense, eBay has an extensive range of CB radio antenna from top branded electronics manufacturers such as Cobra, Kenwood and Midland.
· Shop Safely – In order to have the most successful purchase on eBay; always read the product description thoroughly (in order to confirm exactly what is being purchased), review the postage and payment options prior to purchase. Buyers can always contact the seller if unsure about the transaction. This function can also be used to ask the seller a question about the product or simply if more information about the product is needed.
· New or Used – eBay stocks both new and used CB radio antennas available to purchase. When searching, use the menu on the left-hand side of the screen to tick either box labelled 'new' or 'used' under the category 'condition'.
· Use PayPal – Although eBay accepts a range of payment methods, PayPal is the safest way to make online payments. PayPal permits shoppers to send payments securely and quickly online using a credit card, bank account or PayPal balance. To find out more information about how PayPal and eBay work together to provide customers safe shopping online, please visit the 'About PayPal' page on the website.
· eBay Deals – Don't forget to check out the latest deals on CB radio antennas by looking in "" section of the "Electronics" department. Many fantastic discounts can be found here along with free postage costs.
Conclusion
There are many factors to consider and issues to take into account when purchasing a CB radio antenna. However with the important information and crucial considerations outlined as part of this guide, coupled with eBay's highly detailed and easy to use website, buying a CB radio antenna is quick and easy.
Buying on eBay should be considered not only due to the potential of finding a good deal; but due to the extensive choice of CB radio antennas that the website offers. Remember to always keep personal information and banking details safe and secure by using payment authority PayPal to complete transactions.