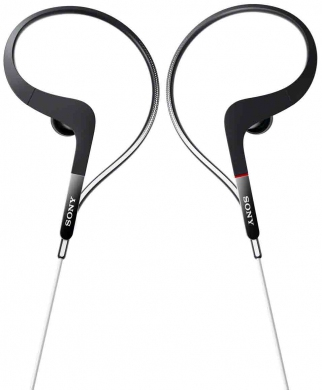 Sports headphones and earphones offer users the opportunity to listen to their favourite tunes while participating in a variety of physical activities. Although most popular among walkers and runners, these versatile headphones can also be used while biking, snowboarding, and even swimming. Headphones specifically tailored for use during physical activity are superior to standard sets, as they are more comfortable, more likely to stay in place and, most importantly, capable of playing music without tuning out important sports-related noises.

Types of Sports Headphones and Earphones
A variety of different types of sports headphones and earphones exist, with no two models proving ideal for every situation. First, the athlete must decide whether a pair with a band across the head is preferable to a set of ear buds. From there, these two major headphone categories can be further narrowed into a number of subcategories.
Clip Earphones
This inexpensive option features an in-ear portion that is secured by a clip. In turn, this clip wraps over the top of the ear, keeping it in place while the user participates in a variety of activities.
Ear Buds
One of the most common types of earphones, ear buds feature small plugs that sit in the outer ear. They are useful in many contexts, but often fail to remain in place during sporting events.
In-Ear Earphones
In-ear earphones are similar to ear buds, but they sit closer to the ear canal. This positioning allows these earphones to keep out more noise than ear buds.
Behind-the-Neck Headphones
Behind-the-neck headphones are perfect for running and jogging, as their attached band rests comfortably behind the head. They also are excellent for sports requiring hats or helmets.
On-Ear Ear Pad Headphones
Some athletes need to hear background noise while they use their headphones. In such situations, on-ear ear pad headphones are ideal. They sit on the ear surface and allow block out less ambient noise than other types of headphones.
Closed Headphones
The main purpose of closed headphones is to block out all outside noise. This makes them a nice option for those participating in yoga, Pilates, or other activities requiring deep concentration and minimal background noise.

Different Headphones for Different Sports
The same individual may need to invest in multiple pairs of headphones to allow them to enjoy a variety of different physical activities.
Indoor Sports
Indoor athletes typically use headphones in hopes of blocking out background noise and making their workouts more entertaining. They generally prefer earphones or behind-the-neck headphones.
Outdoor Sports
In most outdoor sports, it is important for the athlete to be able to hear outside noises. This is particularly true for bikers, who, if unable to hear traffic, may risk involvement in deadly accidents. In such cases, on-ear ear pad headphones are highly recommended.
Winter Sports
The headphones used in skiing and snowboarding may differ greatly from those deemed ideal for biking or skateboarding. Background noise is generally not deemed a necessity in winter sports; as such, closed headphones can be used without putting the athlete at risk. Closed headphones also prove beneficial in their ability to provide extra protection against the elements.

Key Features to Consider In Sports Headphones
After the basic headphone category has been selected, it's worth considering other useful features, such as noise isolation or sweat resistance.
Wireless and Tangle-Free Headphones
Many athletes prefer wireless headphones, as they eliminate the potential hassle of tangled wires. However, the prospect of frequent battery changes is enough to deter many potential users. For those hoping to prevent the need for constant battery replacements, but still eager to avoid tangled cables, tangle-free headphones may serve as a viable alternative.
Waterproof Headphones
Swimmers love to listen to their favourite songs while completing their daily laps. Waterproof headphones are perfect for swimmers and can be used in conjunction with waterproof radios or iPods.
Sweat-Resistant Headphones
Standard athletic conditions often lead to the quick deterioration of headphones. Sweat-resistant headphones are designed to keep this deterioration at bay, thus allowing them to last far longer than standard headphones.

Buying Sports Headphones on eBay
Athletes hoping to invest in a variety of headphones for different types of sports can save a great deal of money by buying these headphones on eBay. A simple keyword search will generate a variety of excellent headphone models, as will a quick session of browsing eBay's 'Electronics' and 'Mobile Accessories' pages. Some sellers even offer packages with multiple pairs of headphones, allowing for significant savings over single headphone set purchases.
Sports headphones allow athletes to complete their favourite physical activities while enjoying the extra motivation offered by music. Choosing the right pair of headphones can be challenging, but once that perfect pair is found, it will greatly enhance future workout sessions.