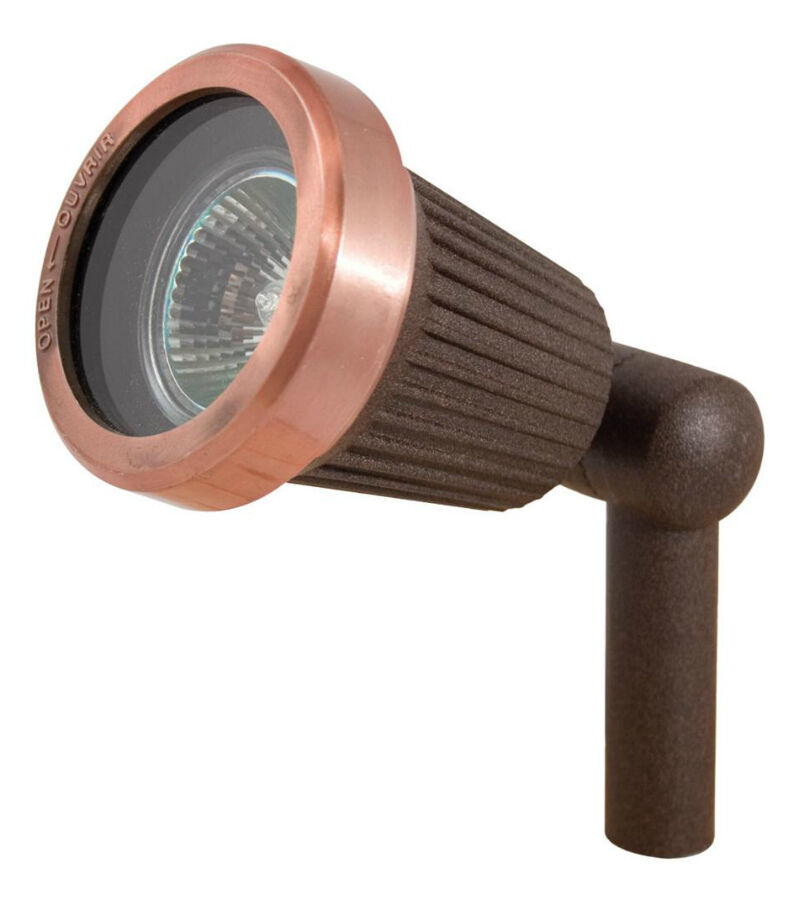 When buying spotlights for the interior or exterior of any home or property, it's important to know all of the different spotlight options before shopping. Spotlights have become very popular over the last decade and they are now used for a wide variety of applications. Kitchen track lighting and outdoor illuminated path lighting are just two examples of increased contemporary use. There are so many options available in the purchase of bulbs and fittings that learning the differences will save time and help when purchasing.

Common Types of Spotlights
There are many current uses for spotlights and more are being discovered all of the time. For example, many interior decorators recommend placing up lights below art pieces to give them a special showcase effect.
Here is a list of some of the most common uses but there is always room for creativity.
Wall and Ceiling Spotlights
Wonderful for creating just the right atmosphere without blasting unflattering light everywhere, wall and ceiling spotlights supply softer lighting that is more appropriate for a dinner or evening party and it will achieve the same effect as lighting fire-burning candles.
Flood Light Spotlights
Motion-detection is often a part of the reason for having flood lights and these are used outdoors to safeguard areas where visibility can be an issue. They emit a blast of light.
Outdoor Solar Spotlights
These are generally used with motion-detector technology and are handy for lighting up front doorways, paths, back yards and garages.
Up light Spotlights
These lights are often used to feature pieces of framed art, wall murals, sculptures and indoor fountains to add that art gallery effect.
Swimming Pool and Hot Tub Spotlights
Both pools and hot tubs include underwater spotlights for evening use. In addition to that, placing spotlights around the outside of the tub or pool is becoming more popular for outdoor party atmosphere lighting.

Spotlight Fittings and Casing
Knowing the type of casing will help in determining the type of bulb required. The spotlight casing refers to the place the spotlight is going to be installed. A casing could be a track lighting strip or an individual spotlight holder. If it is an enclosed holder or casing, then purchasing the correct bulb size is crucial.
Additionally, spotlights have fittings within the casing. Fittings come in three basic types and there are different sizes within the three types.
Most spotlights use the push in or "click and lock" type of fitting, which is performed just as it sounds. The bulb gets pushed into the fitting and it clicks as it locks into place.

Most incandescent bulbs are installed by screwing them in with the threads that are at the bulb's fitting.

The bayonet fitting is often used for fluorescent tube lighting that is commonly used in office buildings and retail shops. The bayonet method is when the bulb contains two small metal guides on each side of the end of the bulb. The guides slide into the bayonet fitting and then the bulb is turned to lock it into place.
Below is a quick guide to the types of spotlight bulbs that are commonly used along with their advantages and disadvantages.

Different Spotlight Bulbs
There are a variety of spotlight bulbs to choose from and buyers need to consider the use before purchasing any light bulb.
LED (Light Emitting Diode) Spotlight Bulbs
High energy efficiency rating

Upgrade to old, incandescent bulbs

Long-lasting, strong light source

Various wattage available
Halogen Spotlight Bulbs
Small bulb that produces the strongest light source

Produces heat while in use

Is not as energy-efficient as the LED
CFL (Compact Fluorescent Lamp) Spotlight Bulbs
Smaller fluorescent that the standard tubes

Up to four times more efficient than incandescent (ex: Replace a 100 watt incandescent with a 22 watt CFL for the same amount of light.)

Costs more but lasts longer (up to 10 times longer than incandescent)

Saves on electricity expenses
Incandescent Spotlight Bulbs
Everyone is familiar with these bulbs as they have been most commonly used in homes for several decades.
Poor energy efficiency rating

Affordable

Being slowly phased out
How to Buy Spotlights on eBay
Buying spotlights on eBay, once the selections have been made, is the easiest way to find a large variety of available options and prices. eBay is one of the world's largest on-line marketplaces where sellers are highly competitive and auctions allow purchases below retail prices. Finding the type of spotlights and bulbs needed will be easy. Start the search in the Home & Garden category and review the wide variety of sub-categories to find exactly what is needed quickly. If bulb replacement is on the list, be sure to double-check the fittings.