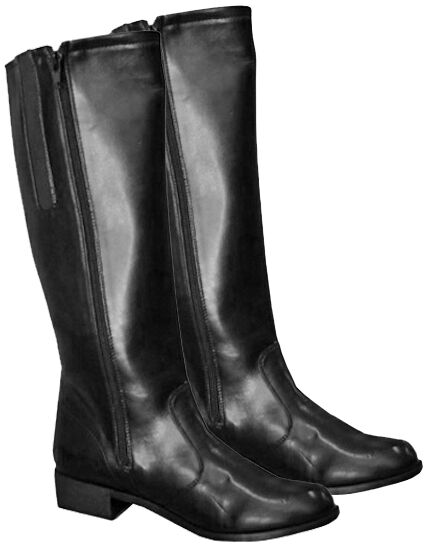 Knee length boots are a family of footwear that rises up to the knee or slightly under. Traditionally, knee length boots are tighter around the foot area, and widen slightly as they rise to the knee. Knee length boots are worn for practical reasons such as riding motorcycles, but more commonly they are worn for fashion. While some knee length boots slip on, others have zippers and buckles. Additionally, knee high boots come in a variety of fabrics, styles, and colours.
Knee length boots are available for purchase at shoes stores, department stores, and online at user friendly websites like eBay. For consumers interested in purchasing knee length boots, they should first familiarise themselves with the types of knee length boots available, what to pair knee length boots with, and how to fit knee length boots properly.
Types of Knee Length Boots
There are several types of knee length boots. While there are many variations, there are a couple of general categories that most knee length boots fit into.
Knee Length Riding Boots
Although knee length riding boots are coined as such because these knee length boots are styled off boots worn to ride horses. This particular type of boot is also worn for fashion reasons. Although traditionally found in leather and a shade of brown, these boots come in all colours and designs, usually with an equestrian look to them. Knee length riding boots typically fit looser around the calf and may have a pointed or rounded toe depending on if they imitate English or Western riding boots.
Knee Length Dress Boots
Knee length dress boots describe a general category of boots that are worn with different styles of dress clothes. Typically, knee length dress boots are leather, or imitation leather, and are popular in black. These boots often have a stiletto or chunky heel. While they usually slip on or zip up, they are typically sleek and slim.
Casual Knee Length Boots
Casual knee length boots cover a broad category of everyday boots that come in wide selection of colours, materials, and styles. Casual knee length boots can be leather or suede, and while popular casual boots are variations of brown and black, they span the gamut. Further, these boots can be slouchy, stretchy, or standard fit. Casual knee length boots often have details such as buckles, zippers, embellishments, lace, or other designs. Casual knee length boots can also be chunky or sleek.
Knee Length Boot Pairings
While knee length boots typically look better on women with slimmer calves and longer legs, there are also pieces of a woman's wardrobe that pair better with knee length boots compared to others. While ultimately a style preference, the following clothing items mesh both fashionably and practically with knee length boots.
Skinny Jeans
Skinny jeans are the knee length boots' perfect jean companion. Skinny jeans are form fitting from thigh all the way down to the ankle, making them perfect to slide inside of a pair of knee length boots. Further, with knee length boots that have some room to spare, the extra inch or so of space creates the look of a thinner leg when knee length boots are paired with skinny jeans.
Mini Skirt
A tasteful mini skirt that is not too short is also a good match for knee length boots. Typically, picking a looser fitting boot or a slouchy style, helps keep the look classy. The mini skirt should not be more than a few centimetres above the knee. Further, women should stay away from wearing knee length boots with a heel when pairing them with a mini skirt.
A-Line or Flowy Skirts
Knee length boots also pair well with an A-line, or flowy skirts. Consumers should stick with A-line and flowy skirts that fall right above the knee so as not to clash with the knee length boot. However, because A-line and flowy skirts have more length, knee length boots that are flat, or have a small chunky heel, pair well with these pieces.
Leggings
Similar to skinny jeans, knee high boots also pair with leggings. Leggings should be paired with a looser fitting boot, so the boots do not blend into the leggings. Similar to mini skirts, leggings should not be paired with boots with a heel.
Fitting Knee Length Boots
Regardless of what style of knee length boot a consumer is interested in, there are a few rules to follow to ensure a proper fit for all knee length boots. Following these simple tips help buyers make a smart purchasing decision.
Calf
Knee length boots should hug the calf of a buyer's leg but without being too tight and making it uncomfortable. Further, for traditional knee length boots, there should not be more than 0.64 centimetres between the top of the boot and the knee. There are obviously exceptions to this rule for boots that are meant to slouch. Slouchy knee length boots should not leave more than 2.5 centimetres between the knee and the top of the boot.
Foot
The foot of knee length boots should fit similarly to a normal shoe. There should be wiggle room between the toes and the front of the boot, but the foot should fit snugly in the instep. Further, a consumer's foot should not slip when they walk with their knee length boots on. To maximise comfort, or to exact a more secure fit, a consumer also has the option of purchasing an insole to insert inside the foot of the boot.
Overall
Overall, buyers should try on knee length boots with the type of socks they plan to wear them with to to ensure the most accurate fit. Similarly, consumers should try on potential knee length boot purchases with the type of clothing item they plan to wear the boots with, whether its leggings, jeans, or a skirt. The thickness of these materials may affect the way the boot fits.
How to Buy Knee Length Boots on eBay
Knee length boots cover a wide variation of colours, styles, and designs. eBay has thousands of knee length boots to match all of your footwear preferences. Further, eBay features eBay Deals on women's boots to make purchasing a great pair of knee length boots affordable.
Finding a pair of knee length boots to fit your style and personality is easy and fast on eBay. For example, if you are interested in purchasing a pair of black knee length boots, and you want to see what options are available, simply navigate to the eBay website portal. Once on the eBay home page, type black knee length boots into the keyword search box, also found on any other eBay web page as well. After you click the search button, a list of boots matching your search terms is populated for you. You can then browse through the different black knee length boots to see which pair or pairs fits your preference.
Conclusion
Knee length boots are a versatile women's shoe. They pair well with a number of different clothing items, and they come in such a wide variety of styles that every consumer can find a pair that is right for them. Further, knee length boots are often practical in the winter months, as well as for activities such as horseback riding.
When looking for a pair of knee length boots, consumers should keep in mind what they are going to wear them with, as well as what general types of knee length boots are attractive to them. Finally, even the most stylish knee length boots cannot make a fashion statement if they do not fit the wearer properly. There are a few easy ways to ensure that a buyer is wearing and purchasing the right knee length boots.