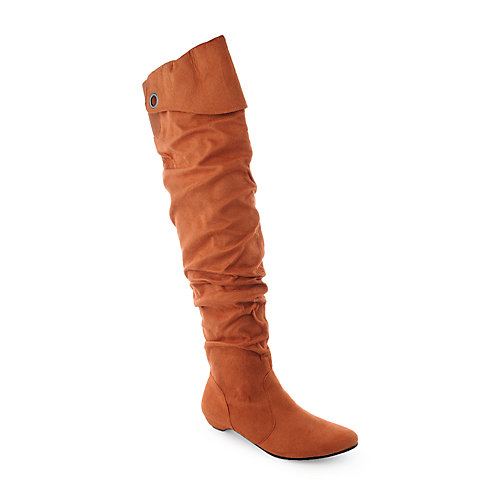 Thigh length boots are a type of boot that reach above a person's knees. These boots may end just a little bit over the knee or near the groin area. While thigh length boots are often associated with fetish clothing, there are also many ways to wear them tastefully. In fact, many celebrities wear them to red carpet events or while they are out and about without raising eyebrows.
Those who are serious about wearing thigh length boots should have a quick overview of these, learn about the different kinds available, and know the many ways to style them. Whether purchased from traditional retail stores or on eBay, having a pair of thigh high boots is a great way to complete the look of an outfit.
Overview of Thigh Length Boots
Before women wore these boots for sex appeal, thigh-length boots were originally made as riding boots for men. Known as cuissardes, these first appeared in the 15th century to protect the man's legs when riding a horse. During the Victorian era, they were worn by prostitutes who wanted to please their clients who had foot fetishes and sadomasochistic tendencies. In the 1960s though, these boots became part of haute couture when Balenciaga included them in their fall collection. Today, many women wear these fashionable boots to work and their many other activities. Below are some of the different styles and materials that characterise thigh length boots.
Thigh Length Boot Styles
When it boils down to it, thigh high boots are only different from other women's shoes because of their length. This means that these shoes are available in different styles like Western, platform, heels, stilettos, moccasin, and more. Heel heights can range from under one inch to over four inches. As for closure types, they may be buckled, laced up, slipped on, or zipped up.
Thigh Length Boot Materials
As for materials, thigh length boots can come in many kinds. Those who wear fetish costumes often purchase these in vinyl, latex, lycra, or spandex, while those who plan to wear these for their everyday outfits prefer wearing suede or leather. Generally, boots with leather or suede tend to stand up to more abuse, especially if they are not purchased as part of a costume set.
How to Wear Thigh Length Boots
When wearing thigh length boots, women need to be conscious of how they look on them. While many thigh high boots are fairly neutral on their own, when paired with anything too revealing like micro minis or extremely short shorts, these boots may give off a "hooker" vibe. If this is the image that the shopper is going for, then this is a good thing. For those who want to be more tasteful, on the other hand, they should consider pair these boots with the following outfits.
Dress
Wear them with a short floral dress and opaque black tights. Make sure the hem of the skirt overlaps with the height of the boot so the outfit does not look sleazy. Aside from a floral dress, another option is a high waist, pencil skirt. Include a chain-strapped small bag to give the outfit some dimension.
Shorts
Pull on a pair of sheer black tights, shorts, and a top. Ideally, this top should not be longer than the pair of shorts to keep the outfit from looking overly sexual. Throw in a metallic clutch and chunky jewellery to take the outfit to another level.
Jeans
Slip into a pair of skinny jeans and and get into a leather jacket to give the outfit a bit of edge. Ideally, the jeans should be fitted enough that it does not bunch up when the thigh high boots are worn. Additionally, make sure that the denim colour works with the colour of the boots.
Leggings
Roll up some black leggings and any colour top to enjoy the versatility of this outfit. Fashionistas may opt for a shimmery satin or a sequin-encrusted fabric to give the outfit some flavour. Consider adding dangling, statement earring or necklaces as well.
What Not to Do When Dealing with Thigh Length Boots
Unless the shopper is going precisely for that effect, it is advisable not to show too much skin when wearing thigh high boots. This means making sure that one is always wearing a pair of tights or stockings. Next, while it is recommended that the skirt hem length overlaps the shaft of the thigh high boots, the skirt should not be too long that people no longer know that the person is wearing a pair of thigh length boots. Last but not the least, it is important to remember that when rocking a pair of thigh length boots, confidence is always the best accessory.
Thigh Length Boots for Different Types of Legs
Women like wearing thigh length boots for a number of reasons. For starters, boots like these can make anyone feel sexy. More than this, there is an impression that the wearer has a dominant, take-charge personality that many people find attractive. Anyone can wear thigh length boots. However, a common misconception is it is only for those with a particular type of legs.
For example, many people think that thigh length boots are only for those with slim legs. While slim-legged fashionistas have the advantage of tight-fitting boots, this does not mean that those with thick calves cannot enjoy this pair of boots as well. At the end of the day, it just boils down to finding the right style that works for the person.
Those with plus-sized legs can wear loose or slouchy thigh length boots, for example. These have a great 70's vibe and look amazing with both long skirts and skinny jeans. For those with wide calves, make sure to buy boots that are half-inch (1.2 cm) tighter than actual diameter of one's calves. This gives allowance for the eventual expansion of the boot to fit one's legs snugly.
As for those with flawless skin, consider wearing laced-up open boots to show off one's complexion. Contrast it with a top that covers most of the upper body to keep the outfit from looking sleazy. Of course, while there are attempts to give fashion advice, nothing is the best substitute for what makes the wearer feel confident and sexy.
Shopping for Thigh Length Boots on eBay
Browsing for thigh length boots on eBay is simple and easy. Type "thigh length boots" on the search box that you see on the eBay homepage and press "Enter" on your keyboard. These search results may be filtered based on shoe type, size, colour, material, brand, condition, price, and item location, among others. eBay even allows you to narrow down the selection only to sellers that offer free postage for their items. Additionally, if bargain prices on new items are what you want, you can also take a look at the deals on Thigh Length Boots offered on eBay. These are items that have been handpicked by eBay based on their prices and quality. Lastly, when choosing a seller, make sure to review the seller feedback score, which should be 99 per cent or above, before committing to the purchase.
Conclusion
Thigh length boots have been around for centuries, but it has only been in the last few decades that it has been accepted as part of haute couture. While they still have an unsavoury reputation, these boots have made their way on the red carpet, grocery stores, and various other everyday places. There are many tasteful ways to wear thigh length boots and it can be done with dresses, shorts, jeans, and leggings, among others. More than this, these boots are not just limited to those with a particular type of leg. In fact, thigh-length boots may be worn by women with either slim or thick calves. Fashionistas who would like to own a pair of thigh length boots should consider buying these on eBay.