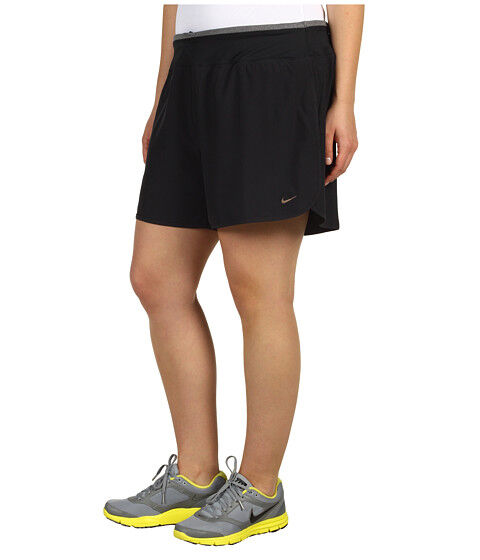 Shorts are not just for slim, petite figures. They are suitable for every woman, regardless of her shape and size. Thanks to the wide variety of styles and fabrics available today, it is easy for any woman to find the perfect pair of shorts by shopping online.
Websites such as eBay offer a huge selection of shorts, whether it is a floaty playsuit, tailored linen shorts or casual cargo shorts. Plus size women can benefit from a range of search options which allow them to select size, material and other features, enabling them to easily find the perfect shorts to flatter their curvaceous figure.
What is 'Plus Size'?
Plus size usually refers to women whose dress size is 16 plus. Some plus size clothing stores stock sizes from a 14 and upwards. Because it can be difficult to find larger sizes in some women's clothing stores, plus size women often struggle to find fashionable and trendy clothing to fit them. Plus size stores also know what shapes and materials flatter a more curvaceous figure, so they specialize in styles which are designed specifically for plus size women.
When shopping online, it is easy to find a range of plus size women's shorts and other clothing. Websites such as eBay make it simple to narrow search results by size, and because there are so many items for sale on eBay, there are always plenty of women's plus size shorts available to choose from in a variety of styles and colours to suit all tastes.
Fuller figured beauties need to know what styles flatter their shape. It is important to think about what type of plus size shape the individual is. As a rule, women's bodies fall into one of a different number of categories.
Work out Your Plus Size Body Shape
Even though plus size women need to look for clothes to fit their size, they also need to consider their shape. There are lots of different body shapes out there, and the type of shorts selected has to flatter the individual's curves. The different body shapes for plus size women are:
| | |
| --- | --- |
| Body Shape | Characteristics |
| Apple | Full tummy, rounded shoulders and a larger bust, with slim legs. |
| Pear | Bottom heavy – a pear shape carries weight on their hips and legs with a smaller bust and shoulders. |
| Hour Glass | The ideal body type, an hour glass has a full bust, rounded bottom and hips, medium to large thighs and a narrow waist – these individuals look best in fitted styles which accentuate their tiny waists. |
| Inverted Triangle | Larger top half than bottom half, often with flat hips and bottom. |
| Rectangle | Straight up and down with shoulders and hips the same width, an average sized tummy and little definition to the waist. |
Women's Shorts to Flatter a Fuller Figure
Once a woman knows which body type she is, it should be easy to choose shorts that flatter a fuller figure. As a rule, plus size women should avoid these pitfalls:
The best types of shorts for plus size women are those which are supportive, tailored and stylish, and a wide range can be found online on websites such as eBay. High waisted shorts are ideal for inverted triangle body types or rectangles, whilst hourglass figures look perfect in belted, tailored linen shorts. It is possible to wear casual linen shorts, but opt for styles with definition to the waist and wear with a more fitted top for a defined silhouette. Culottes are flattering for plus size women, but it is important to belt the waist and tuck in a fitted top to avoid the 'tent' look. Always ensure that flowing, chiffon shorts are paired with a more fitted T-shirt or shirt for a stylish look. It is easy to find a great deal on shorts for plus size women, including chiffon culottes, on websites such as eBay, where you can search by size and material.
The Best Fabrics for Women's Plus Size Shorts
When choosing the right fabric for plus size shorts, think about a fabric that is flattering to a more curvaceous figure. Avoid sheer fabrics which show off too much or clingy fabrics which can look unflattering. The following fabrics are ideal for plus size ladies and can easily be found on eBay:
Linen
Cotton
Chiffon (with lining)
Denim (not hotpants)
Synthetic fabrics in a tailored style
The thicker the fabric, the more sins it will conceal. Lumps and bumps are more obvious in a sheer, clingy fabric than in a thicker, more tailored pair of shorts.
Choosing the Perfect Women's Plus Size Shorts
When it comes to finding the 'perfect pair of women's plus size shorts, there is no such thing. What is perfect for a size 16 beauty may not suit a size 22 woman, so it is a matter of personal taste and style, as well as a few of the below factors:
Budget – how much is available to spend on shorts?
Occasion – when will the shorts be worn?
Clothing size – smaller plus size ladies may be able to get away with shorter styles than larger women
Desired style – feminine, utility, relaxed and so forth
Fabric – is natural or synthetic preferred?
By shopping online on websites such as eBay, it is easy to find the perfect women's plus size shorts, whether looking for tailored, high waisted linen shorts or a more casual option.
Should you Buy Used or New Women's Plus Size Shorts?
It is an entirely personal decision whether to buy used or new women's plus size shorts – it will depend on the purchaser's available budget and their preferences. When shopping on eBay, it is easy to find used women's plus size shorts at very affordable prices compared to buying new, and these are often in excellent condition. It is important to always read the listing description fully, as any flaws will be mentioned in detail here.
How to Buy Women's Plus Size Shorts on eBay
The best way to buy women's plus size shorts online is to head for eBay, where a wide range is available to choose from. Visit eBay and head for the drop-down menu marked 'Shop by Category' which is located on the left of the page next to the main logo. By clicking to open up a list of categories, Women's Clothing can then be selected. In the categories listed on the left-hand side of the page, it is possible to choose the type of clothing, such as Shorts. From here, clicking 'See all' next to the size sub-category in the left-hand menu will bring up a list of available clothing sizes to select from.
Because there are so many different types of women's plus size shorts to choose from, it can be helpful to narrow a search using a certain term if looking for something specific. By typing the words related to the search, such as 'Size 16 Cotton Shorts' into the main search box, a list of all the available items will be shown.
Conclusion
Women of every shape and size can look stylish and cool in a pair of shorts. It is just a case of finding the right shorts to flatter the individual's body shape. By working out their body shape and shopping online, women can easily find the perfect pair of plus size shorts for them.
eBay has a wide range of plus size shorts to flatter all figures, from tailored, belted shorts which look great on hour glass beauties to relaxed linen shorts that suit apple shapes. Shopping on eBay is the best way to find a wide range of plus size shorts to suit all tastes at affordable prices.