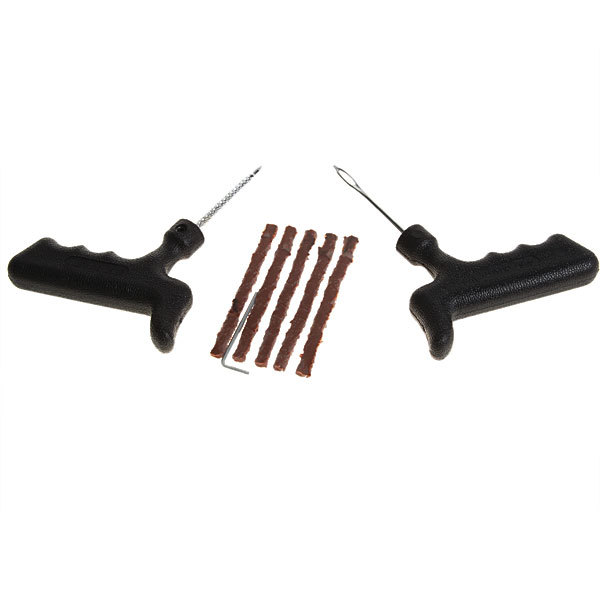 For anyone who regularly rides a motorcycle, a motorcycle puncture kit can be a lifesaver on the road. Unfortunately, buying one is not as easy as grabbing the first kit on the shelf; it takes research to find one that suits a specific bike. Most buyers can choose a kit that suits their needs and budget quite easily but others have to consider the frequency of patches, and the actual value of the kit. The type of tyre on the bike also affects which type of puncture kit works on the tyre, so buyers do have to pay attention to this aspect as well. Other considerations include the size of the puncture kit and the budget of the buyer.
Types of Puncture Kits
Most modern motorcycles do not have inner tubes, so the standard puncture kit is in fact tubeless. However, both are still available, especially because many older bikes still come with tubes. It is also possible to convert most tyres to tube tyres, so tyre repair kits are available for both purposes. The patching process for each type of tyre is very different so buyers must pay attention when buying a puncture kit.
Tubeless Puncture Kits
A tubeless puncture kit is easy to carry around. These kits typically include 10 to 30 items and many can be easily stored in a small bag that fits neatly into a side bag or storage area on the motorcycle. Depending on the patch kit, this might include any number of items such as screwdrivers, Allen wrenches, mushroom plugs or standard plugs, a mini air compressor, and sports needle.
Tubeless puncture kits are small, lightweight, and easy to store. However, the size of plugs may vary from one kit to another. Usually, a standard tyre plug is about 8 millimetres wide. Different plug sizes are also available but usually separately from the kit. Buyers who need larger plugs can most often simply buy specific sizes and then use those outside of emergency repairs. Some kits are also available with carbon dioxide cartridges instead of an air compressor. For simple emergency repairs, a carbon dioxide cartridge is lighter and more convenient for most motorcycle riders.
Tube Puncture Kits
Tube puncture kits are very similar to tubeless kits but also include patches and glue. Many tube puncture kits also include plugs, as it is most likely that the tyre itself is also punctured. For anyone who has a motorcycle with tube tyres, the tube kit is necessary. Usually, tube kits include slightly more powerful air compressors or carbon dioxide tanks because the tube requires more air to inflate than a tubeless tyre.
Tube tyre puncture kits include patches that can be in a couple of different sizes but usually at least a few centimetres in diameter. They also include a rubber base glue. Some kits also have spray to check for leaks, as well as scissors or a small knife for trimming and cutting patches and plugs.
Considerations
There are several things to consider when purchasing a motorcycle puncture kit including the cost, the weight, and the contents. Most buyers simply need a quick emergency repair kit in case something happens. Others already have a punctured tyre and have to fix it before going out on the road. The following is a quick overview of basic considerations for purchasing a kit.
Size
The size of the puncture kit only actually matters for those who intend to carry it around. Usually, a very small kit is a good choice for anyone who would like to leave their puncture kit on their motorcycle. Small emergency repair kits are readily available. These include everything the owner needs for a quick emergency repair to get their bike up and running after a puncture while on the road.
Professional puncture kits are usually much bigger and might include a full range of patches and plugs in different sizes. These usually do not come with a compressor but with carbon dioxide cartridges for inflation. These kits are should stay at home in a garage or shed, so are only useful for home repairs. Professional kits are usually much more expensive but do offer more durable results compared to emergency repair kits.
Budget
It is usually a good idea to set a budget based on intended use. For example, weekend riders who stay on the road probably do not need a large or extensive puncture kit and might actually never get a puncture. On the other hand, the biker who is frequently off the road might want to spend more money on a more extensive repair kit.
Emergency Repairs
Most puncture repair kits are for emergency repairs. Standard plugs and patches are a temporary fix, which the owner should upgrade later. Some puncture kits are for long-term use but they do not usually say 'emergency repair kit' or anything similar on the box or package. Buyers should pay attention to the kit when buying. Most should consider going to a professional for a very durable patch but anyone with experience patching tyres should have no trouble putting a permanent patch or plug on the tyre.
How to Buy a Motorcycle Puncture Kit on eBay
Buying a motorcycle puncture kit on eBay is a several-step process. Buyers should check to see whether their motorcycle has tube or tubeless tyres before doing any research on their kits. From there, it is easy to search eBay for motorcycle supplies and hardware using the search bar located on any page of eBay. Anyone on a budget can look around for deals on puncture kits in the eBay Deals section, or search for the product they can afford on eBay. Buyers should remember to consider the contents, price, and time of delivery, if applicable, when making the purchase.