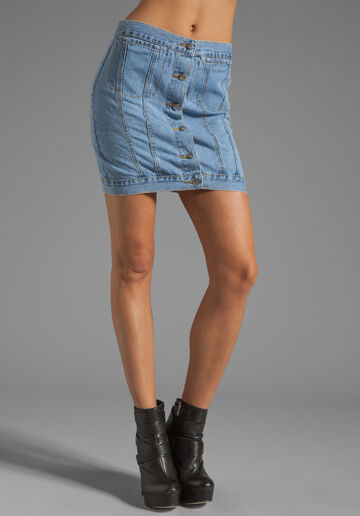 A mini skirt is a skirt that is cut above the knees. Often the hemline is mid-thigh length. These skirts are worn to emphasise a woman's legs and her curves. Despite its revealing nature, the mini skirt is not limited to those with a slender build. While not all styles work for all women, there are mini skirts available to flatter any figure. The key to pulling off the look is choosing the right mini skirt for one's body type. With a number of different designs, textiles, and shapes, women can find mini skirts to match their figures, as well as their personal styles. When looking for great deals on mini skirts, women can find a wide selection of new and pre-owned mini skirts on eBay.
Recognising Body Types
Though a mini skirt is a short, revealing skirt, it can be worn by women with any body type. In order to successfully wear a mini skirt and feel confident in it, a woman should recognise the type of figure she has and choose a skirt that complements that figure. The main body types are listed and described in the table below.
| | |
| --- | --- |
| Body Type | Description |
| Slender | Thin figure that lacks curves; the hips, waist, and bust are all relatively the same width |
| Pear | Figure where most of the weight is carried in the rear; the hips are generally wider than the waist and the bust |
| Apple | Most of the weight is carried in the waist, which is wider than the bust and the hips; lacking curves in the rear |
| Hourglass | Figure with bust and hips that are roughly the same size; narrow waist |
With so many different shapes, it is easy to see how not all mini skirts work for all women. With each body type, the weight and curves are carried in different parts of the body. With the right mini skirt, the shape can be balanced out and the overall look is flattering. However, the wrong mini skirt can accentuate the wrong features, resulting in a fashion disaster.
Choosing a Mini Skirt Based on Body Type
Because there are so many different body types, it is important for a woman to choose a mini skirt based on her figure. Before choosing a style, it is important for a woman to determine how short she wants the skirt to be. Mini skirts range in length from 5 to 7 cm above the knee to 15 to 18 cm above the knee. Once the length has been chosen, a shopper can begin looking for the perfect mini skirt.
Mini Skirts for Slender Figures
The biggest challenge that a woman with a slender figure faces when she is wearing a mini skirt is that her body lack curves and dimension. Because a mini skirt is tight and form-fitting, this is even more obvious. When choosing a mini skirt for a slender figure, women should opt for mini skirts with patterns or horizontal stripes. Likewise, the fabric chosen can help add dimension to the figure. For example, a textured pattern, such as corduroy, can help to create the illusion of curves on a slender frame.
Mini Skirts for Pear Figures
Women who have pear-shaped figures carry most of their weight on the lower part of their bodies. This means that they need to draw attention away from this area. To do this, women should choose longer mini skirts. Additionally, the skirt should be a dark colour since these colours are known to have a slimming effect. A pear shape should opt for a black or navy blue mini skirt. Additionally, women should stay away from skirts with patterns since these draw attention to the lower parts of their bodies.
Mini Skirts for Apple Figures
It can be hard for a woman with an apple figure to wear a mini skirt. Choosing the wrong one could further emphasise the difference between the slender legs and the larger midsection. However, it is not impossible to pull off this look. Apple shapes should look for flared mini skirts rather than ones that hug the thighs. The flare helps to balance out the figure. Additionally, choosing a mini skirt with a higher waist helps to create curves in the rear.
Mini Skirts for Hourglass Figures
A woman with an hourglass shape can wear just about any mini skirt that she chooses. The mini skirt was made to hug the curves of this figure. The best look for the hourglass shape is a tailored mini skirt with a defined waist. This draws attention to the thin waist and emphasises the curves in the lower body. Women should avoid mini skirts that are loose-fitting or baggy, as these tend to make the bottom of the figure look larger.
Finding the Right Size
The most important rule for buying a mini skirt is to find the right size. Mini skirts are not forgiving, so purchasing the wrong size could prove to be a disaster. Before selecting a mini skirt, women should measure their waist and hips. Rather than simply choosing their normal clothing size, women should use these measurements to compare with the manufacturer's sizing chart. Not all brands use the same sizing standards, so a size 4 denim skirt from Quiksilver may not fit the same as a size 4 skirt from Alannah Hill.
A skirt that is too tight in the waist can create an unsightly muffin top. Even if a mini skirt is made from a stretchy fabric, it is important that it fits comfortably in the waist regardless of body type. On the other hand, a skirt that is too large or too bulky creates extra volume in the lower half of the body. This can make the thighs look larger than they really are. With accurate measurements, women can prevent this from happening.
Finding the Tops and Accessories to Match
Once the skirt has been chosen, a shopper should find the tops and accessories needed to complete the outfit. Mini skirts lend themselves to tailored blouses cut at the waist. Adding a decorated or wide belt helps to bring in the waist to emphasise the curves in the lower half of the body. For apple shapes, belts also help to create a separation between the waist and the bust for a more flattering appearance. Bulky blazers also go well with mini skirts because the larger size balances the smaller size of the skirt perfectly.
No matter what kind of body shape a woman has or what style she has chosen to wear, high heels are a must-have with a mini skirt. Mini skirts emphasise the legs, so women need to make sure that their legs look their best. High heels lift the legs in a flattering way and also make the woman's legs look longer. This is ideal for a woman with a shorter figure who wishes to create the illusion of height.
How to Buy a Mini Skirt on eBay
If you want to find deals on mini skirts to add to your wardrobe, then look no further than eBay. With a large selection of skirts from sellers all across the country, you are sure to find one that looks good on you. Start by performing a basic or advanced keyword search. Type keywords, such as 'denim mini skirt', into the search bar to find all listings that match what you are looking for. Select categories and options to narrow down the list further.
Specify a price range and compare listings to find the one that works with your budget. Sort the list by price to make the listings easier to view. Additionally, look for mini skirts that have free postage and packaging to score an even better deal. Be sure to read the listings carefully and compare seller feedback ratings before making your final decision.
Conclusion
Women do not have to be scared of mini skirts no matter what their body types are. Even though mini skirts are revealing and unforgiving, by choosing the right one, a woman can show off her curves and her stunning legs. Paired with the right tops and accessories, mini skirts can be worn for just about any occasion. Not all mini skirts can be worn by all women. The key to finding the right skirt is shopping based on body type. A woman with a slender figure needs different mini skirts than a woman with an apple, pear, or hourglass figure. Fortunately, there are a number of styles to choose from. When shopping for mini skirts, tops, and accessories to add to their wardrobes, women can find the best deals on eBay.