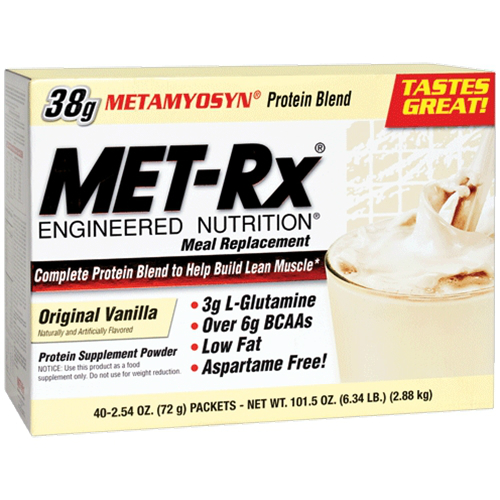 Meal replacement supplements are pre-packaged meals, usually in the form of ready-to-drink shakes or bars. They are generally used by people that are trying to control calories or lose weight, and provide nutrients similar to a well-balanced meal. They may also be used for bodybuilding or added convenience. They are meant to replace at least one regular meal each day, although they cannot control a person's eating habits the rest of the day.
Meal replacement supplements are a safe and effective means of weight management that are intended to provide healthy amounts of vitamins, minerals, and nutrients. They come in a variety of flavours and prices. When purchasing at retailers such as eBay, shoppers should consider the do's and don'ts of buying meal replacement supplements.
Do Consider the Purpose of Meal Replacement Supplements
There are various types of meal replacement supplements, each targeted to meet specific goals. Those that are high in calories are generally intended for bodybuilders hoping to build muscle mass, or for hikers or survivalists. On the other hand, low calorie meal replacement supplements are better suited for those trying to lose or maintain weight.
Meal replacement supplements are formulated to be low in simple sugars, allowing for quick absorption into the bloodstream and a spike in insulin levels. They are best used in conjunction with a balanced diet, as alone they are not a substitute for natural food. This ensures the best possible intake of nutrients.
Do Consider the Benefits and Drawbacks of Meal Replacement Supplements
Meal replacement supplements are chosen for their convenience and dietary benefits. They are ideal for health conscious people on the go and can meet some of their dietary needs. Some supplements even have the ability to speed up the body's metabolism. Depending on the type of supplement chosen, some may help buyers lose weight or build muscle. With more and more meal replacement supplements entering the food market, they have become relatively inexpensive and quite tasty.
However, some meal replacement supplements, especially bars, are expensive. In addition, not all supplements work as expected because they can be full of unnecessary ingredients, such as sugar.
Do Consider the Various Meal Replacement Supplements
Before buying meal replacement supplements, buyers should examine their eating habits. Then they can consider which type of supplement meets their needs.
Meal Replacement Supplement Shakes
Meal replacement supplement shakes, including Ultra Slim, Celebrity Slim, and Slimfast, are a popular option. These shakes come in variety of flavours, such as cappuccino, chocolate, vanilla, and banana. While some shakes come ready to drink, others can be purchased in powdered form and mixed as desired. Many shakes and packaged drinks require refrigeration and consumption within a week or two after purchase.
Meal Replacement Supplement Bars
Bars are another popular type of meal replacement supplement and are convenient for those on the go. These products do not require any preparation, making them ideal for both in the home and elsewhere. Bars can be found in a wide array of flavours. Popular meal replacement supplement bars include the Slim Secrets Mintabolism Boost bar with green tea extract and the Aussie Bodies ProteinFX LO CARB bar with a soft protein-infused fudge centre.
Meal Replacement Supplement Foods
As a way of adding variety to meal replacement supplement shakes and bars, many manufacturers offer calorie controlled foods, including soups, breakfast products, and snacks. These companies also offer high-fibre meal replacement cookies, offering food that both tastes good and provides the necessary nutrition.
Do Consider Calories of Meal Replacement Supplements
Buyers should take into account the number of calories each meal replacement supplement provides per serving. If trying to lose weight, search for supplements that contain fewer calories than a regular meal. However, if trying to achieve a healthy weight gain or extra muscle, search for a supplement that contains a high number of calories and nutrients, but satisfies hunger for more than a few hours.
Don't Overlook the Side Effects of Meal Replacement Supplements
Although meal replacement supplements are a quick and easy way to get nourishment, it is important to understand the possible side effects of continual use. Some people actually experience more hunger as a result of using these shakes and bars. The supplements are designed to replace a meal. However, some people eat the products as a snack while continuing to eat a normal amount of food, which can lead to overeating and greater calorie consumption. In addition, some people complain about increased thirst because the products can dry out the mouth. Meal replacement supplements can also act like diuretics, leading to an urge to urinate more frequently. Weight gain is also occasionally associated with use once people have resumed their normal diet.
Don't Forget to Read the Ingredients of Meal Replacement Supplements
When searching for a meal replacement supplement, buyers should take into account the active ingredients in the product. Primary sources of protein, such as egg albumin, soy, and whey-based protein concentrates and isolates are considered to be more beneficial than low quality protein sources, such as collagen or gelatin. In addition, buyers should look for supplements that offer at least three grams of dietary fibre per serving.
It is best to avoid meal replacement supplements that contain partially hydrogenated and tropical oils, such as coconut and palm kernel oil because they are high in saturated fat and damaging for the heart. In addition, they tend to raise blood cholesterol levels. It is important to limit saturated fat intake to one or two grams per serving.
The healthiest meal replacement supplements are those are made with natural ingredients, such as whole fruits and vegetables, non-fat yoghurt, skimmed milk, and wheat germ. These products contain high amounts of protein, fibre, vitamins, and minerals, and low amounts of added sugar, saturated fat, cholesterol, and sodium.
How to Buy Meal Replacement Supplements on eBay
When looking for meal replacement supplements on eBay, buyers should pay close attention to the description of the item. To find products, enter keywords, such as "meal replacement supplements" into the search bar on any eBay web page. Reading the full listing can give you a better idea of the type of supplement and its active ingredients. Alternatively, you can browse hundreds of deals on supplements at a glance if you are undecided on the specific product.
Get to know the seller by reading his or her feedback to feel more confident about making the purchase. By analysing detailed seller ratings and reading reviews from past customers, you can decide if you are comfortable buying from a particular seller. For a quick way to find the best sellers on eBay, look for those that have been awarded Top-rated status. Top-rated sellers are recognised by the eBay community for their high levels of customer service and consistent positive feedback ratings.
Conclusion
Meal replacement supplements come in various forms, including pre-mixed shakes and bars. When searching for the right type, consider the buyer's dietary habits, as well as the benefits and drawbacks of each type of supplement. Buyers should also consider their dietary goals. Those hoping to lose weight should search for meal replacement supplements that are low in the number of calories, while those using the products for bodybuilding may prefer higher calories counts.
In addition to calorie count, it is also important to consider nutritional information and active ingredients. Buyers should aim for products with a large number of natural ingredients and a low quantity of saturated fat. With so many options, eBay can help any dieter or bodybuilder find the right meal replacement supplement for their individual needs.