Have You Been Looking For A Tarot Deck That Just Feels Right?
The Glided Tarot Will Take You To Another World.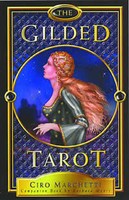 For those of you who have been waiting for the perfect tarot deck to find you - stop searching because here it is.
My husband and I have had a new gift shop for over 5 years and The Guilded Tarot have been the most popular tarot we sell. In the shop we sell a range of crystals, jewellery, tarot cards, oracle decks, incense, resins and oils, salt lamps, crystals, candles and sterling silver jewellery.
The Gilded Tarot is true to the structure (major and minor arcana) and story of tarot (Rider-Waite interpretations) and is filled with visullay stunning art that you can truly immerse yourself into.
Ciro Marchetti's amazing artworks will open a doorway to other realms and give you access to all the wonder the universe holds.
I must admit that I am completely biased when it comes to anything by Ciro Marchetti, I believe that he is an absolute master at what he does. Not only are his pictures beautiful they are transformative and inspiring. For me personally, he is definitely one of my favourite artists (along with Susan Seddon Boulet and Michele-lee Phelan just in case you were wondering).
This is a great deck to use for reading for yourself or for others.
Each and every card of this deck is filled with colour and imagery that tells a story and takes you on a jouney.
The evocative colours and features of each card clearly convey a sense of what each card's message is. When working with this deck for divination take your time. Immerse yourself in the artwork and look at what thoughts, feelings, memories, stories and emotions are brought to your mind. You will find that each and every card has a very different energy and resonance.
This set also includes a very comprehensive Guide Book to help you with inpreting the messages that the cards are giving you. Barbara Moore is one of the most respected authorities in the world of tarot and she expertly guides you through this deck and helps you to foster a deep understanding of The Gilded Tarot.
The Guilded Tarot is a great deck to extend your knowledge and your reading skills.
Add this beautiful deck to your collection by bidding now and share in all the great wisdom The Gilded Tarot has to offer you.
We have access to an enormous range of tarot and oracle cards but we only list the decks that we truly believe are the very best.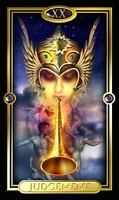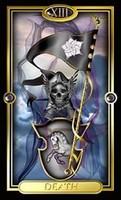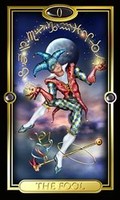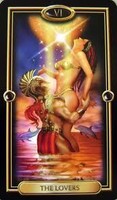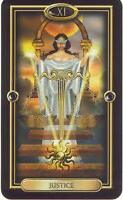 "Heralding archetypal elements of traditional Tarot, The Gilded Tarot is teeming with shimmering, classic imagery. High priestesses in flowing robes, wise emperors, knights on majestic steeds, mystics wielding magical tools, and other intriguing characters from medieval times abound in the Major and Minor Arcana. This richly colored, easy-to-use deck also features standard symbols for the card suits--swords, cups, wands, and pentacles--which provides universal appeal.This kit also includes The Gilded Tarot Companion, a clear and insightful guidebook to the deck's structure and each card's significance."