This is a guide about a bag called "it". You'll have information on style, retail price and basic authentication technique.
Almost every female celebrity has an LV bag. Following the spring 2003 show that featured the Murakami bags (LV multicolour canvas bags), the customer service lines at Lous Vuitton were jammed with orders. The first shipments never hit the sales floor- they were all presold. Here is a picture of white LV multicolour Alma bag. It's retailed at $1970 in stores.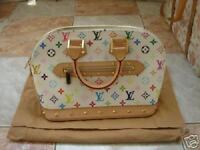 Notice that the colour combination on the white canvas should look like this, otherwise it's fake.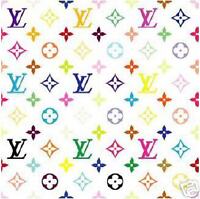 For a black bag, the colour combination of LV's look like: i. fuschia, white, green ii. dark yellow, dark pink, dark purple iii. dark blue, chartreuse, light blue. Otherwise, it's a fake.
The Balenciaga bag is a relatively new phenomenon. However, it hits the celebrity circle like a storm. The Olsen sisters have them. Nicky Hilton has around 20 of these bags. Balenciaga uses naturally distressed goat leather that makes the bags buttery soft. You can instantly tell whether it's a genuine piece just by looking and smelling at it. The company has a research team devoted entirely to creating the bags. They come in various styles and sizes. Prices for a Balenciaga start from $1500.
One thing to remember is that all the o-rings (ie. where the tassels attach) of the bags are welded into a seamless circle. Many fake bags have a gap in them. Here is a green First bag which is a small size.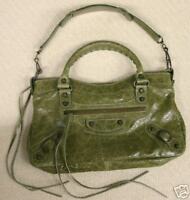 Hermes Birkin and Kelly bags are among the most coveted fashion accessories in the world. Only a handful of lucky ladies receive theirs directly from Hermes each year, and the waiting lists are closed at all Hermes boutiques. It may open again in a year or two but there are no guarantees. Most of the authentic Birkin bags are selling well into the $10,000 range simply because that is what they are worth. Even a well-used Birkin generally sells for $4,000 to $5,000. It takes about 23 hours to make one Birkin. Kelly bags can often be had for relatively lower prices if you know what you're looking at, willing to accept a vintage bag, and bid carefully.
An authentic Hermes Birkin or Kelly has an engraved lock and key set. The lock will say "Hermes" on the bottom and the keys will be numbered to match the number of the lock and will also say Hermes on the reverse side. Here is a Kelly bag made of hyperstrong and waterproof Ostrich skin.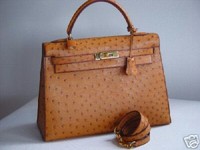 I'm obsessing about the Chloe Paddington handbag at the moment. So do thousands of other women in the word. When luxury web site Net-a-Porter went live with its new stock of Paddignton bags, it sold 376 of them in 36 hours. Each bag retails for $2300 in stores. Select Italian leathers are used for the Chloe Paddington. The eye-catching glamorous design features signature luster hardware, two leather outside pockets, a main zippered compartment, an interior zippered pouch, and an interior phone pocket.
The stitching on an authentic Paddington is a thick nylon stitch. Further, the Chloe tag, if it doesn't have the colour on it or the correct name for that colour it, is a fake. In addition, ivory bags have the edges done in brown, not ivory. However, be careful some newer fakes have the brown trim.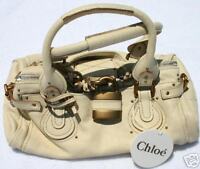 Chanel has managed to transport its iconic quilted lambskin bag into the modern era. This stylish bag is designed by Coco Chanel herself. It is the most classic of all Chanel bags featured with buttery soft lambskin and metal chain, which can be doubled so that is can be used as either a shoulder bag or a handbag. It retails around $2500 at Chanel boutique. Here is a picture of a pink Chanel quilted 2.55 bag.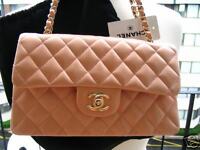 The most important sign of an authentic Chanel bag is a hologram sticker with a matching authenticity card. Numbers on the sticker and the card have to match. This is what a hologram sticker and authenticity card look like: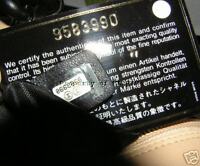 Final Comment
This is not an exhaustive list if "it" bags. There are many others such as Gucci bag, Fendi spy bag, Christian Dior Gacho bag etc. Now, what I have to say is when buying a designer bag on ebay do not be shy, ask questions like where did you get the bag and how can you prove its authenticity. You have to keep in mind that fake bags have authentic features, such as lampo or ykk zippers, authentic looking monogram placement, dust bags, authenticity tags, controllato cards, serial numbers, made in Italy embossments, ID plates, holograms, care booklets, logo designer hardware and receipts. Then it's wise to ask for pictures of all logo plates or embossments, serial numbers, holograms, authenticity tags, engraved hardware and strap attachments because you will find authenticity in the small details.
Good luck and have a nice day!