The Labrador Dog


The Labrador is a friendly, good natured dog breed who is well known and well loved everywhere. Whether trained to provide assistance to disabled people, or giving love and affection in the family home, this versatile dog is happy and playful. Labradors were originally bred to help fishermen bring in their nets and later for flushing and retrieving game.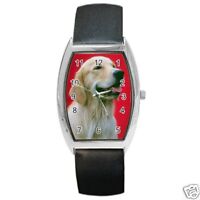 Labrador Characteristics:
Kind, responsive, keen, biddable, enthusiastic and affable.

Size: 55-57cm (21.5-22.5in)
Weight: 25-34kg (55-75lb)
Coat: Short, dense, without wave or feathering
Colour: Yellow, black or chocolate
Lifespan: 12-13 years
Active and playful, the
Labrador
loves to swim. His exercise requirements are very high. He needs regular long walks and play sessions.
Attitude to:
Owners: affectionate, biddable
Children: patient
Other

pets

: good
Strangers: friendly
Unfamiliar

dogs

: friendly
The Yellow (golden) and Black Labrador
:
Yellow Labrador dogs
tend to have a slightly softer temperament than the
black Labrador
and are more likely to be easy going. Both can be bred for working or show purposes, and it may be best to choose one from a show line rather than from working stock unless you are prepared for lots of exercise.
The Chocolate Labrador
:
Chocolate Labradors
tend to be more tolerant to pain and, consequently, often injure themselves more readily. They can be more exhuberant and enthusiastic.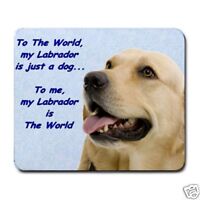 Health

Prone
to obesity, hip and elbow dysplasia (leading to arthritis), osteochondritis dessicans (immature long bones which can lead to cracks and damage at the joints), cataracts, progressive retinal atrophy (leading to partial or total blindness).
The
Labrador
can often be destructive chewers during adolescense. Lack of exercise may lead to boisterousness, running away and destructive behaviour.
If you are considering a
Labrador

puppy for sale
, make sure to contact a reputable
Labrador breeder
to ensure that the
puppies
are in excellent condition. You may also consider a
Labrador rescue dog.
I hope this guide has assisted you in your quest to find the right
dog
for you. For further information, please add my store,
Personalised Dog Gifts
, to your favourites.