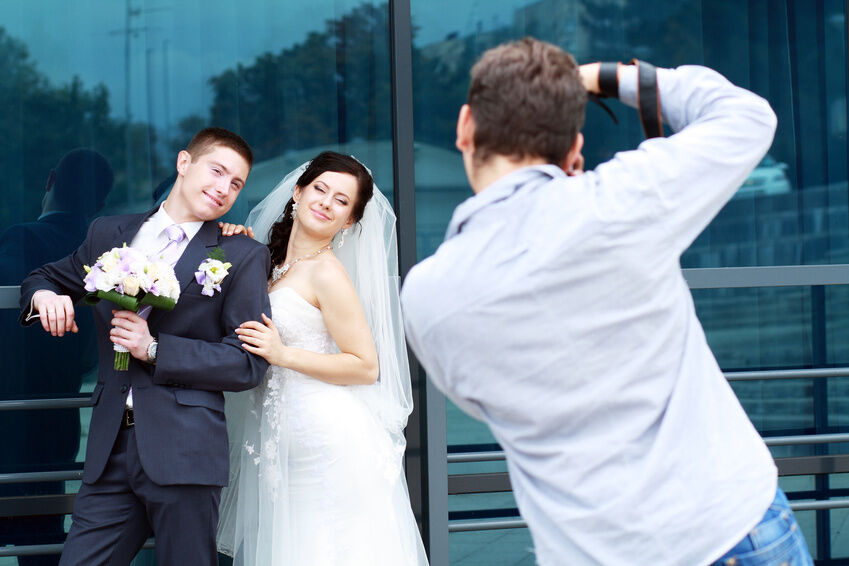 While everyone else is enjoying the moment, the wedding photographer is responsible for preserving it. Getting the highest quality wedding photographs for the bride and groom requires good quality tools, and that means selecting the best camera lenses possible. As a minimum, a photographer should have a portrait lens and a wide-angle zoom lens, according to website SLR Lounge. Access to a good selection of lenses provides more options to capture every detail of the special day.
Portrait lens
There are several types of portrait lenses that allow photographers to capture everything from the wedding vows to the best man speech. These lenses require enough magnification for the photographer to snap away without encroaching on the moment, but not so much that the photographer is too far away from the action to miss the small details. A lens with a long focal length is ideal for large environments, and combining it with a wide aperture makes it possible to blur out the background, drawing attention to the subject of the portrait.
35mm
A 35mm camera lens is incredibly versatile, allowing photographers to get a wide range of wedding photographs in many different situations without juggling lots of camera equipment. The lens is wide enough to capture a scene, yet works up close without causing much distortion.
50mm
The 50mm lens is recognised as an invaluable tool for professional photographers by websites such as Photography Life, and many experts recommend it as a good starting lens due to its versatility. It is ideal for many portrait shots, including full length and headshots. A 50mm lens is suitable for wider shots to help minimise distortion, and up close it softens the subject's skin and gives a glamourous look thanks to the shallow depth of field.
70-200mm
A 70-200mm telephoto lens is a good choice for taking portraits where there is ample space. This type of lens is essential when the photographer has to keep a distance from the subject, particularly during the wedding vows. It is also useful for catching candid moments at a reception, where it is possible to snap responses to speeches from across the room.
Wide-angle zoom lens
Wide-angle zoom lenses offer photographers great versatility, thereby reducing the amount of equipment they need to carry and reducing the risk of missing special moments due to having an inappropriate lens. A single, high-quality zoom lens fills in for several dedicated prime lenses, making it possible to snap portraits and scenes with ease.
24-70mm
A 24-70mm wide-angle zoom lens is compact with a good focal range. It is ideal in situations where there is not a huge amount of room, and offers the versatility required for snapping candid moments.
Creative lens
In most situations, a good portrait lens and a wide-angle zoom lens is more than adequate for the photographs required at a wedding. However, there may be times when a client requires something a bit more special, such as artistic shots of the wedding rings, or some panoramic views of the venue. These situations call for creative lenses that have specific applications.
Ultra wide-angle zoom lens
An ultra wide-angle zoom lens, such as a 17-40mm, is only required for taking landscape shots. Venue shots are a nice addition to a wedding portfolio, as they help to set the scene for all of the portrait photographs, although it is typically possible to get good scenery shots by using a 24-70mm lens.
100mm macro
A bride plans her wedding day down to the finest detail, and a photographer needs to be ready to capture those details forever. A 100mm macro lens gives photographers a chance to create advert-quality photographs of rings, invitations, place settings, table decorations, and buttonholes.
Fish-eye lens
A fish-eye lens is a fun lens to have on hand at a wedding when inspiration strikes. The 180-degree field of view allows photographers to create eye-catching special effects and unusual compositions for one-off shots that offer the client something out of the ordinary.
How to buy camera lenses on eBay
Whether you are starting up a new business, or simply snapping family photographs with your digital camera for fun, you can find the camera lenses you need on eBay. To start searching, enter your criterion in the search field available on every eBay page, using the filters to refine the results based on condition and brand. After searching, arrange results by price or closing time for easy browsing. Read descriptions carefully to ensure the lens is suitable for your camera, and contact the seller if you have any questions.