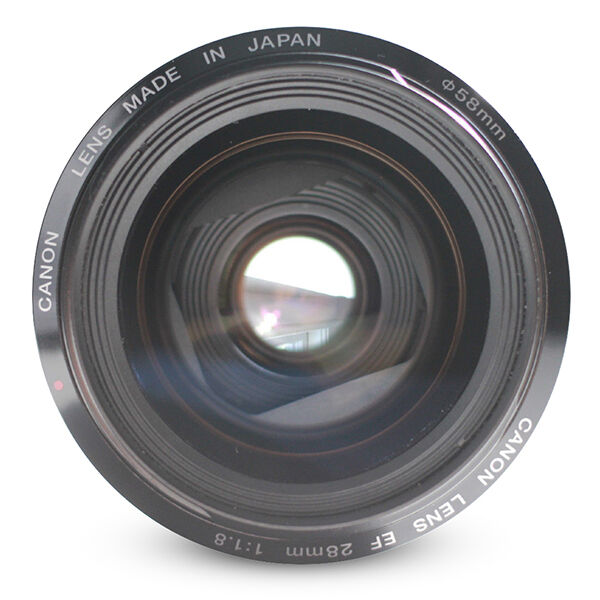 Essential in portrait photography while also offering key perspectives in niches such as photojournalism, sports, and portraiture, the wide-angle lens is essential to every budding photographer. However the broad definition of wide-angle camera lenses as anything under 35mm really does not tell the whole story. The development of digital photography and the introduction of different brands into the market affect the lens options available to different photographers and limit the definition of the "most popular" choices.
Defining a wide-angle lens
Because 35mm film was the standard in the pre-digital photography era, it is the basis for "full frame" reference and photographic shots. Therefore, the classification of a wide-angle lens as anything less than 35mm refers strictly to full frame or FX DSLRs and standard film SLR cameras.
Many modern DSLR cameras, on the other hand, and particularly beginner and intermediate-level models, use smaller sized sensors, called APS-C or cropped sensors. The effect that these cameras have on lenses is related to their focal length, which is between one and a half and two times smaller than standard 35mm film/sensors. As a result, a typical "wide-angle" lens, and especially a 35mm lens, performs as a normal size lens on these cameras.
Prime lenses vs. zoom lenses
Another important designation to make in the field of wide-angle is prime lenses vs. zoom lenses. A prime lens offers users a fixed focal length, 24mm for example, which is a wide-angle lens. On the other hand, a zoom lens offers users a range of focal lengths. This may include a wide-angle option as well as normal lens ranges and even zoom or close up options. An example of a zoom lens that includes a wide-angle is a 17-70mm lens, whereas a 10-20mm lens is a zoom lens that only offers wide-angle lengths.
Most popular wide-angle lenses
Wide-angle lenses are particular to a specific brand of camera and mounting system, Sony A-mount vs. Sony E-mount, for example. Each lens, regardless of its size, only operates as a wide-angle depending on the sensor type and size inside a particular camera. Therefore, choosing a wide-angle lens is as much about other equipment as it is about the lens itself.
The immense variety of wide-angle lens options and cameras that use them can make it difficult to quantify wide-angle lenses by popularity. Rather, the best route to take is for buyers to consider their camera brand's options and then break down some popular models from within those offered.
Canon wide-angle lenses
As of 2015, Canon offers a total of 10 wide EF and EF-S lens options along with an additional six zoom lenses, which include wide-angle configurations. Among the most popular options is the EF-S 10-20mm APS-C zoom lens. This offers the equivalent of 16-35mm zoom on a full frame camera. Notable because it is compact and lightweight, Tech Radar particularly likes the speed, silence, and accuracy of this lens's USM autofocus feature.
Nikon wide-angle lenses
As of 2015, Nikon offers 19 prime wide-angle lenses and five zoom lenses that include wide-angle lengths. These lenses fit a variety of Nikon full frame and crop sensor digital cameras. Among its most popular wide-angle lenses is the AF-S DX NIKKOR 10-24mm zoom lens. Designed for DX series or cropped sensor Nikon cameras, this lens is similar to the Canon lens listed above. Small and compact, it is notable for its slim profile, which makes it easy to carry.
Tamron wide-angle lenses
Generally focusing on telephoto prime lenses and all-in-one zooms, Tamron lenses are a popular choice because they fit with various Nikon, Canon, Sony, and Pentax cameras. Among their wide-angle options, their SP 10-24mm lens is a great match to ASP-C sensor cameras that offers 2.4X zoom.
Tokina wide-angle lenses
Matched to both Canon and Nikon cameras, Tokina offers wide-angle zoom lenses, which are notable for offering an ultra-wide 180-degree field of view. One popular lens, the 12-24mm AT-X 124 PRO DX II, uses a multi-coating system to help reduce photographic reflection that causes flare and ghosting on wide-angle shots.
How to buy wide-angle lenses on eBay
Shopping on eBay for wide-angle camera lenses is a great way to further explore popular models and match them to your particular needs and budget. Simply start a search on any page of the site using the general search bar. Broad terms such as "24mm zoom lens" are easy to narrow down according to compatibility or brand with the filters provided. In addition, you can look for bundles of lenses and other camera accessories that include wide-angle lenses. Selecting local sellers can save on shipping costs.