Foreign games, are they safe to buy?
I have been surfing on eBay for many years, and I've seen many scammers and many false accusations regarding foreign sellers (in particular PC and console games).
Flypris is currently located in Melbourne. However, we ship our games out from Singapore. Why? Simply because the cost of PC games are cheaper in Singapore than in Australia. Many of the "100% Australian sellers"or sellers that "ship from Australia!" and "AUSTRALIAN VERSION!" actually buy their games from Singapore. For most games, especially games by EA, there is no difference at all! In fact during my stay in Melbourne, I've seen many games on the shelves of EB Games and other game shops that are made in Singapore. ALL "Australian" EA Games are made in Singapore, go check it out on the back of your game box if you don't believe it! Essential what you are paying more for when you buy from an Australian seller, is the fact that they ship their games out from Australia. (Takes 3-5 days, whereas I ship from Singapore, so it takes 7 to 14 days).
However, there are some truths about foreign sellers. Games from Thailand have front covers and manual in Thai, but their games are in English. These are perfectly legal games as well. They sometimes go for half the price of a Singapore or Australia game. If you do not wish to have games with covers in funny Thai words, then I suggest you either get Singapore sellers (cheaper than Aus sellers but takes a longer time to arrive) or buy from Australian sellers (more expensive, usually AUD$10+ more, but shipping within 3-5days).
The most important thing on buying a game from eBay, regardless of which country the seller is from, is that they must show you a picture of the real product! Some sellers put a default picture of a game, and you expect it to be in a nice box with manual and all. Instead, they send you a copy that is in a CD casing ! It would not be the sellers fault! So please look out for listings with an actual picture of the product!
Example of a cover of a game with Thai words.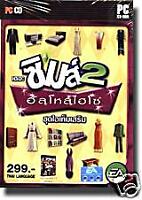 Example of a picture of the ACTUAL product